Do you sometime buy little things to make you smile after a bad day? Many people I know buy chocolate, food, or other items to help make their day a bit better. For me, my little comfort thing is a candle. When I am feeling stressed, nothing is better than relaxing in a dark room with a great smelling candle. I know for me a good candle can very quickly lighten my mood. With my love for candles, my husband and I are always on the lookout for fun, interesting candles. In all honesty, I was really excited when Diamond Candles asked me to review one of their candles, especially when I heard I was going to be reviewing one of their newest scents – Hawaiian Coconut.
Diamond Candles: What's the Big Deal
By now, you are likely wondering what's the big deal with Diamond Candles? I know when I first heard about them, I wasn't really too sure what to think. Why would someone put a ring in wax? Well, let's start from the beginning. Diamond Candles first came into existence when one of its founders went to a jewelry store to find a diamond ring for his wife as an anniversary gift. Wanting to surprise her, he went to a local store to purchase a gift bag. Not finding what he wanted, he eventually came up with the idea of putting it inside a candle, which soon created the idea of putting a diamond ring and candles together.
What really makes Diamond Candles stand out when compared to other candle brands is their desire to create high quality, eco-friendly candles. Each candle is made using the highest quality fragrance and 100% soy wax. To make sure everything is of the highest quality, all the ingredients and the candles themselves are made in the United States.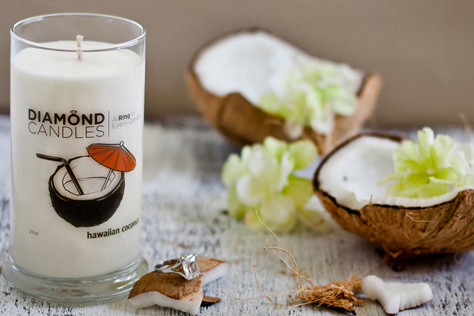 Diamond Candles: Quality of Candles
Being someone who likes to live as eco-friendly as possible, I try to only use candle made from soy wax. The one thing I learned from making my own homemade candles, however, is not all wax is created equally. Most companies mix soy wax with paraffin wax – allowing them to call the wax soy based. One of the reasons I hate paraffin wax is that it is made from crude oil and as you would expect, causes a black smoke. With 100% soy wax, candles burn cleanly, more evenly, and seem to soak in scent much better than traditional oil based waxes.
Since Diamond Candles uses only 100% soy wax, you get a clean burning candle that keeps its fragrance and burns for hours. Even the wick is made from 100% cotton and pre-dipped in cotton wax (this is one area where some companies cut costs by dipping the wick in paraffin wax). The candle even comes in a nice looking glass container that can easily be cleaned out and reused once the candle has finished burning.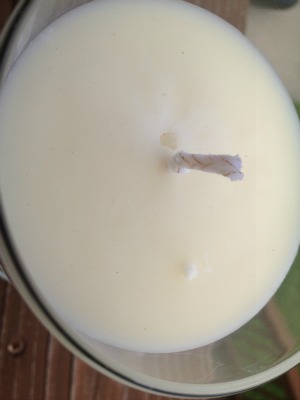 Diamond Candles: Fragrance
If I had to pick one thing that I loved the most about Diamond Candles – it's the fragrance. My Hawaiian Coconut candles smells absolutely heavenly. The scent is so strong that when I first took the top off my candle, my husband smelled it across the room. Once the candle started burning, it was even better. What really impressed me about this candle, however, is how long the fragrance lasts. I have burned this candle for over two week and the fragrance is still going strong.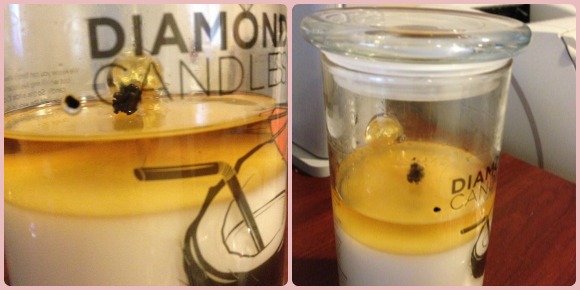 Diamond Candles: Ring
While I am a big fan of the candles themselves, I have mixed feelings about the ring inside. When I first removed my ring from the candle, I was truly excited. I knew it was likely to be a $10 ring, but I didn't care. I knew that as long as the ring was pretty, I would wear it. When I first took out of the packet, I couldn't wait to show my husband. As you can see from the picture below, it is very pretty. The problem with it, however, is that there is no way I could even consider wearing this ring. The ring is very, very big. Just to give you an idea of the size of the ring, my husband's wedding ring is a Men's size 13 and he can fit the ring on his thumb. Since all the rings are common sizes, I can't complain too much. I just had bad luck with my candle when it came to sizing. Since I like the ring so much, I'm looking at purchasing a ring sizer at the mall or seeing how much it would cost to resize the ring.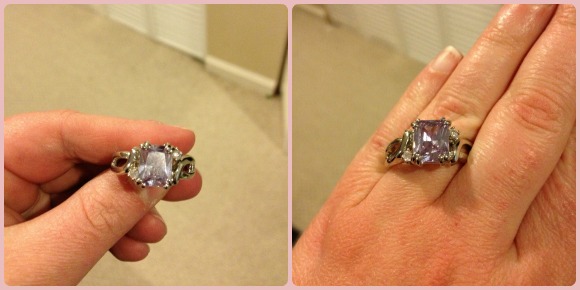 Diamond Candles: Overall
After burning my candle for over two weeks, I have to say I am very happy with my Diamond Candle. In all honesty, what is there not to like? It's a clean burning candle that is still going strong after three weeks of constant use and still has its fragrance. Even though the ring itself doesn't fit me, it is exactly as advertised. While it is a bit disappointing, the ring itself is beautiful. Overall, I give Diamond Candles an A- rating. The only thing I wish they would offer is the chance for buyers to purchase a ring that fits. Even with my ring not fitting properly, however, I am anxiously waiting for them to restock some of their candles so I can purchase more as gifts and have other great smelling candles in the house!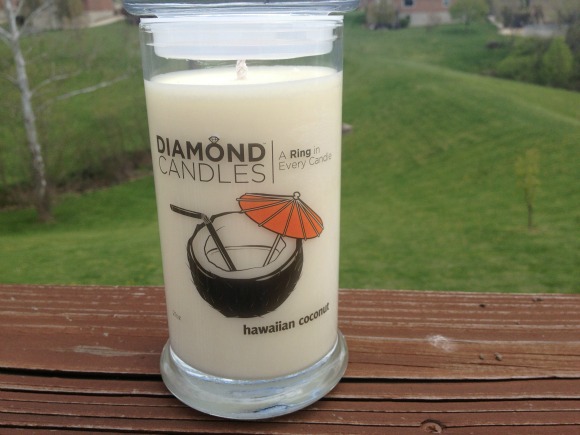 Disclosure: Budget Earth did not receive monetary compensation for this review, but did receive a Diamond Candle for review purposes from Diamond Candles. All of the opinions on this blog are the opinions of said author and these opinions may differ from your own.