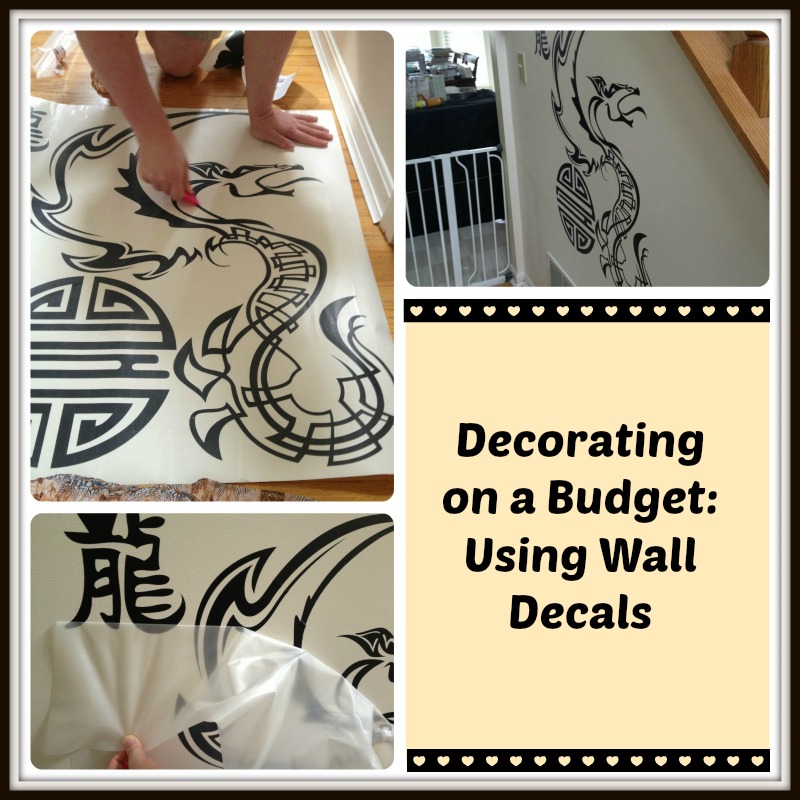 Have you ever considered decorating with wall decals? I hadn't either, having only seen the cheap wall decals and children's wall stickers that you normally find at Wal-Mart or Target. I thought to have a beautiful wall mural, I was going to have to buy stencils and do it myself. Don't get me wrong, I love DIY projects and being creative, but I have a hard time finding the time. I have so many projects planned with our house, murals never were a priority, even if the ones I saw while looking on Pinterest seemed very cute. About the time I was starting to do research into wall decals, I was approached by "Dezign with a Z," asking if I wanted to review one of their murals. Obviously, I was super excited (and my husband, ever the skeptic, worried about it looking good).  Personally, I was ready for the challenge!
Wall Decal Challenge: The Entry
Like many other houses in my subdivision, my house has a beautiful open staircase that goes to the second story on my house. While I love the look of my staircase, I had no clue what to do with the small partial wall underneath the stairs. To make matters worse, this wall has an air return, our thermostat, and a light switch, making it a bit unbalanced . Everything we have tried putting on this wall looked terrible.  Add to the matter that the wall really needed repainting,. My husband and I both agreed it needed something striking, making a large wall decal a possibility.
Once I was asked to do the review, I started looking on Dezign with a Z for the perfect wall decal. Our house has a lot of fantasy and sci-fi artwork, so I had no clue where to even start looking. When I was looking for through the animal wall decals section, I found something I would never expect – dragons! Yes, you heard me, dragons – flying lizards with wings? What could be more perfect for our house?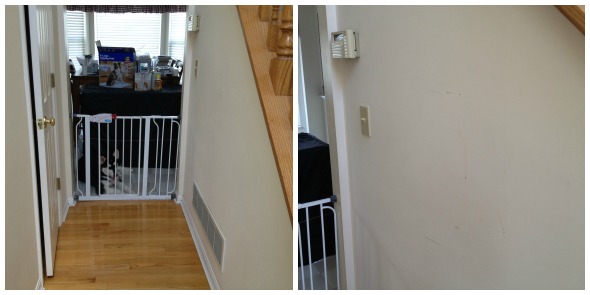 Wall Decal Challenge: Painting the Wall
In less than a week, our mythical dragon wall decal arrived in the mail. I couldn't wait to get it out of the tube and on our wall. The problem was, that our wall still looked terrible. While I dreaded doing it, it was time to get paint.  Luckily, our local Porter Paint had paint on sale and I was able to get a gallon of Enduring Ice in a matte finish.  To see our wall transformation, make sure to check out my pictures below.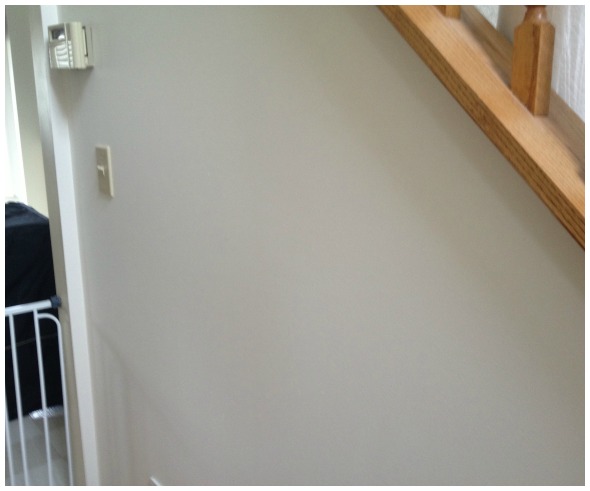 Wall Decal Challenge: Application
While I was a bit impatient to get started, my husband made me wait an extra day for the paint to dry (though I'll admit we got lucky, Dezign with a Z recommends waiting two weeks to totally dry). Once we were certain it was dry and didn't need touching up, we took out our brand new mythical dragon wall decal. To fit the space, we chose the 33″ x 35″ version. Having never put up a wall decal in my life, I had no clue what to expect when it came to actually place it on the wall. Lucky for me, my husband was there to assist while I took pictures! It is important that you follow the directions closely for applying your wall decal. Each wall decal from Dezign with a Z comes with a special tool used for rubbing the decal firmly into place. Below, I have pictures of our own experience putting up our wall decal. As you can see, it was surprisingly easy and painless.
As you can see from the pictures, these wall decals are pretty easy to put up, and I think they look impressive! If you are putting up a fairly large decal, I would recommend having a second person, as the company recommends too. It really helped for us. If you would like to see a more detailed step by step of sticking the decal in place, feel free to watch the Youtube video below created by Dezign with a Z. As you will see, it really can't be easier!
Wall Decal Challenge: Finished Product
I have to say I am really proud of how our wall looks now. I never expect our dragon wall decal to look this good! It is one of the first things anyone sees when they walk in our front door and it really does make a statement. I still can't believe how little effort it took to make my little DIY project happen. With how great our wall looks, I am already brainstorming my next big project and hope that if I use another decal, it looks just as good as under our stairs!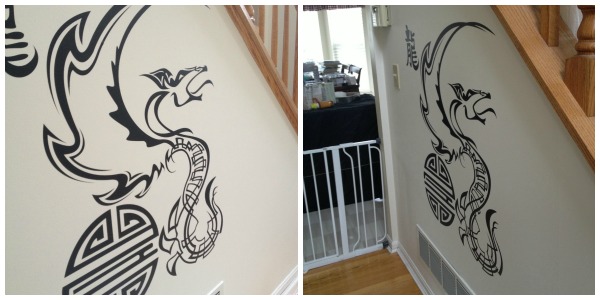 Wall Decal Verdict?
Based on my experience, I have to say that I love my wall decal from Dezign with a Z. It looks amazing and was super easy to put on our wall. I really couldn't ask for more! Best of all, it makes a statement to everyone who walks in my house! While I may not have considered putting a wall decal there in the past, I have to say that I couldn't be happy with my Mythical Dragon wall decal and a lot of my social media friends agree!  For this reason, I can happily give my wall decal from Dezign with a Z an A+ rating!
More About Dezign with a Z
So, why Dezign with a Z and not other wall decal companies?  Out of all the companies online, they are modern, affordable, and have the largest selection of designs on the market that fit just about anyone's tastes. Last year, I won a gift card to one of their competitors. They had such a sad collection of decals that I couldn't find anything I liked, we ended up giving the gift card to a family member.  I was happy to see that Dezign with a Z was different, leaving me with the tough decision of deciding which decal I wanted for my project.  With a large selection of colors and even super sized decals, who wouldn't want to redecorate their room with their artwork?
Best of all, all of Dezign by Z's wall decals are made right here in the United States! As many of you know, I love supporting American companies and keeping jobs here in the US. Even better, all of their vinyl wall designs are based on designs created by young and talented designers from both the United States and Europe. These aren't just cheap mass produced stickers, but fun artwork that you can feature in your home, like I did in my own house!  To learn more about Dezign with a Z, feel free to check out their website and see their selection of fun wall decals!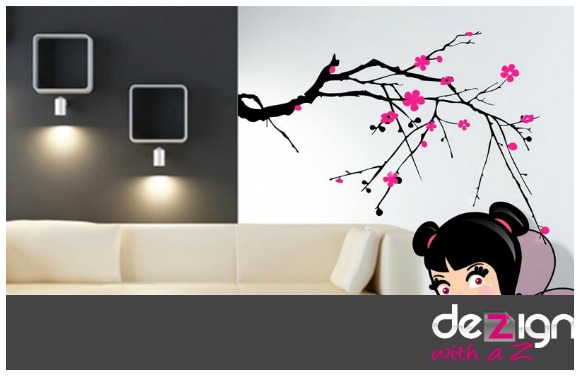 Dezign with a Z Gift Card Giveaway
Want to get a beautiful wall decal or a set of wall stickers for your own home? We are happy to announce that Dezign with a Z is working with us allow one lucky reader the chance to decorate their own wall with a $50 Gift Card to Dezign with a Z! To learn more, read the rules below and then enter through the Rafflecopter!
Dezign with a Z Gift Card Giveaway
1 Winners will receive a $50 Dezign with a Z Gift Card.
Open Worldwide.
Winner will be chosen at random through Rafflecopter via Random.org.
Giveaway ends July 19th at 11:59 pm EST.
Winner will be notified through email.
Winner will have 48 hours to respond before new winner is chosen.
Must be 18 Years or Older to Enter Rafflecopter.
Sponsor is responsible for prize shipment, not Budget Earth.
Entering the Rafflecopter means you agree to terms above.
If you have any questions, feel free to email budgetearth@gmail.com
Good Luck!
Disclosure: Budget Earth did not receive monetary compensation for this review and giveaway, but did receive a wall decal for review purposes from Dezign with a Z. All of the opinions on this blog are the opinions of said author and these opinions may differ from your own.