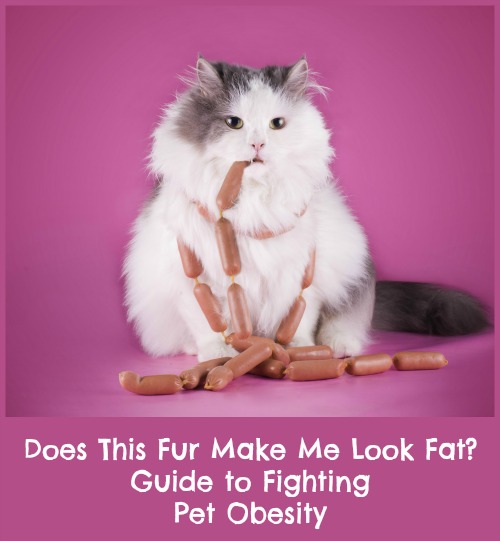 As fur parents, all of us want to do what is best for our pets. We buy them toys, treats, great food, and luxury beds. Our dogs and cats are a part of our family, and we want to make sure they have as much love as possible. Unfortunately, a lot of love sometimes leads to some love handles on our beloved furry friends. One problem that many vets have been seeing lately is an increase in overweight and obese pets. Want to know something scary? National Pet Obesity Awareness Survey found that 52% of dogs and 58.3% of cats are considered overweight or obese by their veterinarian. I don't know about you, but these are pretty scary numbers!
While we may not want to think our pets are overweight or obese, it is no joking matter. For dogs and cats alike, it can lead to some pretty scary health concerns, such as:
diabetes
cardiovascular disease
arthritis
risk of heat stroke
weaker immune system
skin conditions
high blood pressure
pancreatis
and more!
Want to know something scarier? Some breeds are also prone to being overweight or obese. If you look at the list, there are some very popular breeds, including dachshunds, labs, and golden retrievers on the list. As pet parents, it is our job to make sure we do what is best for our furry friends, just like ourselves, and make sure they are always in tip top shape!
To determine if your pet may be overweight, use the pet body condition score. Many vets still use this system and its very easy to use. We included two info graphics below for dogs and cats both, courtesy of the the Association for PEt Obesity Prevention. To properly check your pet, look down from above them. They should be around 3 on the chart. You should be able to feel the ribs but not see them. If you can't see the ribs and you have a hard time feeling them, your dog or cat is probably overweight.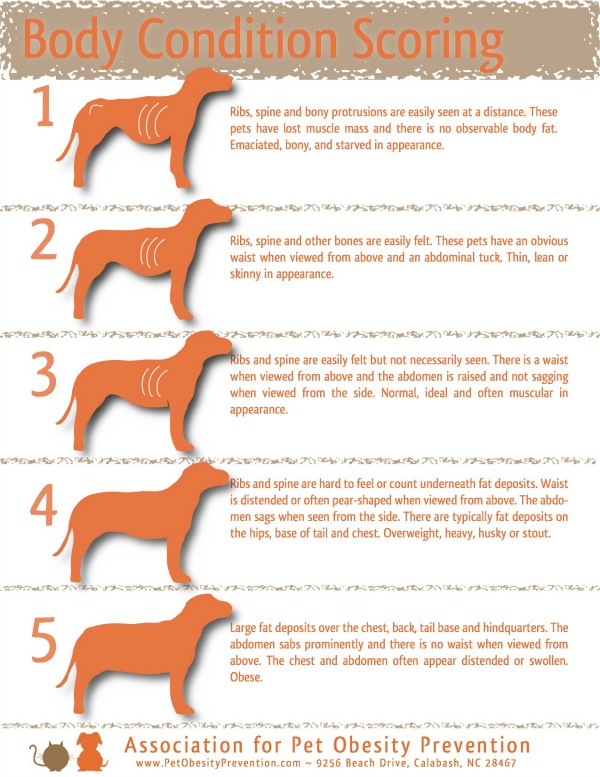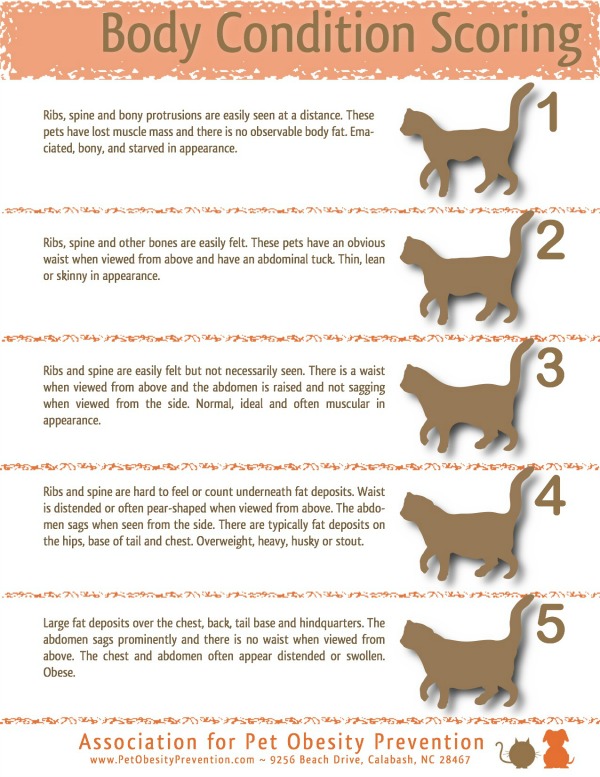 So, what do you do if your pet is overweight? First things first, bring them to the vet and get a full checkup. Your vet will be able to tell you how much weight your pet needs to lose. Since older dogs are also more prone to weight problems, they may very well put them on a special dietary regimen.  In most cases, food will cut by 25%  and you will be encouraged to exercise your pet a bit more. While this is easier for dogs, cats can be a bit more tricky. Most vets recommend the use of cat toys, or a favorite toy of many dogs and cats alike – the laser pointer.
If your pet doesn't seem terribly overweight, you may want to simply take them out for a bit more exercise and cut back on the treats. As well, make sure your food isn't the culprit. Many dogs and cats will overeat on cheap food – often they aren't getting the proper mix of nutrients they need to keep their body going since these cheap foods are filled with byproducts and cheap filler ingredients.
Disclosure: Budget Earth did not receive monetary compensation for this educational article but may receive products for this post. All opinions are my own and may differ from our readers' opinions.
Would you like to have your products featured in a giveaway event? Want to increase your social media exposure? Contact susan.l.bewley@gmail.com to see how I can help YOUR company today!