Disclosure: I received this product for free to review. The opinions in my review are honest and my own.
 
Being someone that works from home, I love the freedom to be able to spend more time with the my husband and Reya. Unfortunately, this also means that sometimes I work some of the oddest hours, making it difficult for us to keep Reya on a consistent potty schedule. While she is good most of the time, we do sometimes still have accidents due to both of us losing track of time due to work. I refuse to use potty pads again since they were such a nightmare for us the first time, but truly wish we had a good indoor option. Until recently, I didn't even think such a thing existed, until I heard about DoggieLawn. As a busy dog owner, I was very excited when I found out I was going to be able to try their new Full Size Fido service! As soon as everything arrived, we unboxed Reya's lawn and couldn't wait to see what she thought of it!
DoggieLawn: What Is It
Looking for a way to make potty training your dog easy while still making the transition to pottying outside easy? If so, we think you will love DoggieLawn! What makes DoggieLawn so interesting is that it is real grass that that your dog can use the bathroom on indoors. While this miniature lawn is perfect for puppies, it is also perfect for adult dogs who don't have easy access to the outdoors due to living in a small apartment, or old age. Best of all, it means less accidents indoors for busy owners, allowing your dogs to have a piece of the outdoors in their own home! It doesn't matter if you have a new puppy or a stir crazy older dog, having a lawn indoors is perfect for every pup!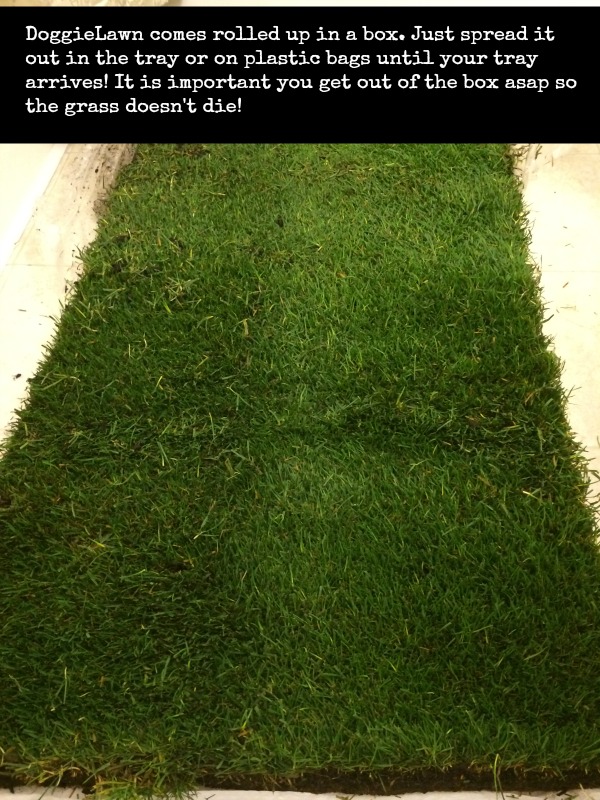 DoggieLawn: Overall
Okay everyone, I have to admit, I have fallen in love with the whole concept of DoggieLawn. While I helped house train our family dogs when I was younger, I have to say training a large breed dog not to pee in the house isn't fun. It isn't that it's difficult mind you, but accidents take quite a bit of time to clean up since well…there is a lot of mess. Our Reya was always great about pottying on grass, but pee pads were a very difficult concept for her. By the time we got her consistently using them she didn't see the point in holding it to go outdoors. It took us a long time before we got her going outdoors properly. Now that she's a big girl, however, she is great at taking care of 'business' outdoors, but every so often still has little accidents. Once DoggieLawn came in our house however, we have had almost no accidents. She loves using this grass for potty time and seems to love her little lawn in the kitchen. Best of all, you just toss it out,  replant the grass, or throw it in your compost when you are done, making it a great eco-friendly option for pet owners. Based on our own experience, we are delighted to give DoggieLawn an A+ rating and are looking forward to using this option in the future when we eventually add a new puppy to our household!
DoggieLawn: Where to Purchase
Would you like to try this awesome real grass in a box for dogs? You can purchase the  DoggieLawn subscription service on their website. Currently, they offer two options – the Petite size for $29 a month or the Full Size Fido for $39 a month. These services are available monthly, tri-weekly, bi-weekly, or in a weekly plan, allowing you to get the perfect option for your own dog's needs! If you want to try this once without subscribing, you can purchase this grass in a box service on Amazon.com.  You can find the petite size grass box and large size grass box here (note: if you want the large box from Amazon, you will need to call DoggieLawn to order a tray). Once you have tried this awesome service, you will never use doggy pee pads again!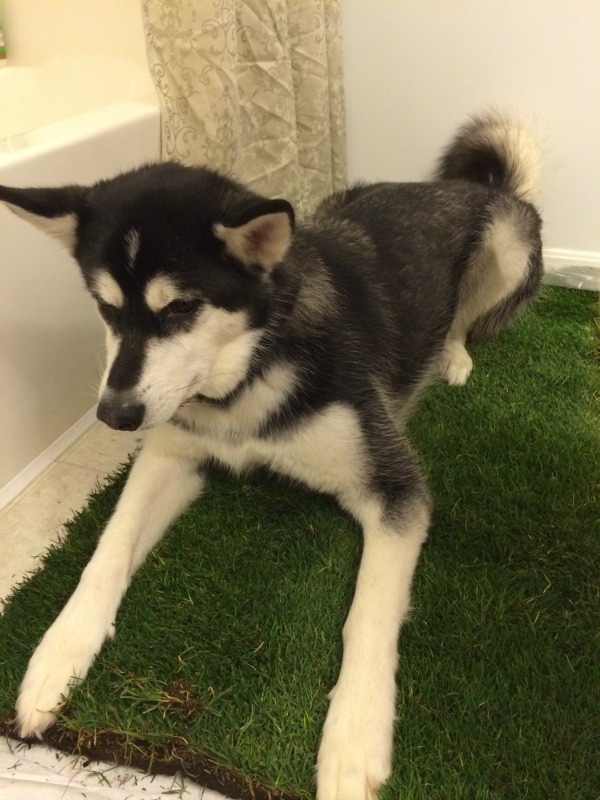 Disclosure: Budget Earth did not receive monetary compensation but did receive products for review purposes. All opinions on this product are my own and may differ from our readers' opinions.
Would you like to have your products featured in a giveaway event? Want to increase your social media exposure? Contact susan.l.bewley@gmail.com to see how I can help YOUR company today!