Disclosure: I received these products for free to review. The opinions in my review are honest and my own.
While my dog is a fantastic traveler, it isn't always fun getting her ready for a big trip. Packing up all of her favorite toys, her travel bed, and food for the trip usually ends with her having her own suitcase. The worst part, however, is her soft crate. Ever since she was a small puppy Reya has slept in a soft crate in our bedroom and knows that this is our crate when it's time for bed or we are traveling. She is used to it, but it's a major pain to bring with us since it has a bulky frame  that takes up quite a bit of valuable room in our trunk. Wanting to find something different, we have started looking at different options online and at our local pet store. As we were looking for the perfect crate, were approached by DogIt, asking if we wanted to review one of their DogIt Soft Sided Nylon Dog Home. After checking out this crate online, we couldn't wait for it to arrive!
DogIt Soft Sided Nylon Dog Home: What is It
Looking for a travel crate for dogs that are constantly on the go? If so, we think you will love the DogIt Soft Sided Nylon Dog Home. This soft, two toned gray home is very easy to set up and stores neatly in a carrying case, making it perfect for throwing in the trunk for adventures.  Unlike similar travel crates, the DogIt travel home also has roll up window covers over ventilation netting, so that dogs can keep track of everything going on around them – or, with the covers down, they have a darker, unstimulating area for nap time. For added comfort, it also includes a nice built in bed, making sure your dog is living a life of luxury while you travel. With built-in tie stakes and an easy to wash design, dog parents are sure to love the DogIt Soft Sided Nylon Dog Home!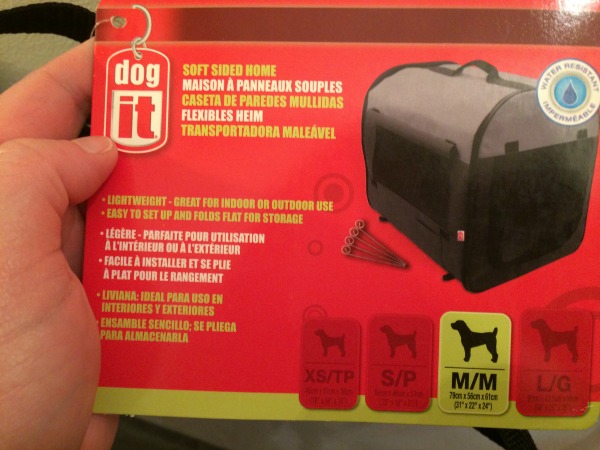 DogIt Soft Sided Nylon Dog Home: Overall
Having tried quite a few crates and other products over the past year, I was delighted to find the DogIt Soft Sided Nylon Dog Home. While its normal to see crates like this for smaller dogs, it has been almost impossible to find fold up, easy to transport soft crates for larger dogs. Inside its soft traveling case, it is the perfect size for just about any trunk and doesn't take up much room at all. Even better, it is very easy to set up, allowing me to get the crate out and set up in less than two minutes. With its nice foam bed, Reya couldn't wait to lay down and try it out. Of course, our dog also loved the nice windows, since she is always wanting to know what her humans are up to when we travel. Based on our own experience with this soft dog crate, we are happy to give the DogIt Soft Sided Nylon Dog Home an A+ rating!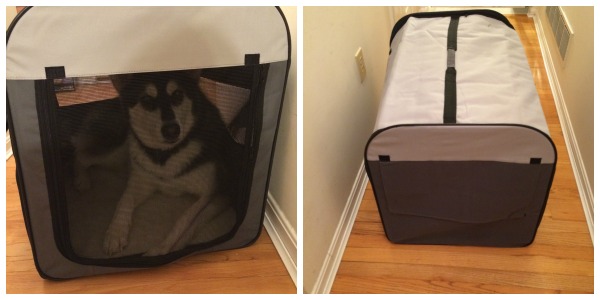 DogIt Soft Sided Nylon Dog Home: Where to Purchase
Would you like to purchase the DogIt Soft Sided Nylon Dog Home for your own dog? You can currently purchase this soft crate for your favorite dog in 3 sizes – extra small, small, and medium. In this review, we feature the medium soft sided crate and it cozily fits a standard sized female Alaskan Malamute (about 85 – 90lb). To find a store near you, make sure to check out Hagen store locator for DogIt products or purchase the DogIt Soft Sided Nylon Dog Home on Amazon.com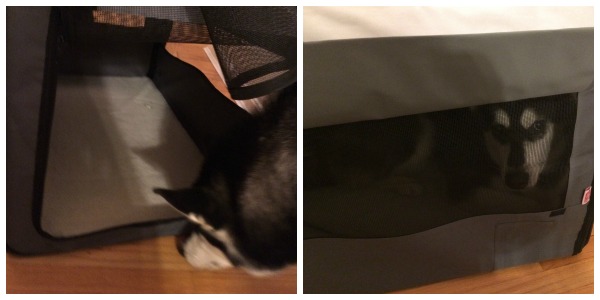 Disclosure: Budget Earth did not receive compensation but did receive products for review purposes. Budget Earth may, however, receive compensation through purchases from affiliate links in this post. All opinions on this product are my own and may differ from our readers' opinions.
Would you like to have your products featured in a giveaway event? Want to increase your social media exposure this holiday season? See how Mom Powered Media can help! Contact susan.l.bewley@gmail.com to see what we can do for your company!