Disclosure: I received these products for free to review. The opinions in my review are honest and my own.
Are you hoping to be healthier in 2014? Not just for weight loss, but for your overall health? This is one of my personal goals in 2014 since I want to be able to look in the mirror and know I am doing what is best for myself mentally and physically. While I have always been someone who supported natural eating, I do take supplements every so often, especially if I think that I am not getting the right nutrients. With my husband hating most fish, I have also found myself looking for other ways to incorporate Omega-3 in our diets. As I was looking at different options, I was approached by DrVita, who asked me to review a couple of their products to see if they would be a great addition for my healthy lifestyle!
DrVita Products: Who Are They
DrVita Products: Turmeric
Did you know that turmeric is a great way to boost your immune system and has been used for centuries as a natural pain reliever in India? While some ancient medicines have been shown to have a placebo effect, turmeric has been shown in various studies to boost the immune system, assist the liver, be a strong anti-inflammatory agent, and has even shown to help the brain. For those who can't stand the spicy taste of turmeric, you can still get the same benefits from a turmeric supplement. I have taken various turmeric supplements. I personally love having supplements like this around for when I don't have time to cook since I definitely see the health benefits when I cook Indian food at least once a week that uses turmeric.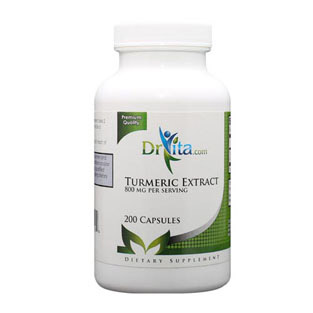 DrVita Products: Chia Seeds
While it may sound odd, I have always found it difficult to add fiber to our diet that didn't come from fruits and vegetables. I just don't like a lot of the artificial fiber sources (though my husband does love his Fiber One brownies). I have always been nervous about the so called 'superfoods' but I had read some wonderful things about chia seeds (pronounced like chia pets). These unprocessed seeds are whole grains that contain omega-3 fatty acids, carbohydrates, protein, fiber, antioxidants, and calcium. I have heard of people putting them in various cereals and such, but that seemed a bit odd to me, so I decided to use them in baked goods. I was surprised that both cooked and uncooked, they didn't have much of a flavor, and what flavor there was seemed more like toasted nuts. In other words, perfect for making yummy desserts even better!
DrVita Products: Overall
So far, I love all the products I received for review from DrVita. They all are high quality, inexpensive, and best of all, healthy. Really, DrVita seems like the perfect choice for those of us who want to live a healthier style without the expensive price tag. Based on my own experience with this brand, I am happy to give it an A rating!
DrVita Products: Where to Purchase
Looking for a way to jumpstart a healthy life style in 2014? Before you go to your local health store, make sure to check out DrVita.com! Once you see their great prices on a variety of items, you will see why people love DrVita!
Disclosure: Budget Earth did not receive compensation but did receive products for review purposes. All opinions on this product are my own and may differ from our readers' opinions.
Would you like to have your products featured in a giveaway event? Want to increase your social media exposure this holiday season? See how Mom Powered Media can help! Contact susan.l.bewley@gmail.com to see what we can do for your company!