Have you been in the market for a new vacuum? Whenever anyone asks for our advice on purchasing a vacuum, I am very quick to recommend a Dyson vacuum – specifically, I recommend the Dyson DC24 Ball All-Floors Upright Vacuum Cleaner. Having owned a Dyson Animal vacuum cleaner for years, I quickly fell in love with how effective, lightweight and easy to maneuver these vacuums are, compared to many other vacuums on the market.
While we purchased the Dyson Animal Vacuum Cleaner, we also have a friend who absolutely loves the DC24 Vacuum Cleaner. If it weren't for the extra attachments for dealing with pet hair, we likely would have gone with the less pricy Dyson Ball vacuum cleaner that our friend loves. So, why does everyone love this vacuum cleaner?
Dyson DC24 Ball All-Floors Upright Vacuum Cleaner: Dimensions & Storage
For starters, it is one of the lightest vacuum cleaners on the market, with the Dyson DC24 Upright Vacuum Cleaner only weighing about 11.6 pounds. This ultra light weight vacuum is very easy to carry up stairs, and is an absolute delight to maneuver. Growing up, my family had a huge metal vacuum that was more like a tank – more than once my mother had broken a toe mishandling her old vacuum, and it was a major chore to maneuver around, let alone get up the stairs!
As well, the Dyson DC24 Upright Vacuum Cleaner can easily fit in a small storage closet. It measures about 13 2/3 by 11 by 43 2/7 inches, making it very easy to fit in tight places. If you need to fit it in a more compact area, you can also collapse the handle. We currently keep our vacuum in a very small coat closet on the first floor of our house. It fits easily and never gets in the way. Not taking up valuable room by the door is very nifty, at least in my opinion.
Dyson DC24 Ball All-Floors Upright Vacuum Cleaner: Usability
Unlike old vacuums and even other current vacuums on the market, the DC24 Ball All-Floors Upright Vacuum Cleaner moves around using their patented Dyson ball technology. Instead of moving on multiple wheels, it is stabilized by a large ball in the center that makes it very easy to steer and get into odd places. To make things even easier, it also has a motorized brush bar, making it easier to get in tight places without having to worry about your hose getting clogged while cleaning (or not reaching). I can comfortably leave the vacuum at the bottom of our stairs and clean three quarters, if not all of the stairs (depending on if it's the basement or stairs to the second floor).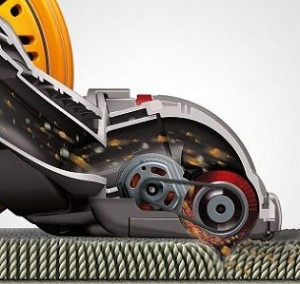 Along with being very easy to maneuver, the Dyson DC24 Ball All-Floors Upright Vacuum Cleaner is perfect at getting up allergens and tricky pet hair. As anyone who has pets knows, getting pet hair up is very tricky. All Dyson upright vacuums use the motorized brush to get up tricky dirt and pet hair, with the bar spinning at a speed of about 90 times per second. This agitates your carpet and dislodges a variety of nasty allergens, which (thankfully) get sucked straight into its HEPA (High Efficiency Particle Air) filter. From my own experience, we usually don't even need the specialized brush to get up pet hair. The main brush of the vacuum does an excellent job. Every Dyson brags about how getting up just about every type of allergen – and from my experience, they are right!
Dyson DC24 Ball All-Floors Upright Vacuum Cleaner: Cleaning
By now, you are probably shaking your head and going – "Now Susan, how is this vacuum eco-friendly." While the DC24 is a plastic vacuum cleaner, the beauty of it comes with its bagless system. If you had ever used a bagging vacuum, you know that these bags are quick to fill and go right in the garbage – and from there to your local landfill. With a Dyson vacuum, you can kiss these nasty bags good bye (personally, I wouldn't recommend kissing them, they are rather disgusting).
All Dyson vacuums, including the DC24 Ball All-Floors Upright Vacuum Cleaner, use their state of the art root cyclone technology. This system spins the air at incredibly high speeds in your vacuum, trapping dirt, dust, pet hair, and allergens in the cleaning bin and HEPA-certified air filter. Thismeans you never have to deal with your vacuum being clogged by dust, which usually gets out of traditional bags and blocks the hoses of your vacuum. Since you can see when your Dyson vacuum needs cleaning, all you have to do it spin the container on the vacuum and dump it in a trash bag.

From my experience, the root cyclone technology spins the dust into a very tight cloth like dust bunny, making dumping the dust bin very easy. Best all, no flying dust since the bin is very easy to remove and stays sealed up until you open the lid, making it easy to take outside before dumping (since letting any dust loose inside the house would be counterproductive). To clean the dust bin, all you have to do is empty it, rinse it with cold water, dry it, and you are back to vacuuming again! Even the air filter is simple to clean, just take it out, rinse, and let it dry. I had never had or used a vacuum that is as easy to clean as our Dyson. To me, the cost you save in bags alone makes the Dyson DC24 Upright Vacuum Cleaner or Animal Vacuum Cleaner worthwhile!
Dyson DC24 Ball All-Floors Upright Vacuum Cleaner: In the Box
Dyson Operation Manual

Dyson Quick Start Guide

Combination Brush

Product Registration Card

Warranty Card for 5 Years Parts & Labor
Dyson DC24 Ball All-Floors Upright Vacuum Cleaner: What Other Think
I have never met anyone who doesn't love their Dyson vacuum and the Dyson DC24 Ball All-Floors Upright Vacuum Cleaner seems to be no exception. Currently on Amazon, this vacuum has a 3.5 out of 5 star rating. Don't take just my opinion on Dyson vacuums. Here are what other people are saying who have purchased this vacuum:
"I own two Oreck vacuums, one is only a year old. I purchased the Dyson DC24 becuase of its compact design. I did my own test aginst the new Oreck. I vacuumed a room with the Oreck, then vacuumed the same room with the Dyson DC24,WOW,the stuff the Dyson picked up was amazing.
I am completely satisfied with the Dyson. I like the "ball" design, it makes vacuuming much easier,dumping the canister is a snap. A longer power cord would be nice,but I can live with a 20 foot cord." ~ G. Lemon
" At first, I wasn't sure if I wanted to spend over $350 on a vacuum, but was it worth it!! This vacuum is amazing – picking up every speck of dirt, dust, paper and whatnot from the floor. The vacuum is really light weight and although the dust canister fills up quickly, emptying it is really easy. The only "complaint" that I have is that the vacuum filters (there are two) need to be washed out once a month, which really isn't a hassle to begin with. I can honestly say that I love this product and was worth every penny." ~ C. Kain
"I am in love with this vacuum! I was debating between the 24 and 25, and am so glad I went with this one. I chose it initially for its light weight. I have a herniated disk and our old, heavy vacuum would throw my back out every time I used it. The difference in weight and manueverability is amazing. Why didn't someone invent this ball thing decades ago?? The first time I used it, I wondered about its capability because it was so light and quiet (another HUGE plus – you don't need earplugs). But when I went to empty the tank and found a 3rd cat (we only have 2), I was convinced of its power. Love the handle that lowers too, because it takes up so much less storage space. Love its small size compared to most other vacuums. I can get under furniture without having to move stuff around, like dining room chairs. It fits into our tiny bathrooms and gets really close to corners and baseboards. My house is about 1200 sq ft, and mostly carpeted and I do have pets. This vacuum is everything I need, and would recommend it to anyone." ~ ACD in Nevada

Dyson DC24 Ball All-Floors Upright Vacuum Cleaner: Purchasing
If I had to purchase another vacuum today, I would order it from Amazon.com. They have the best price on the Dyson DC24 Ball All-Floors Upright Vacuum Cleaner that I have seen, and ship it right to your door for free. By ordering a vacuum online, you can get exactly what you want, when you need it, without having to deal with the irritation of lugging around a vacuum box and then hoping to fit it in the trunk. If something goes wrong, Amazon is also very quick to fix any problems, or give you your money back. I have had to use their return policy multiple times in the past, and consistently found it to be very simple and headache free, making Amazon.com the preferred retailer for me!
Dyson DC24 Ball All-Floors Upright Vacuum Cleaner: More Reviews
Want to read what others have had to say about the Dyson DC24 Ball All-Floors Upright Vacuum Cleaner? Feel free to click on the Dyson picture below to read more reviews and read more about this vacuum!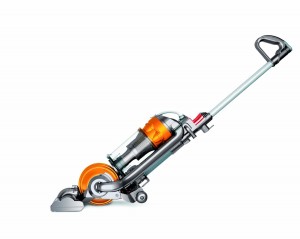 Note: Budget Earth & its writers did not recieve compensation or products from said company for this post and it's completely the opinion of the writer.