Disclosure: I received this products for free to review. The opinions in my review are honest and my own.
As many of you know, I'm a big animal lover. I don't think there are many animals I don't like. To me, it's important we keep protecting not only the animals in our world, but their environment, to make sure the things we enjoy today are there for our children and grandchildren to enjoy. For this reason, I love reading about different conservation efforts and even watching documentaries about them. Recently, I learned about a new documentary starting in February that I thought sounded absolutely amazing – Earth – A New Wild!
Earth – A New Wild: What is It?
Love animals? Starting in February, PBS will be premiering a brand new five-part miniseries showing nature as you have never seen it before – Earth – A New Wild! In this miniseries, Dr. Sanjayan, a leading conservation scientist, takes a fresh look at humanity's relationship with the planet's most wild places, showing how humans and animals can share the same planet and help one another.
"Earth has entered a new epoch and we are now living on a planet where our impacts are felt everywhere" says Sanjayan an expert in conservation and wildlife ecology who has worked with The Nature Conservancy on significant conservation efforts across the globe. "This series is a first for nature films; it turns the camera around and acknowledges that spectacular nature doesn't exist in isolation, that humans are part of the picture. In this way, we show viewers not only stunning, never before seen natural history but also discover extraordinary stories that challenge the very notion that humans are separate from nature, and how, in the new wild – humans and wildlife can – and must— thrive together." ~ Dr M. Sanjayan
Kids and parents alike will love watching as the show goes all over the world, showing how humans are inextricably woven into every aspect for the planet's natural ecosystem. Once you have seen the adorable pandas, ferocious tigers, and some of the other animals in this series, we are certain you will be hooked!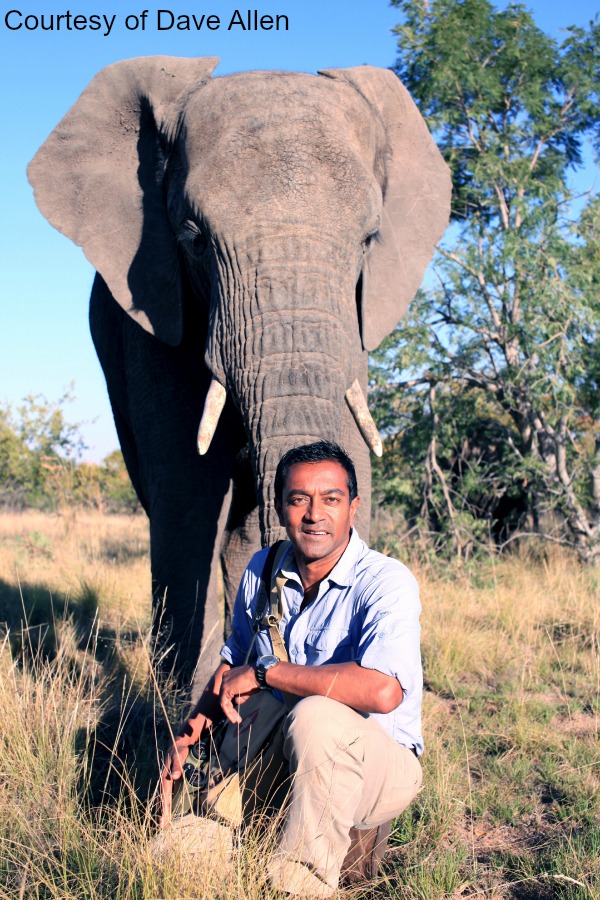 Earth – A new Wild: Overall
As hard as it may be to believe, Earth – A New Wild may very well be the best documentary I have seen – hands down. As someone who loves animals, I was smiling when I got to see the baby pandas early on, and amazed at some of the remarkable stories of how humans and various species of animals all over the plants have not only co-existed, but thrived because of one another. For years, I have seen animal documentaries paint humans as the villains and rarely bring up what we have done to save animals all over the planet. Dr Sanjayan did a fantastic job bringing excitement, intrigue, and genuine curiosity to this miniseries, creating a conservation documentary unlike anything I had seen previously. If you love animals, I highly recommend checking out this documentary in February!
Earth – a New Wild: More Information
Want to watch this brand new PBS mini-series? Earth – A New Wild premieres on PBS beginning February 4, 2015 9 PM ET. Looking at the schedule below to make sure you catch every episode of this miniseries!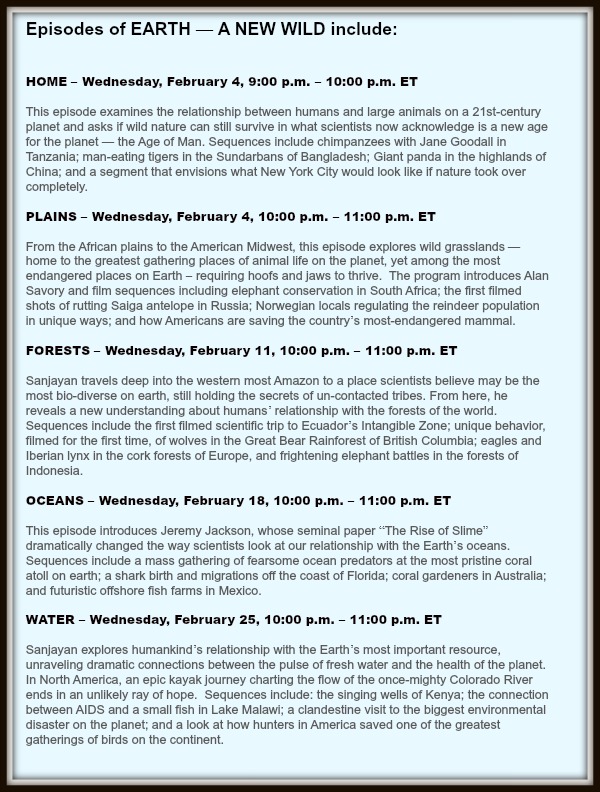 Disclosure: Budget Earth did not receive monetary compensation but did receive products for review purposes. All opinions on this product are my own and may differ from our readers' opinions.
Would you like to have your products featured in a giveaway event? Want to increase your social media exposure? Contact susan.l.bewley@gmail.com to see how I can help YOUR company today!