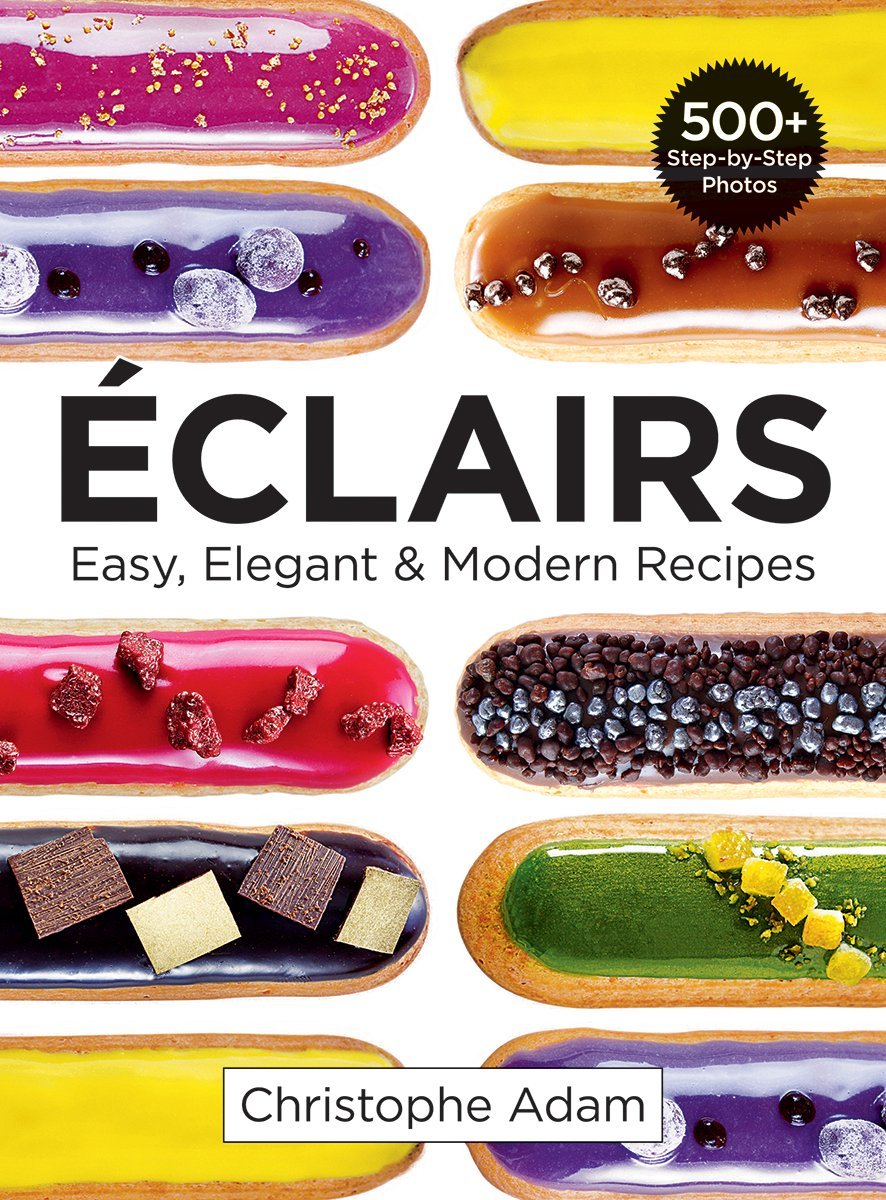 How many of you love éclairs? Ever since I was a kid, I loved when my mother allowed us to get éclairs in the store, or even better, made éclairs at home. Since they were a bit time consuming, my mother rarely made them, making it a true, delicious treat that all of us looked forward to during the summer (she preferred to cook them with less humidity). Since it was such a fickle recipe, I was always terrified to make éclairs at home and honestly never even attempted it as an adult. When I heard that one of my favorite publishers, Robert Rose, who is fantastic about making approachable cookbooks, came out with an éclair cookbook, I know I had to try it for myself. When the book arrived in the mail, I couldn't wait to get into the book and start looking at all the fantastic recipes!
Éclairs: Easy, Elegant and Modern Recipes: What is It?
Do you want to learn how to make éclairs at home? If so, we think you will love Éclairs: Easy, Elegant and Modern Recipes by Christophe Adam. This fun cookbook has fantastic, unique recipes and amazing step by step pictures that make baking éclairs at home easy! See what the publisher has to say about this amazing new cookbook.
The newest darling in the world of baking — the classic French pastry has been embraced by a whole new generation of bakers.

Making this classic at home is much easier than you think. And it's made easy by the fact that it's written by one of Europe's top pastry chefs, Christophe Adam. With its straightforward approach, full color pages and hundreds of step-by-step photos, it's as though Christophe were by your side giving you a lesson in your home kitchen.

Over the last dozen years, Christophe has perfected the éclair and has turned it into a gourmet delight which marries unconventional and imaginative fruits, flavors, colors and textures, resulting in luxe éclairs that will have you reaching for seconds and thirds.

Christophe has created 25 innovative recipes (both introductory and advanced) that will be perfect for everything from casual gatherings with family and friends, to formal celebrations. With these easy-to-follow instructions and some practice with the basic techniques you'll soon be mastering these recipes as well as inventing new ones of your own.

Some of Christophe's creations include Chocolate Popping Sugar Éclairs, Hazelnut Praline, Caramel-Peanut, Lemon, Cherry-Raspberry Sugared Almond Éclairs, Fig Éclairs, Pistachio-Orange Éclairs, Vanilla Éclairs, Raspberry-Passion Fruit Éclairs and Hazelnut Mix Éclairs.

A complete list of utensils, a few simple rules and invaluable tips and techniques are sprinkled throughout and will be hugely appealing to novice and experienced bakers.
Éclairs: Easy, Elegant and Modern Recipes: Our Thoughts
As someone who truly LOVES éclairs, I couldn't wait to get into this cookbook. As someone who had only had traditional éclairs, I was blown away by all the modern, very fun recipes, that sound absolutely delicious. To me, however, the best part is all the step by step instructions. The author (and chief) make preparing éclairs look easy and approaching, something that seemed truly amazing to me, especially since it seemed so complicated when I saw my mother making her own recipe growing up. Never had I thought making éclairs would be so approachable and now I can't wait to try making them at home after seeing just approachable Chef Adam made all of his recipes. Based on our own experience, we are delighted to give Éclairs: Easy, Elegant and Modern Recipes an A+ rating and highly recommend it to anyone who loves baking!
Éclairs: Easy, Elegant and Modern Recipes: Where to Purchase?
Want to purchase this cookbook for yourself or someone you know? You can preorder Éclairs: Easy, Elegant and Modern Recipes on Amazon.com for only $15.95. With a publication date of February 7th, 2017, you won't have to wait long for this yummy cookbook, perfect for any dessert lover!
Would you like to have your products featured in a giveaway event? Want to increase your social media exposure? Contact susan.l.bewley@gmail.com to see how I can help YOUR company today!