With the holidays being right around the corner, it can be difficult finding the perfect toy for little ones in your family. After struggling to find the right toys for the little children of my own family and friends, I decided to create this list of eco-friendly gifts for kids. This list features some of the best green toys on the market, made from rubber wood and other recycled materials. Since the toys on this list cover a wide price range, you can easily find the perfect toy for your budget, to give your favorite child the best toy you can for the occasion. If you have any suggestions or know a toy that should be on this list, feel free to tell us in the comments – we read every comment and hope to put together a list of your suggestions!
21)  Green Toys My First Blocks   (6 months +)

Do you guys remember me talking about Green Toys from part one of our 25 eco-friendly gifts for kids? I absolutely love this brand of green toys since all their toys are not just made from recycled milk jugs, but are also fabricated right here in the United States!  One of my favorite toys from this company is their My First Blocks set. This set of recycled blocks are perfect for boys or girls and contain no BPA, phthalates, or PVC. Each set includes 18 different blocks in a variety of shapes that are easy for little hands to stack and unstack.  While they may be very simple toys, Green Toys My First Blocks are a must for any playroom since they work on problem solving, in addition to building gross and fine motor skills.
22)  Green Toys Tea Set  (2 years +)

If you have a little girl, you know that they absolutely love to play pretend games not only with stuffed animals, but their friends. Another of my personal favorite toys from Green Toys is their tea set. While parents may think that a tea set is just extra clutter in a girls room, it encourages little girls to use their imaginations, as well as work on gross and fine motor skill development. Unlike most little girl's tea sets, however, Green Toy's Tea Set is FDA food contact safe and dishwasher safe, making it perfect for little tea parties.  Like all the toys manufactured by Green Toys, this tea set is made from 100% recycled milk bottle and dyed using water or soy based colorants.
23) B. Zany Zoo  (12 months – 3 years)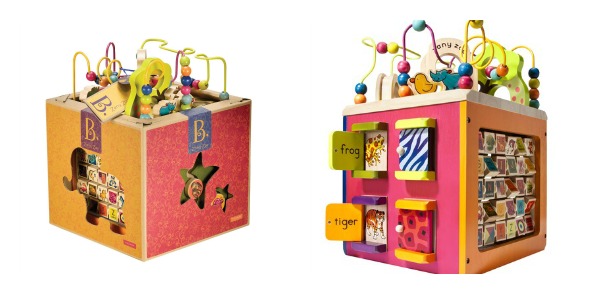 I have to admit, I'm a sucker for baby activity centers. One of the main reasons I love them so much as a teacher is that they are packed with so many different learning games. In the B. Zany Zoo, kids work on important skills such as fine motor control, color recognition, and shape recognition. Each side includes different activities that has kids moving, spinning, and working through shaped loops. While this may seem like a very simplistic toy, it can easily keep young ones busy for hours. Like most B Zany toys, the B. Zany Zoo is made from rubber wood and other recycled materials.
24) B. Woofer Guitar  (2 years – 6 years)

As a teacher, I wouldn't pass up another opportunity to put another musical instrument on the eco-friendly gifts for kids list. The B. Woofer Guitar is shaped to look like a canine and play 20 classic kids songs. Unlike most musical toys, however, kids can really pluck the string of this guitar, letting them feel like they are really playing this musical instrument as it plays a recorded song, or they can make their own noise on the guitar itself! To conserve energy, the B. Woofer Guitar also turns itself off after a set amount of time. Like most other toys from this company, it is made from 100% recycled materials.
25)  Plan Toy Rocking Horses  (2 years +)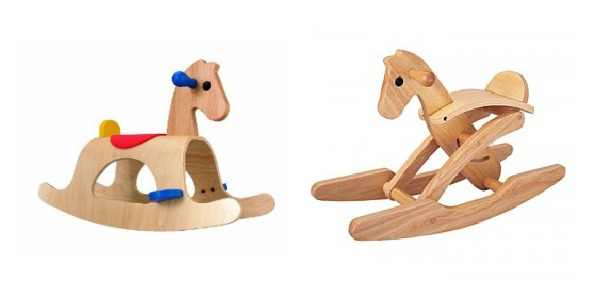 What is the first toy you think of when you think of classic toys? To me, it's the rocking horse. These simplistic wooden horses encourage children to use their imagination, as well as work on their balancing skill on a safe toy. While there are many eco-friendly rocking horses on the market, I think Plan Toys has the market beat when with both of their rocking horses, the Plan Toy Palomino and the Plan Toy Tori Rocking Horse.  Both of these rocking horses are made from all natural, recycled rubber wood, giving children a durable, green toy that is built to keep children happy for hours. As well, both of these rocking horses are designed to be passed down from child to child, giving parents a toy that could easily be passed down to grandchildren. If you would like to learn more about their rocking horses, check out my review of the Plan Toy Tori Rocking Horse.
We hope you enjoyed our list of 25 eco-friendly gifts for kids! If you missed any part of our list, you can find them below!
25 Eco-Friendly Gifts for Kids List: Part 1
25 Eco-Friendly Gifts for Kids List: Part 2
25 Eco-Friendly Gifts for Kids List: Part 3
25 Eco-Friendly Gifts for Kids List: Part 4