As many of you know, I have been trying to put together a comprehensive list of eco-friendly gifts for kids. When I started buying toys for members of my own family, I was surprised just how many toys on the market just don't have the same quality or value that toys did from my own childhood. While I live an eco-friendly lifestyle, I never thought of looking for eco-friendly toys until recently. When I started my search, I was surprised just how many quality toys were actually on the market – all of which are made from recycled or renewable resources. If this is the first time you have seen our list, don't forget to go back and look at the part 1 of our 25 eco-friendly gifts for kids list.  To make this easier for readers, we have divided this list in five parts. Also, if you have any suggestions or toys that you think should be on this list, feel free to share and I will include it on the list!
6) B Critter Clinic  (24 months – 6 years)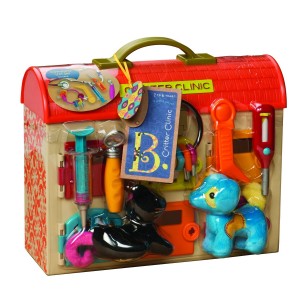 With most children it is safe to assume that they love animals. For this reason, the  B Critter Clinic is perfect for little kids who dream of being a veterinarian when they grow up! This set is packaged in recyclable packaging and every piece is made from recycled materials, making it a perfect fit for the 25 eco-friendly gifts for kids list. When kids open up this set, they have 5 veterinarian tools (stethoscope, mirror, syringe, tweezers, and thermometer), as well as a six colorful kennels with matching colored keys.  With the sets come two patients, a stuffed cat and dog. Kids can create their own imaginary animal hospital on the go or in their own room, thanks to the handy carrying case. Since the B Critter Clinic has the National Parenting Center Seal of Approval, parents can rest easy knowing their little ones are playing with a fun, educational toy that teaches children to be more compassionate and loving of the animals in their lives!
7)  HaPe International E-Racer   (36 months – 10 years)
If you have a little boy in your family, there is a good chance that they love playing with cars. The HaPe International E-Racer Le Mans is a European made car made of a single piece of bamboo and painted with non-toxic water based paints. With its sleek design and oversized wheels, it is perfect for any little boy who loves watching races with their parents. What many boys will also love about this car is that it is designed for speed, allowing kids to have races outside or in the kitchen. If you are someone looking for a unique gift for a little car fan, the E-Racer is a must have toy!
8 ) Quadrilla Marble Railway  (3 years +)

One of the most popular toys for children every Christmas season is a toy train. The biggest problem with most of the tracks on the market, however, is that they are made from non-renewable resources and don't seem to keep a child's attention.  When I saw the Quadrilla Marble Railway, I knew it was a must-have for our list of 25 eco-friendly gifts for kids.  This fun train set won the Oppenheim Toy Portfolio Platinum Award in 2006, Creative Child Construction Toy of the Year, Parenting Magazine Mom Tested Toys of the Year, a Family Fun Finalist, and is designed to be a fun, unique marble railroad that can be rebuilt and added to with other sets. This enables children to use their imagination and builds pre-engineering skills and thinking to build their own railway that accelerates the marbles as they go through complex multi-level and multi-direction layouts. Since you can always buy other pieces to extend the set, this is a toy that keeps on giving!
What we really love about the Quadrilla Marble Railway is that every piece is made out of wood, allowing it to withstand constant abuse and be reused by multiple children. Since each piece is stained using colorful non-toxic, water based stains, kids are presented with a complex learning toy that is 100% non-toxic.  For parents who are on a budget, there are multiple sets that can purchased, ranging from the Quadrilla Marble Railway Basic Set to the Multi-level Quadrilla Marble Railway with Twists and rails. Either way, this toy is likely to keep kids with a busy imagination busy for days! To be honest with you guys, I could easily see myself playing with this toy myself for hours! With the switches and different combinations, this is perfect for any family!
9) Miyim Storybook Collection  (3 months – 4 years)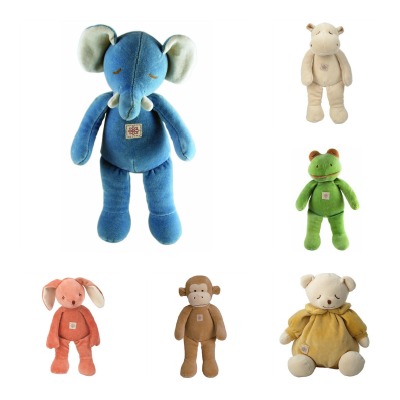 I have to admit, I am one of those people who love to buy stuffed animals for kids. When I saw the Miyim Storybook Collection Plush Blue Elephant, I immediately loved it. This embroidered, soft elephant is naturally colored and filled with natural, unprocessed, and unbleached cotton. As well, this cute elephant comes with a white hemp shirt, giving children a unique stuffed animal that is perfect for sleep or traveling. If you have a little one with allergies, this organic stuffed animal is perfect for you! Even though I didn't have room to put them on the 25 eco-friendly gifts for kids list, there are also a variety of other stuffed animals in this collection, including a rabbit, frog, hippo, monkey, bear, and more!
10) Uncle Goose Wooden ABC Blocks with Bag  (24 months – 6 years)

As some of you may have noticed from part 1 of the 25 eco-friendly gifts for kids list, I love supporting companies who produce toys that are made in the United States. When my niece Sophia was first born, I wanted to find her a nice set of wooden blocks to develop her fine motor skills when she was older, and help her with letter and number recognition. I was surprised how many of the blocks are now plastic, or made out of wood so cheap that it could actually cause splinters. I don't know about you, but I would never give anything that poorly made to a toddler since they put everything in their mouth.  Since I couldn't find anything at the time, I passed on buying her blocks. Now that I have found the Uncle Goose Wooden ABC Blocks, I am seriously considering buying them as a Christmas gift for one of my friend's children.
When most parents see the Uncle Goose Wooden ABC Blocks, they will be reminded of their own childhood. As I said above, these blocks are made in the USA; Michigan to be exact. Each of these blocks are made from basswood and embossed with brightly cold, non-toxic inks. While there are only 28 blocks in a set, each block features a different design on each side of the block. If you put together all the combinations on these blocks, this would equate to 4 complete alphabet sets, 3 number sets, and 27 different animals. Since the set comes with its own hand sewn cotton drawstring bag, cleanup is a snap. Really, this is one of those toys that could easily be a family heirloom given their sturdy simplicity, and how hard it is to find quality blocks for kids.
Want to see other eco-friendly toys, check back with us tomorrow for part 3 of our 25 eco-friendly gifts for kids list!
25 Eco-Friendly Gifts for Kids List: Part 1
25 Eco-Friendly Gifts for Kids List: Part 2
25 Eco-Friendly Gifts for Kids List: Part 3
25 Eco-Friendly Gifts for Kids List: Part 4