Thanks for coming to back for the third part of our 25 Eco-Friendly Gifts for Kids list. We are so excited to share some of our favorite, eco-friendly toys! Not only are all of these green toys, but as with the earlier items, they are educational toys that should last through multiple children. Unlike most toys sold today, many of the toys on our list are made from fast-growing woods, recycled plastics, or biodegradable fabrics. If you have any suggestions, feel free to add it to our list. While there will be 25 toys at the completion of our series, we hope to be adding new toys to the Eco-Friendly Gifts for Kids list based on your suggestions!
11)  Plan B Victorian Doll House  (3 – 10 years)

At some point in every little girl's life, she dreams of having a big, beautiful dollhouse. Let's face it, many mothers dream of their daughters having an elegant, large Victorian doll house. The problem with most of these dollhouses, however, is that they are beyond most families' acceptable price range. When I first saw the Plan B Victorian Doll House, I was completely blown away. This three story doll house with an attic is over 25″ tall and made from recycled rubber wood. It can even be custom painted by parents to make it look like your daughter's dream house. With two front panels that swing open and actual sliding windows, it isn't too surprising that this giant doll house was the winner of Silver Award for Practical Preschool Toys in the UK and the 2006 Silver Good Toy Award in the UK.
I have to admit, I could easily sit down and play with the Plan B Victorian Doll House. When I first found the dollhouse, I thought it was going to be an eco-friendly toy that was too pricy to put on the 25 Eco-Friendly Gifts for Kids list. When I saw it was under $175, I was completely shocked. There are plastic Barbie houses much pricier than this all-wood house that wouldn't last as long! Since it is built to last, this is the type of house a little girl could easily pass down to her own daughter. With how stunning this house looks, just think of the look on your daughter's face if she unwrapped this house!
12)  Plan Toys Musical Band (3 – 5 years)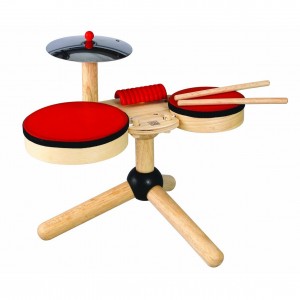 Do you have a little one that loves to listen to music or make instruments out of just about anything in your home? The Plan Toys Musical Band is a dream come true for any preschooler! This set comes with two drums, a metal cymbal, guiro, and two drumsticks. While you make think the noise from a toy like this would drive you crazy, let me add that many studies say that children who play instruments outperform their peers in school. As well, toys like this improve children's hand eye coordination and ability to concentrate on tasks.  Who knew imaginary play could be so beneficial for little boys and girls? Built to last, the Plan Toys Musical Band is made from 100% recycled rubber wood and the drum heads have a layer of durable latex to protect the drum and help children make some noise!
13)  Puffy Dragon  (18 months + )

As someone who writes fantasy and loves dragons, I couldn't resist putting this toy on the list. It is just so cute and unique! This dragon sits on top of a little four wheeled scooter with a seat. Rather than sitting on a hard piece of wood, kids can pretend they are 'flying' through the air on their own dragon! This dragon features a beeper in the crest, has crinkly ears, and can be removed from the base, allowing children to cuddle with their own personal dragon, or for cleanup after a 'flying accident.'  As well, the Puffy Dragon is made from Rubberwood and biodegradable fabrics, making it a perfect fit for our list of 25 Eco-Friendly Gifts for Kids. Right now I am just trying to find some excuse to buy one of these dragons since this toy is just so darn cute!
14)  Plan Toys Doll Family  (3 – 10 years)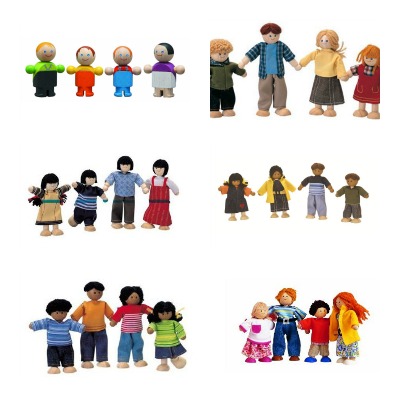 After mentioning the Plan Toys Victorian Dollhouse and the Plan Toys Green Dollhouse with Furniture (see 25 Eco-Friendly Gifts for Kids: Part 1), I had to include eco-friendly dolls to go in the dollhouse! Many of the dolls sold today are made from plastics and designed to be thrown away after a year. Don't get me wrong, I grew up playing with Barbies too, but let's be real – do they really teach girls to be positive about themselves? I remember reading an article awhile back by someone who made a model of what the real Barbie would look like – I personally wouldn't wish that on anyone! For that reason, I believe that girls should play with dolls that look like dolls. Let them use their imaginations as they role-play being a Mommy. Also, don't forget that toys like this can be good for boys – remember, they are likely to be a Daddy someday – a reason to consider dolls like the Plan Toy Doll House Doll Family.
All of Plan Toy's dolls are made from all natural, organic recycled rubber wood and the biodegradable clothing is scaled to fit the dolls. With their small size and moveable arms and legs, they are perfect dolls for little hands. What I like the most about their dolls, however, is that they aren't just one nationality. You can get Caucasian, African American, Asian, HIspanic, and a variety of other nationalities in any style of doll you like. For older kids, I love the Plan Toys Doll House Doll Family. These dolls have yarn-like hair and features that are cute for older girls.  If you have younger children, however, you may want to go with the Plan Toy City Casual Family of Four. These are wood-only dolls with very limited moveable pieces. As well, if these dolls start to get a bit too worn, they can always be sanded and repainted, like most wooden toys.
15) Fresh Organic Fruit Basket  (3 months +)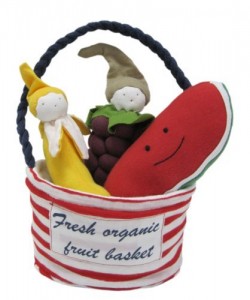 Being a site that encourages healthy eating, I couldn't resist mentioning the Fresh Organic Fruit Basket. It is never too early to start teaching kids about healthy eating, and the best way to do this is by giving children a positive attitude toward vegetables. These soft, washable stuffed animals are designed to be chewed on, washed, and gripped, making them perfect for little ones. While I wouldn't recommend giving the tote to a small child, it is perfect for older kids to bring with them on shopping trips, especially with their veggie friends! This set is made from water based dyes and 100% organic cotton (stuffing too!).  This set included a banana, pear, grape, watermelon, and a bag that reads "Fresh Organic Fruit Basket".
Want to see other eco-friendly toys, check back with us tomorrow for part 4 of our 25 eco-friendly gifts for kids list!
25 Eco-Friendly Gifts for Kids List: Part 1
25 Eco-Friendly Gifts for Kids List: Part 2
25 Eco-Friendly Gifts for Kids List: Part 3
25 Eco-Friendly Gifts for Kids List: Part 4