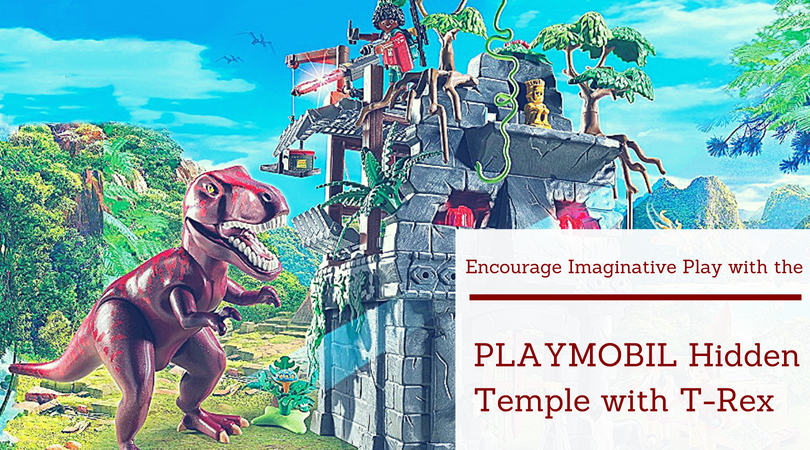 Do you have a little one that absolutely loves dinosaurs? In our family, dinosaurs have always been very popular. One of the cutest things I have seen this year though is PLAYMOBIL's newest set – The Explorers. This new line embraces imaginative play themes that kids love, including dinosaurs, thrilling adventures, and even exploring ancient worlds! As well, this new line also incorporates some of the core values of PLAYMOBIL, such as teamwork, friendship, and compassion in everyday play. As a busy Aunt who always wants to send the cool toys as gifts, I was excited when I got to see the newest toys in the PLAYMOBIL The EXPLORER line that are now available! After looking over the new line, I knew I had to see the PLAYMOBIL Hidden Temple with T-Rex for myself!
 PLAYMOBIL Hidden Temple with T-Rex: What Is It?
Looking for a fun set to encourage children to have fun adventures with their friends? Make playtime truly amazing with the PLAYMOBIL Hidden Temple with T-Rex. Here is what the manufacturer has to say about this cute toy:
Join the Explorers as they embark on a new adventure on Dino Island with the Hidden Temple with T-Rex. Once you discover the temple, use the ancient structure as your research base before heading out to explore the island with the help of the secret map.  Simply rub the map to reveal a hidden path where X marks the spot!  When back at the base, protect the team from the unfriendly T-Rex or enemy explorers with the functioning laser gun (batteries included)! The working temple gate also helps keep unwanted visitors out.  Beware of that T-Rex! His movable arms, legs, and jaw allow for realistic motion and make him one intimidating dino!  Use the functioning pulley to bring needed equipment up to the top floor. Kids can also use the included UV flashlight (1 x AAA battery required) to reveal cool glow-in-the dark features, such as with the ruin's crystal eyes, jungle plant, and more! Set also includes the full Explorers team – Nick, Emma, and Will, their pet dog Sammy, T-Rex, laptop, camera, gold statue, microscope, backpacks, storage containers, hiking equipment, and lots of other accessories.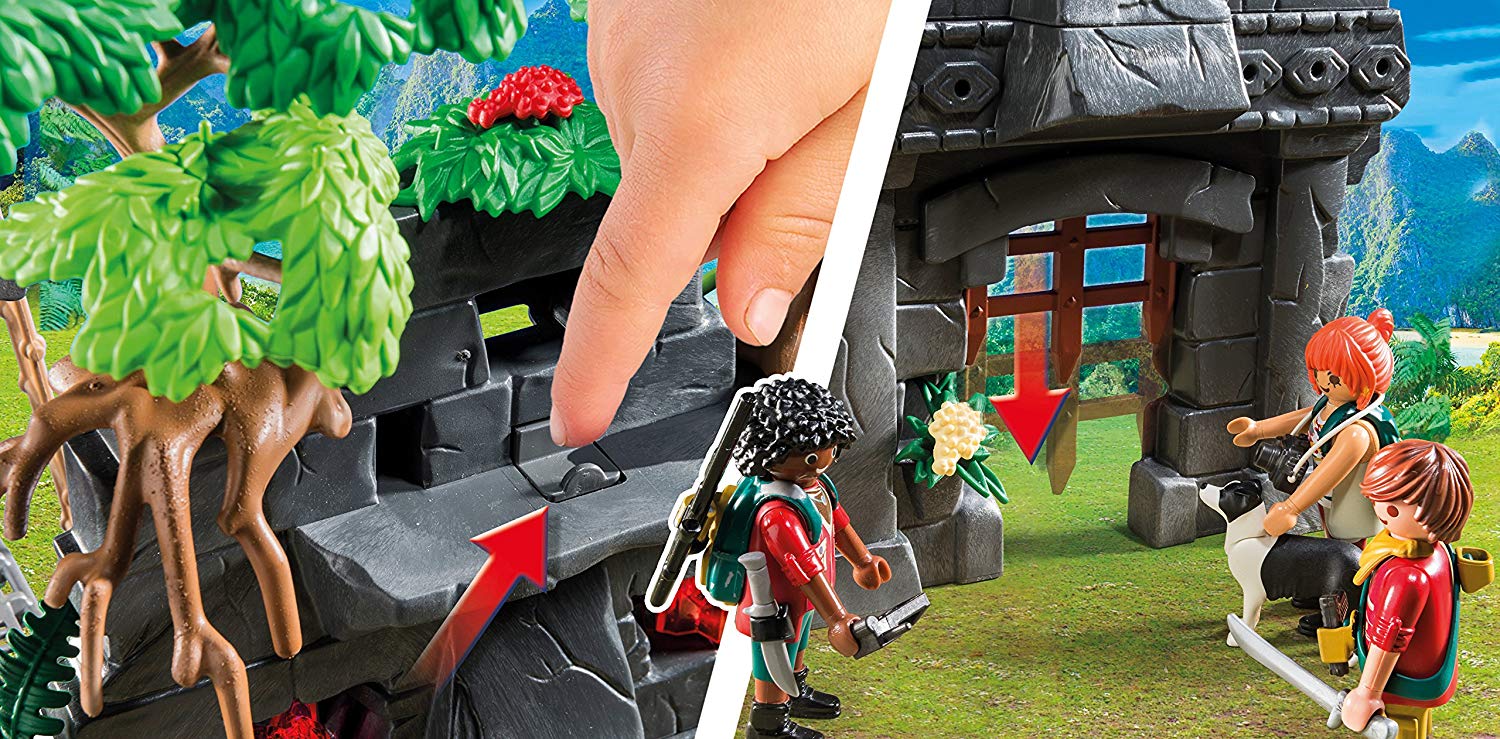 PLAYMOBIL Hidden Temple with T-Rex: Our Thoughts
I will freely admit, I had a hard time picking which set I wanted out of the new The Explorer line. I ended up going with the PLAYMOBIL Hidden Temple with T-Rex because it was so cute and seemed like the best investment when it came to overall play for kids. I love toys that encourage kids to imagine, play and explore. Maybe it is the teacher in me but these are by far the best learning turns since they encourage kids to create their own scenarios, especially when they play with friends or siblings. What impressed me the most with this set has to be the overall detail. It had everything kids needed to pretend to be archaeologists, from computers to various tools that they would need through their 'exploration' of the temple, which has glow in the dark areas on the walls where kids can see secret messages and designs as they 'explore.' It even has a functional pulley to help get tools and equipment up to the top of the temple. Of course, kids also have equipment to help protect against the scary t-rex, including a laser! For the money, this toy set has so much for kids to play with it, making it multiple adventure toys in one for kids. Best of all, it is great for boys and girls alike! Overall, I don't think I could be happier with this and consider it one of the best PLAYMOBIL sets I have seen for years. If you are looking for the perfect gift for any child over 4 years old, I highly recommend checking out the PLAYMOBIL Hidden Temple with T-Rex.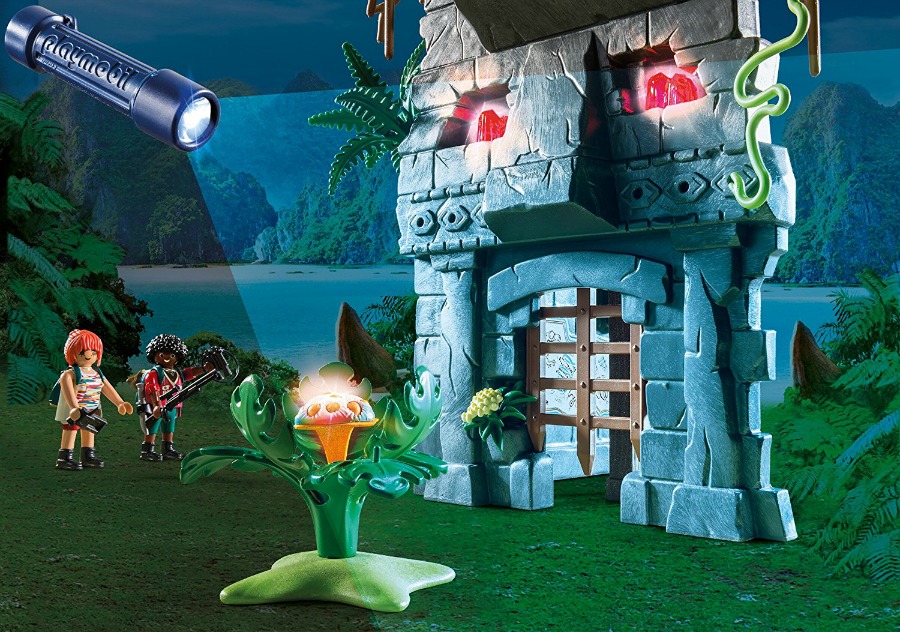 PLAYMOBIL Hidden Temple with T-Rex: Where to Purchase?
Would you love to purchase this adorable set for a little one in your family? You can find the PLAYMOBIL Hidden Temple with T-Rex on Amazon.com for only $59.99. Once you see this cute set though, don't be surprised if you are playing along and joining in on your own fun dinosaur adventures!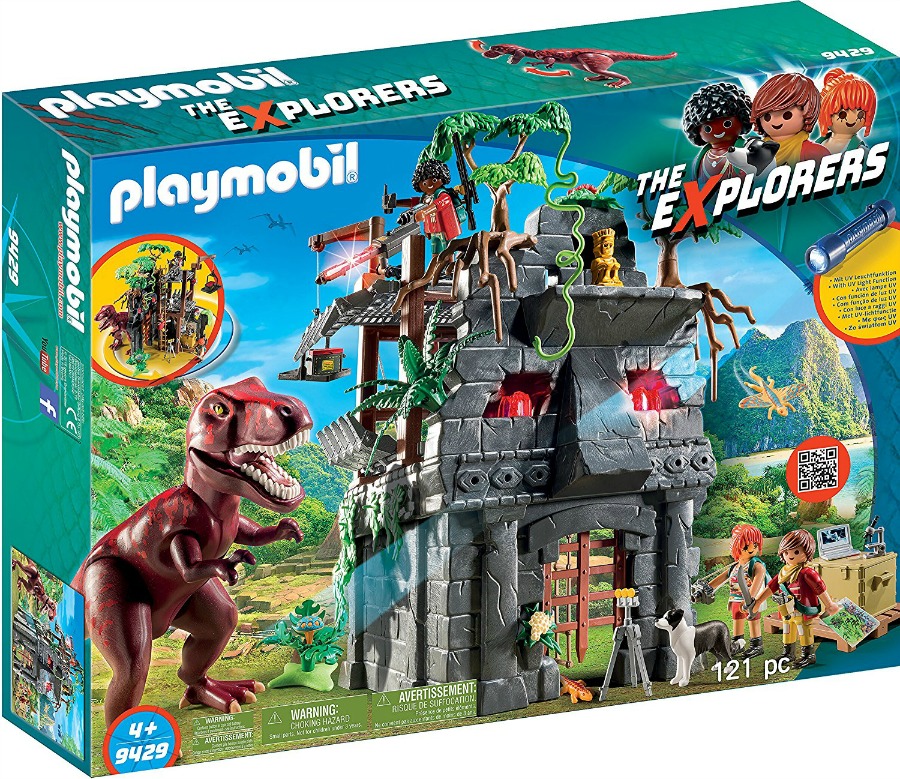 ---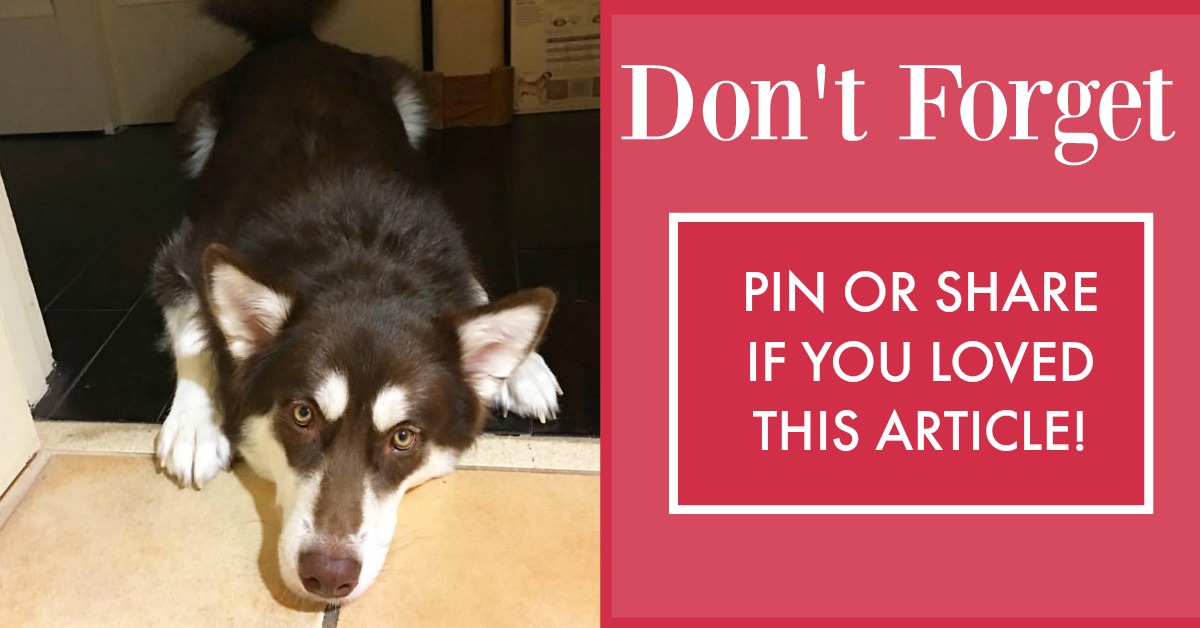 ---