As many of you know, I absolutely LOVE to cook. Daniel and I usually only go out to eat when we have company over, and it's even more rare for packaged pre-made foods to make their way in our home. You would think with both us working from home that I constantly have time for complicated meals. While I wish I could say this was the case – I normally spend my time stressing out about meals, especially if I lost track of time. One of the kitchen tasks I hate doing the most is shredding apart cooked meat. It is time consuming, messing, and a real pain – especially if you are using the two fork method of shredding chicken. Recently, I had an opportunity to review a new kitchen tool that seemed perfect for busy cooks like you and me – the Epica Wolf Claws.
Epica Wolf Claws
If you are someone who spends quite a bit of time in the kitchen, you will fall in love with the Epica Wolf Claws. These ergonomically designed kitchen utensils are four to five times wider than the average fork and sharp enough to cut just about any type of meat. While they're primarily for shredding meat, they are also perfect for gripping, lifting, carving, or even turning large pieces of meat. Since they are heat resistant for up to 450 degree Fahrenheit, they are ideal for grilling as well. As well, the Epica Wolf Claws are made from heavy duty nylon poured into a solid cast, making it super easy to clean since it lacks the holes and grooves that make many kitchen utensils a pain!
Epica Wolf Claws: Usability
When I first opened the Epica Wolf Claws, I have to admit, I was a bit intimidated by them. They reminded me of the fighting claws you would sometimes see in action movies. Once my husband and I started using them, they felt just LIKE the fighting claws from movies. They really do tear through meat like nothing I have seen. It truly cut my shredding time in half or more, especially with my enchiladas recipe. What was even more amusing is that you really can use them any way you like. I used one of the claws for leverage (I have small hands), while my husband used them both together to rip apart the meat even faster. I really can't stress how easy these are to use and how much of a time saver they are when it comes to cutting up meat.
As for cleaning, I found they were just as easy to clean. We threw the Epica Wolf Claws in the dishwasher and they cleaned beautifully, even on the top shelf. I am one of those people who love the convenience of a dishwasher and I hate anything that has be strictly hand washed. In my book, this made the Wolf Claws even better!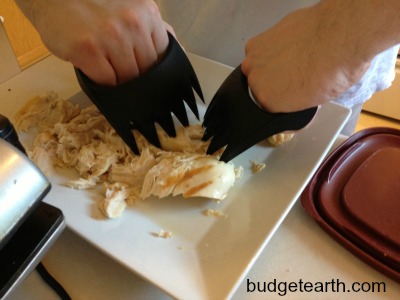 Epica Wolf Claws: Durability
Since I have only owned the Wolf Claws for about a month, I can only talk about what I have noticed during the time I have used them. The Epica Wolf Claws are made of very thick nylon, and I have to admit, it surprised me that they weren't metal, especially with how thick and solid they feel in your hands. Unlike some sharp cooking tools I have tried, it also doesn't seem like the tips on these claws are going to break anytime soon. If you have young children, however, I would recommend treating the Wolf Claws like knives since they are very sharp and aren't toys (even if my husband was playing with them when they came!).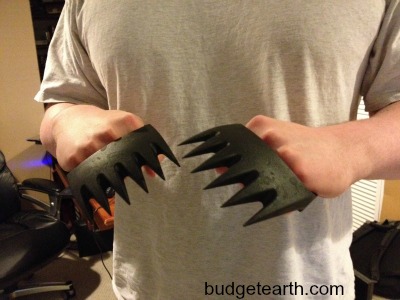 Epica Wolf Claws: Overall
So far, I absolutely love my Epica Wolf Claws. They do an amazing job tearing up meat for my recipes and are super easy to clean. Since they are fairly inexpensive, they are really the perfect tool for just about any kitchen. From my own experience, I can easily give the Wolf Claws an A+ rating. If you are looking for a fairly inexpensive but unique gift to bring to a wedding shower or want to treat yourself, I highly recommend giving the Wolf Claws a try!
Epica Wolf Claws: Where to Purchase
Want to know where you can purchase the Epica Wolf Claws? I have not seen the Wolf Claws in any big box retailers, but have seen them for sale on Amazon.com. They retail for about $25 and regularly sold on Amazon for $19.95. Last I checked, however, they were currently on sale on the product page for $13.95. Since this price drop happened in the past few days, I have no clue if this is temporary or not, so you may want to pick them while they are cheap, especially if you cook as much as everyone in my family!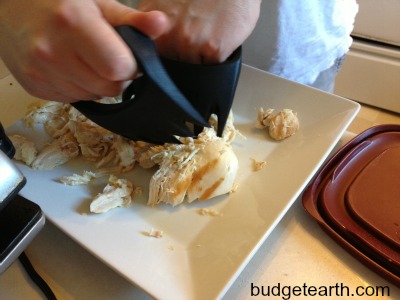 Disclosure: Budget Earth did not receive monetary compensation for this review and giveaway, but did receive a package of Wolf Claws for review purposes via Tomoson.com. All of the opinions on this blog are the opinions of said author and these opinions may differ from your own.