Disclosure: I received these products for free to review. The opinions in my review are honest and my own.
Over the past few years, I have been spending quite a bit of time trying to make sure the food in our house is not only healthy, but delicious. While some people diet, I have been trying to change our overall eating habits as I lose weight, trading convenient foods for things that taste great and are filled with nutritious ingredients. One of the things I was determined to get rid of this year were sugar filled fruit juices. Not only that, but I have been hearing all over the place the health benefits of juicing and how it's a great way to add more fruits and vegetables to your diet. My only problem was that I didn't have a juicer. As I was researching into different juicers and trying to look for the perfect one, I discovered the Fagor Slow Juicing Platino. Curious to know more, I reached out to the company, who was delighted to have me review their latest juicer!
Fagor Slow Juicing Platino: What is It
Looking for a high quality juicer that is perfect at extracting juice from your favorite fruits & vegetables while keeping as many nutrients as possible? If so, we think you will love the Fagor Slow Juicing Platino. This slow juicer is BPA free and has a beautiful black and gunmetal design that is not only compact, but light! This slow juicer does not oxidize or separate, allowing you to preserve more organic nutrients from your food and keep it in as much of its natural state as possible. As well, with its 2 step juicing process, it extracts juice twice from the fruit without squeezing or shredding your food, giving you a dry, dehydrated pulp and delicious juice. With this easy to clean and compact juicer, you will find that juicing is not only healthy, but fun!
Fagor Slow Juicing Platino: Overall
When my juicer arrived, I will freely admit, I was like a little kid. After all the wonderful books and things online I had read about juicing I couldn't wait to get started. The next day, I bought just about every vegetable and fruit that I could find at a reasonable price, including spinach, strawberries, oranges, blood oranges, and bananas. I just couldn't wait to get started juicing. When I took the Fagor Slow Juicing Platino out of the box, the first thing I noticed is that it was mostly together and very simple to set up. I had the whole unit cleaned and together in less than five minutes, which I thought was a pretty impressive feat. Not only that, but it took up very little room on my counter, one of my husband's biggest concerns with adding another kitchen appliance to our kitchen.
While it being easy to set up and put together is obviously important, it still didn't say how well the machine juiced. Once I had my fruit cut up and ready to go, I was amazed at just how easy it was to get the machine not only going, but juicing. Within minutes, I had juice from the oranges I squeezed and very dry pulp that was neatly coming out of the chute. Like most juicers, there was still some pulp in the juice, but this wasn't a big deal to us – we tend to prefer beverages with pulp. Once I had enough for about 3 glasses of juice, I turned off the unit and unplugged it for cleaning. Just like juicing, cleaning was a snap. The entire unit was apart and both of us cleaning it together in no time! So far, I adore my slow juicer and don't know how I got along for so long without one. I right now can't even imagine buying store bought orange juice after making my own. Based on our own experience with the Fagor Slow Juicing Platino, I am happy to give this juicer an A+ rating and recommend it to everyone who is considering buying a juicer!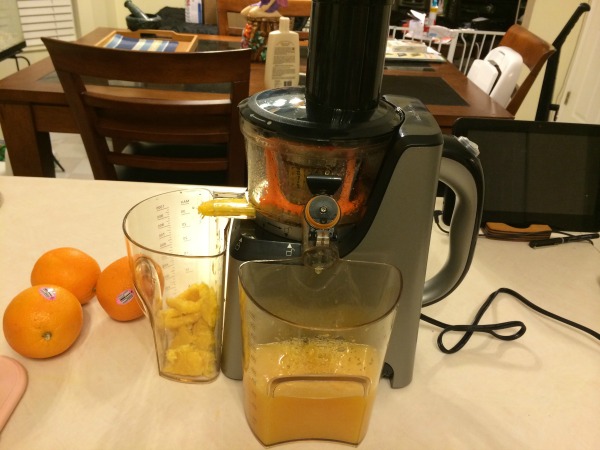 Fagor Slow Juicing Platino: Where to Purchase
Would you love to purchase this awesome juicer for yourself and your family? Currently, you can purchase the Fagor Slow Juicing Platino on Amazon.com & other retailers for $199.95. Once you have tried this awesome juicer, you will see why my family and I are now addicted to juicing!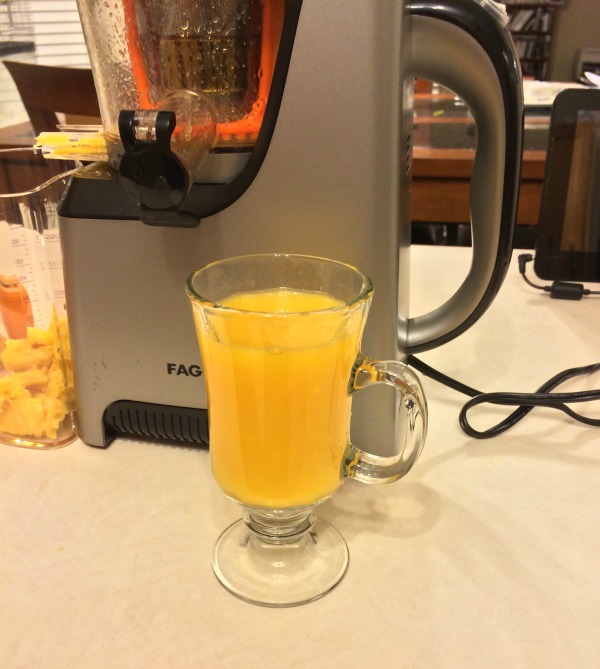 Disclosure: Budget Earth did not receive compensation but did receive products for review purposes. Budget Earth may, however, receive compensation through purchases from affiliate links in this post. All opinions on this product are my own and may differ from our readers' opinions.
Would you like to have your products featured in a giveaway event? Want to increase your social media exposure this holiday season? See how Mom Powered Media can help! Contact susan.l.bewley@gmail.com to see what we can do for your company!