Disclosure: This is a sponsored post provided by our sponsor, Miche.com.
We know you're sticking to a budget, but you still want to look good too.  Every lady needs a purse or bag to carry around those everyday must-haves.  Why not be fashionable and money savvy at the same time?  With Miche you get a great bag and Shells at affordable prices.  Don't break your budget to look great.  Stay fashionable and save money too!
The interchangeable Miche bags are very affordable and practical.  First, purchase a Base Bag in whatever size suits you best and then purchase fashionable magnetic Shells to go with it.  Purchase different straps and handles and get a different look with every Shell.  No need to purchase a whole new bag when you want a change; just get yourself a new Shell and you're good to go!
The Base Bag has all the pockets and storage inside that you could want, including a zippered pocket.  When you want to change your look, just take off the magnetic Shell and put on a new one.  There's never any need to empty the contents of your purse.  In just a matter of seconds you can have a new look.  Change it for the season, your outfit, or anytime.  It's that easy!
There are four different interchangeable bag sizes.  The Petite for date night when you need just a few items, the Classic for when you need to carry a little more stuff, the Demi for when you need your tablet, some snacks and a few more things, and the largest of them all is the Prima.  Carry the Prima when you need a lot of extra things like your laptop, toys, diapers, or whatever else you can think of.  Use it as an everyday purse or as an overnight bag.  Whatever your life calls for, there's a Miche bag for you!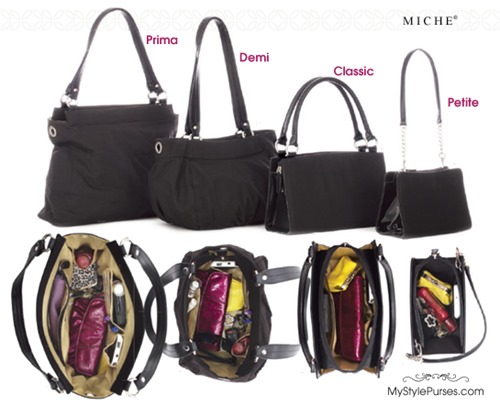 Want to earn a little extra money?  Become a Miche Representative!  As a Representative, you get to make your own hours, work from home, and party for a living!  Host parties for your friends and get them their own Miche bags too.  Have your friends host a party and they receive hostess rewards and you make some extra money.  As a Representative for Miche, you get to decide when you work and when you don't.  No need to request time off, so you're sure to be at the ballet recital or the baseball game—you're the boss!  That way you can have all the free time you need with your family and yet be able to contribute to the household income.
There are many opportunities at Miche to make money and save money.  Get hooked up with Miche today and experience fashion and saving at the speed of life.
Disclosure: Budget Earth receive compensation for this post. All opinions are my own and may differ from our readers' opinions.
Would you like to have your products featured on Budget Earth in a review or a giveaway event? Want to increase your social media exposure? Contact susan.l.bewley@gmail.com to see what we can do for your company!