Did you know that the average person requires 7 to 8 hours of sleep a day, according to the Better Sleep Council? This means that we spend 1/3 of our day sleeping! If I'm going to be spending that much time sleeping, I'm of the opinion that I might as well spoil myself and make my bed as comfortable as possible. While I think our mattress does a decent job, I knew our bedding needed some help. The problem is, it's not easy for us to just go out and BUY a comforter and sheets. You see, my husband is sensitive to polyester. This means that cotton is usually our only option. This may not seem like an issue at first glance, at least until you see the cost of quality cotton sheets. Usually, a set of soft 100% cotton sheets that is at least 600 thread count costs around $150+ for a king bed, especially with the fact many sets make you buy the pillow cases separately. Wowzers! I knew I had to find something that felt as amazing as cotton but didn't bother my husband's allergies. Just when I was about to give up, I found the perfect, eco-friendly solution – bamboo sheets from Fiber Element. To say the least, I was ecstatic when I found out I could review a king size set for free!
Bamboo Fiber? How's that work?
Over the past decade, bamboo has quickly been becoming popular in North American, especially in the form of towels, dishware, bedding, and just about anything you can imagine. Part of what makes bamboo such a great ecological choice over typical cotton is the fact that it's fast growing, durable, and does not require the use of dangerous chemicals or fancy irrigation systems to grow. For people who are eco-friendly, bamboo is the most sustainable option if you are wanting to reduce your carbon footprint. But anyone who has seen bamboo knows that 'soft' isn't the first thing that comes to mind for this stiff, pole-like plant, right?
When Fiber Elements makes their bamboo sheets, they use 100% bamboo viscose, which makes amazingly soft sheets – even softer than 1,000 count cotton sheets, in my own experience. Best of all, their elegant, bamboo sheets are luxurious but reasonably priced, allowing just about anyone the chance to feel like royalty when they relax at night.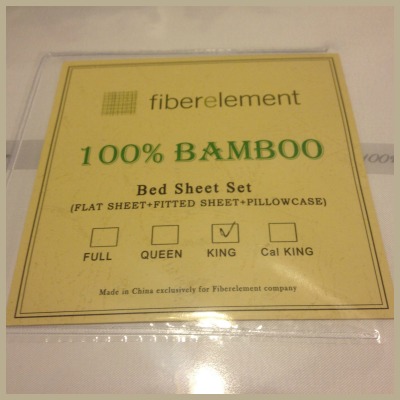 Fiber Element Bamboo Sheets: Comfort
When my set of Fiber Element Bamboo Sheets arrived, I couldn't wait to get started with my review. My favorite set of 1,000 count cotton sheets had caught and ripped earlier that day after an unfortunate encounter with Reya, so I was desperately needing another set of sheets. Having been spoiled with high quality cotton sheets, I had no clue what to expect from bamboo sheets. From the moment I took these sheets out of the package, however, I was amazed. These sheets were just so soft! When I say soft, I mean comparable to – if not better than – satin or silk. This was definitely a pleasant surprise!
The big surprise, however, came when it was time for bed. You know your sheets are going to be good when you hear your husband say, "Wow! These sheets feel amazing!" After hearing that, I couldn't wait to lay down and try the Fiber Element bamboo sheets for myself. Saying these sheets feel amazing almost doesn't seem like enough praise! These extremely soft sheets feel cool to the touch when you first lay down, and then slowly start warming up. For someone who is sensitive to heat (okay, I would rather live in an ice cooler), I thought these sheets were truly amazing!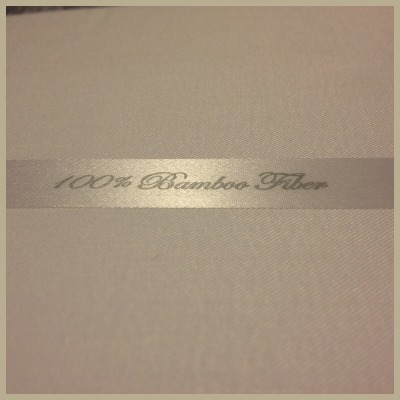 Fiber Element Bamboo Sheets: Care
While I loved these sheets, I was very worried about washing them. The last time I bought soft sheets that claimed they would stay soft, they started piling badly after being washed and the fabric lost its softness. Since I love the feel of my Fiber Element bamboo sheets, I really didn't want to wash them. I knew that after a week of use, however, it needed to happen. After putting them in my HE front loading washer, I followed the wash instructions, wanting to make sure I did everything that was necessary to keep these sheets feeling great. It actually surprised me that the care was so easy. All I had to do was wash them in cold water with a mild detergent. Since I only use eco-friendly, mild detergents, this was just like washing all of my other clothes! What surprised me, however, is that they didn't recommend using any form of fabric softener, as well as never using bleach. After crossing my fingers, I started the wash. Following their instruction, I had no piling issues and the fabric still felt as good as new.
Drying my sheets was just as easy. The recommendation is that you fold them loosely (to avoid wrinkles) and put the sheets on the lowest heat possible and on a gentle cycle. My only mess up was that I forgot to take out my bounce bar. Luckily, this didn't ruin the sheets at all and they still had a wonderfully soft feel. Now, imagine silky sheets hot right out of the driver! To say the least, my Fiber Element bamboo sheets felt like heaven and didn't take any special care.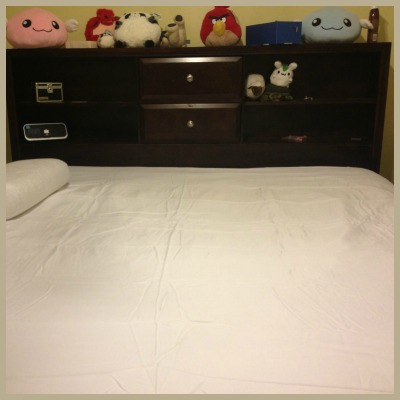 Fiber Element Bamboo Sheets: Overall
Having spent quite a bit of time in hotels while traveling with my husband, I have slept on some very nice sheets. These sheets, however, may very well be the best sheets I have slept on in my life. They make going to bed a truly enjoyable, luxurious experience. As well, nothing is better than snuggling into pleasantly cool sheets that warm up as you lay there, helping you get more comfortable as you prepare to go to sleep. In a way, Fiber Element perfected the entire sleeping experience with these sheets. I've had some very nice sheets before, but nothing can beat these sheets. Based on my own experience with Fiber Element's bamboo sheets, I can happily award these sheets an A+ rating and highly recommend these sheets for your own master bedroom! Trust me – they are worth it!
Fiber Element Bamboo Sheets: Where to Purchase
Want to try these awesome bamboo sheets for yourself? These sheets are currently available in four common mattress sizes – Full, Queen, King, and California King, ranging from $89.99 – $159.99 a set with free shipping. Best of all, unlike most higher end sheet brands, they even include the pillow cases in the set, an amazing, complete set for a reasonable price! To purchase a set of these sheets or learn more, make sure to head over to the Fiber Element Website. Also, don't forget to like them on Facebook & Twitter to see their latest sales!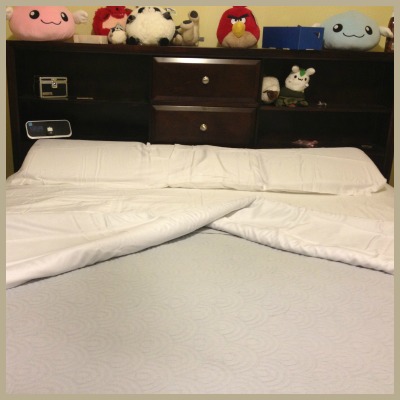 Disclosure: Budget Earth did not receive compensation for this review but did receive free products from Fiber Element for review purposes. All opinions on this product are my own and may differ from our readers' opinions.
Would you like to have your products or event featured on Budget Earth? Want to increase your social media exposure before the holiday season? See how Mom Powered Media can help! Contact budgetearth@gmail.com to see what we can do for your company!