Disclosure: Budget Earth received products for this review. All opinions, however, are honest and my own.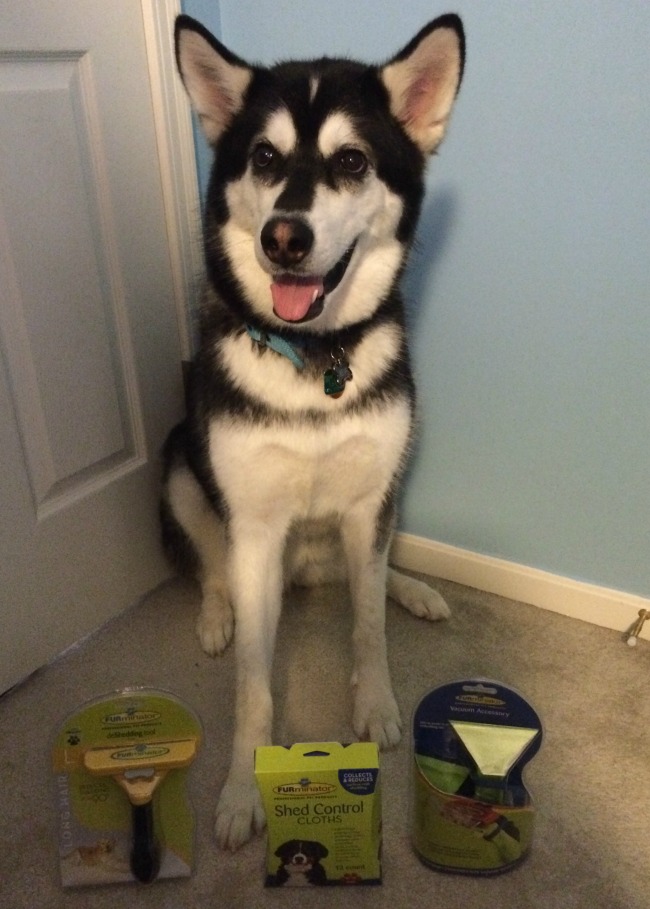 Does your dog shed? Okay, let me rephrase that – are you tired of fighting the losing battle against dog hair in your home? While I love Reya to death, sometimes the fur everywhere is a bit much, especially when we are rushing out of the house to a business meeting or heaven forbid, I wear a black dress. Of course, I always have a lint brush with me, but it feels like I should have some options when it comes to controlling her fur. Usually when it gets too bad, I go for my favorite dog grooming tool – the Furminator. For those who haven't heard of this awesome tool, it really is a pet owner's best friend and to my surprise, they have a full line of products that I didn't even know existed!
Furminator: Furminator DeShedding Tool
Looking for a grooming tool to fight back against long dog hair? If so, we think you will love the Furminator Dog deShedding Tool. This tool works using the stainless steel deShedding edge which reaches deep beneath your dogs long topcoat to gently remove the undercoat and loose fur. Best of all, this patented technology allows dog owners to groom their dog without much fuss at all, since many dogs don't mind being brushed with the Furminator, which doesn't cause harm like some sharp grooming brushes, rakes, and combs.
In our household, this is a daily grooming tool that has dramatically reduced loose fur in our home, without causing any harm to Reya. It is especially useful when Reya is blowing coat. For those who don't know what blowing coat is, this is where malamutes and huskies lose their undercoat, which happens about twice a year. This can be a very long, drawn out process that can take hours upon hours. Below, is a picture of our yard about brushing Reya for only 5 minutes with this deShedding tool.  It isn't too shocking that it can reduce shedding by up to 90% and is recommend by veterinarians and professional groomers! Based on our own experience, we are delighted to give the Furminator DeShedding Tool an A+ rating and recommend it to all dog owners!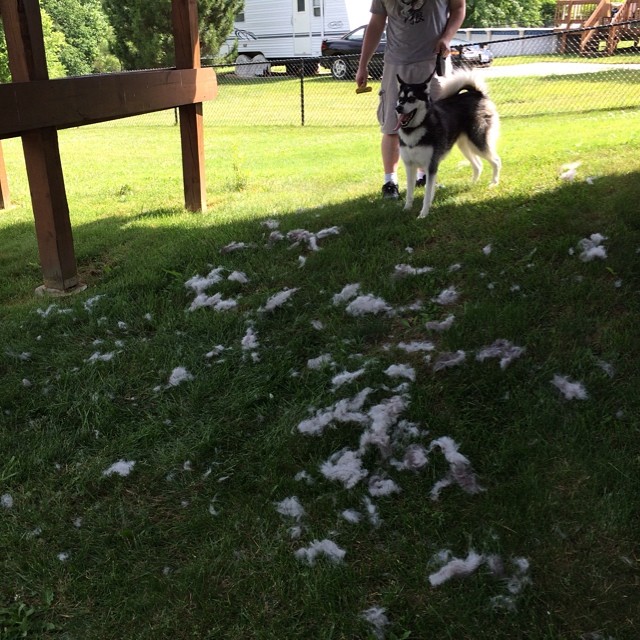 Furminator: Vacuum Accessory
Want to make using your Furminator as mess-free as possible? If so, we think you will love the Furminator Vacuum Accessory. This cool accessory attaches to your vacuum, allowing it to suck up hair as you are working, making grooming less messy and without the need to have a trash can with you at all times. As you can see from the video below, this tool is pretty nifty and makes grooming a snap. Since all of my dogs are a bit nervous around the vacuum, I am showing off one of the official videos rather than showing this working with Reya. While it works, just know it may take some adjusting and lots of treats to get them used to using the Furminator with the vacuum. That being said, this is a pretty nifty tool to work alongside the deShedding tool and we are happy to recommend it to our readers.
Furminator: Shed Control Cloths
Trying to find a way to quickly add some shine to your dog's coat and get rid of loose fur before leaving the house? If so, we think you will love the Furminator Dog Shed Control Cloths. These convenient cloths remove loose surface fur while also giving your dog's top coat a quick cleaning. These cloths are three times thicker than traditional wipes, reusable, and work by using a proprietary three dimensional loop technology that traps loose fur on the wipes themselves.  As you can see, these cloths do a great job collecting loose fur and leave Reya's fur with a pretty shine! Based on our own experience, we are happy to give the Furminator Shed Control Cloths an A rating.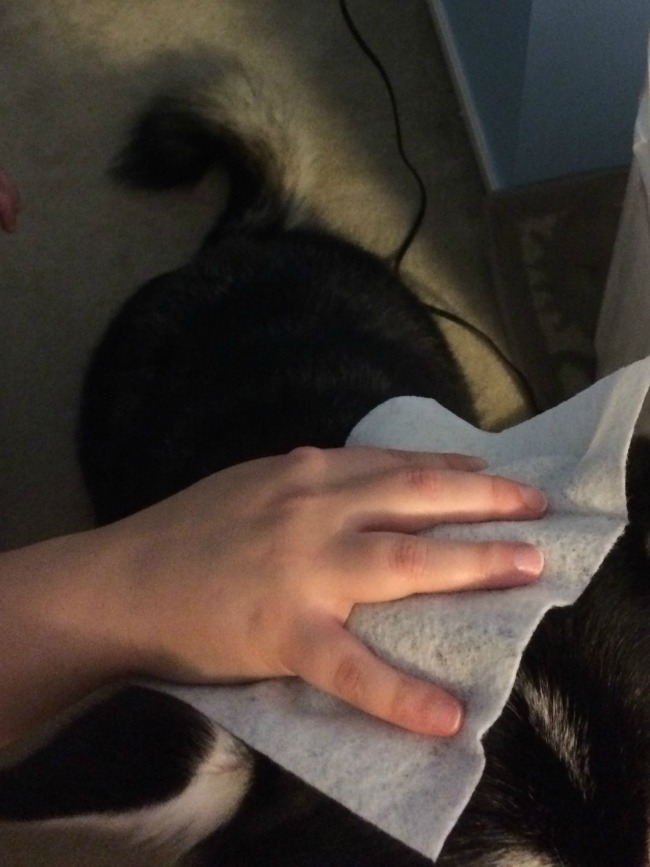 Furminator: Where to Purchase
Want to purchase some of the awesome Furminator products featured in this review? You can find the full line of their products on the Furminator website, Amazon.com, or at a retailer near you!
 Want to learn more? Check out Furminator on social media!
Facebook | Twitter | Pinterest

Disclosure: Budget Earth did not receive monetary compensation for this review, but did receive products for review purpose.  All opinions on this product are my own honest assessment, and may differ from our readers' opinions. 
Would you like to have your products featured in a giveaway event? Want to increase your social media exposure? Contact susan.l.bewley@gmail.com to see how I can help YOUR company today!