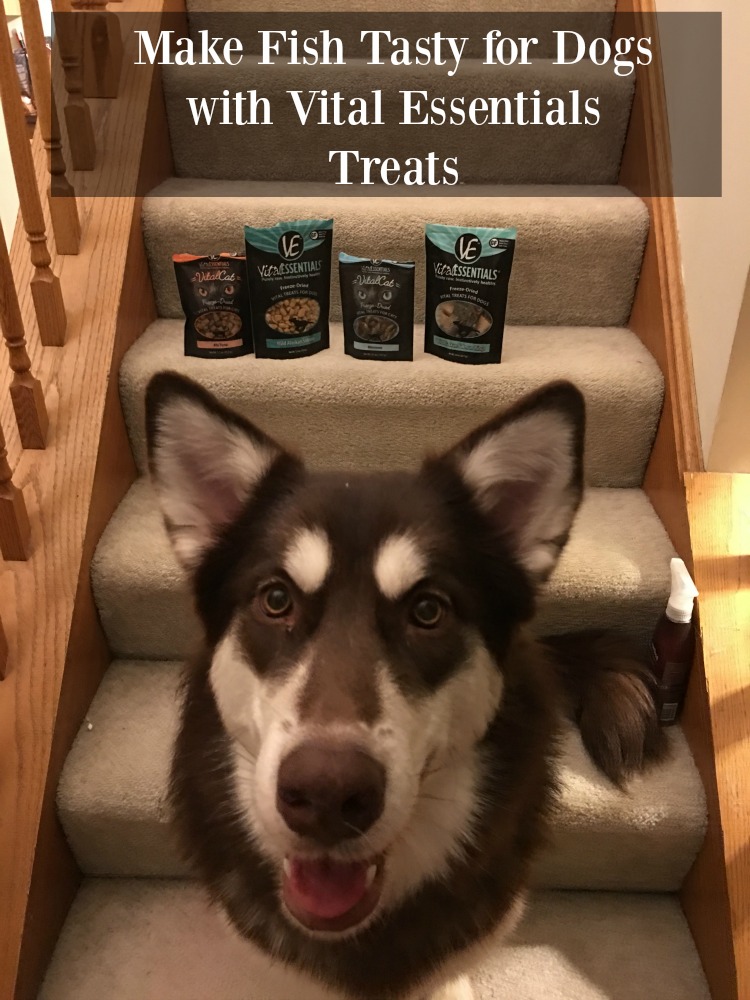 Do you dogs love fish? While Ivi is a big fan of fish, Reya is sometimes a hard sell, especially when it comes to salmon. While this may not seem like a huge deal, fish has a variety of wonderful nutrients that are perfect for dogs of all ages and sizes. The problem, however, is finding high quality fish treats that don't have extra fillers or scary ingredients. Luckily, one of our favorite brands has a variety of wonderful raw fish treats perfect for active dogs like ours – Vital Essentials. With their new Minnow treats out for dogs, we were excited when they asked Reya and Ivi to try their line of fish treats, along with samples of their wildly popular salmon and tuna treats. Once they arrived, our girls couldn't wait to dig in!
Vital Essentials: Who Are They?
Trying to find awesome treats that are perfect for dogs and cats of all sizes? If so, we think you will love Vital Essentials Freeze Dried Treats for Dogs. Their grain free, gluten free treats are made using fresh, single sourced USDA animal proteins including beef chicken, turkey, rabbit, and even Alaskan salmon. These nutritious, all natural treats come in a resealable bag, making them super convenient for busy pet parents. With a variety of wonderful flavors, you can make any dog's day with Vital Essential treats!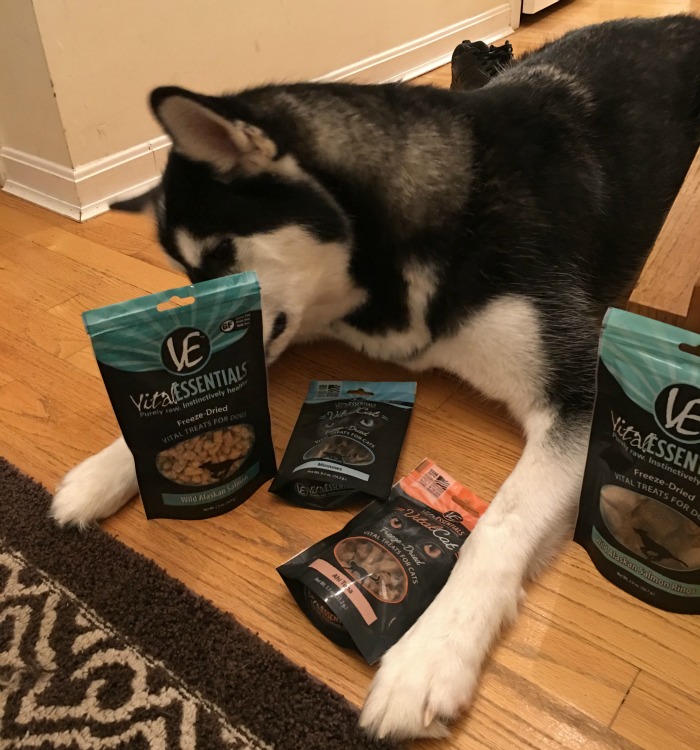 Vital Essential Wild Alaskan Salmon Rings
I have to say that these treats have been a hit  in our household since December. Their Wild Alaskan Salmon Rings are the perfect size for training large dogs like ours, unlike most salmon treats on the market. What is more important, however, is that they drive Reya and Ivi wild. For quite a while, Reya has eaten Vital Essentials salmon treats and will stay clear of any other type of salmon. Unlike most other treats, they are also sized to where both dogs have to chew them, making sure they get the full benefits of the fish. If you have smaller dogs, don't worry, they are easily manageable and owners can unroll and break them apart, allowing you to make the bag go even further.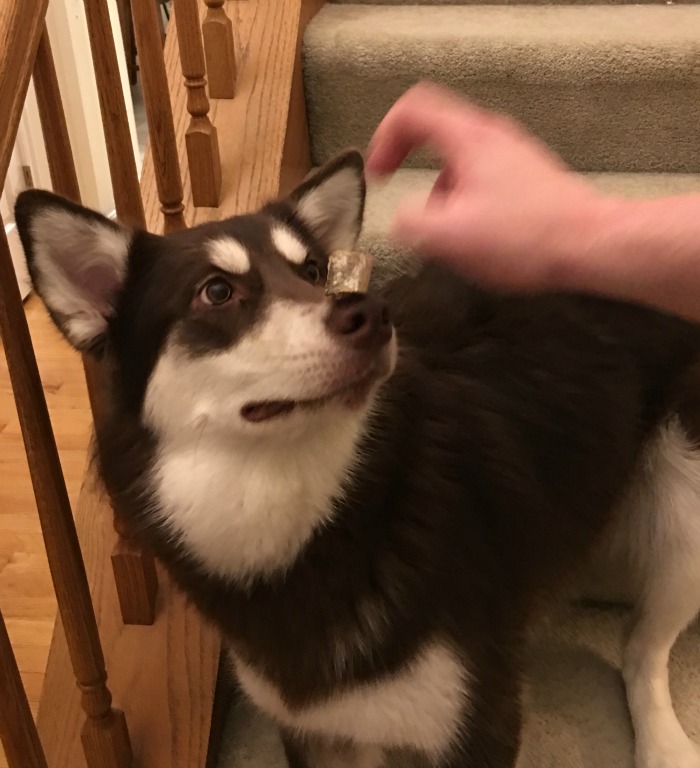 Vital Essentials Wild Alaskan Salmon
If I had to pick one treat that has driven Reya crazy for some time, it would be these salmon treats. As I said before, Reya absolutely despises most salmon, just like her adopted dad. She will actually run and hide rather than give a salmon treats a chance. Not only does Reya love Vital Essentials Wild Alaskan Salmon treats, but I could easily put them in her top five favorite treats of all time. With these literally only being salmon, this was a huge shock for my husband and myself the first time she tried these as a pup, but we made sure to use them in Reya's puppy training. Now, if only we could get Reya to share one of her favorite treats with the puppy…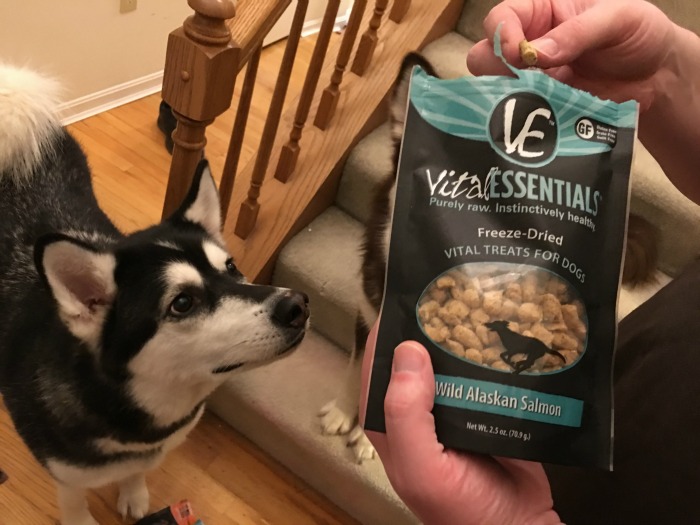 Vital Essentials Minnows
As someone who has turtles, I know minnows quite well. We buy these fish for our two red-eared sliders and the girls are absolutely FASCINATED by these fish. When I found out that Vital Essentials had these for dogs and cats, I can honestly say I was quite excited to give the girls a chance to try them for themselves. Since the dog version of these treats won't be out until later this month, we were sent the cat version of these treats (they are the same thing though – pure, whole fish). This is one of those treats I have to admit, it is a bit creepy touching at first, but you very quickly get over it. More importantly though, the girls seem to really like these threats. Ivi especially is a huge fan since she loves trying to play with the treats AND eat them. Oh well, who said dogs can't play with their food?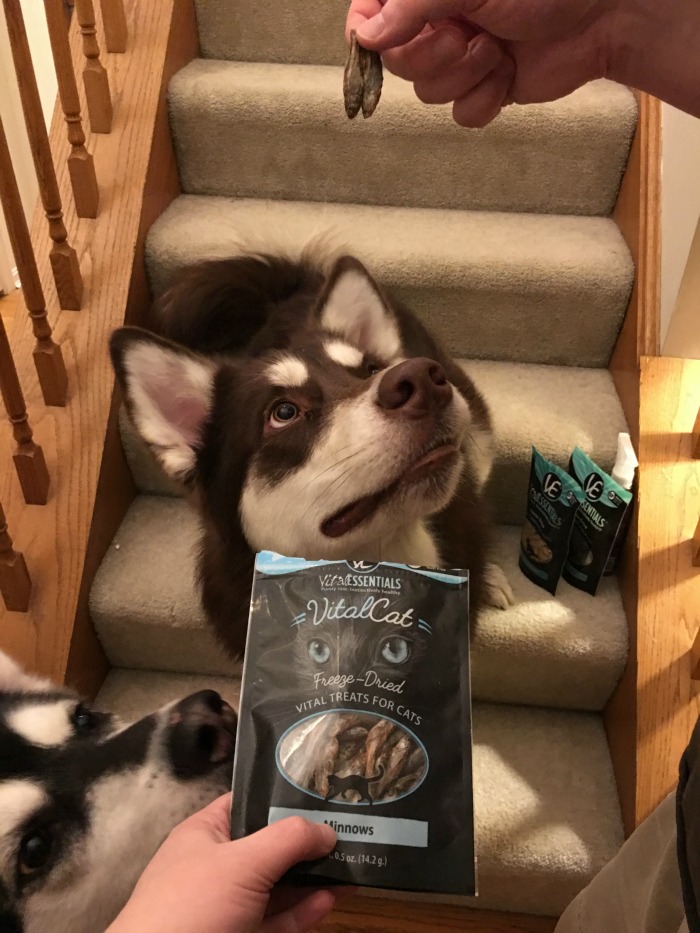 Vital Essentials Ahi Tuna
Ah, Tuna. The one fish that has been loved by both of our dogs for quite some time. Since I didn't know until recently that the cat treats were also safe for dogs, I never even though of trying their Ahi Tuna for the girls. From the moment I opened the bag, I was swarmed by dogs ready for a yummy treat. I personally love the size of these treats since they are perfect for quick training, especially for rewarding good behavior on walks. While I'm unsure how much they are loved by cats, I know I have two very happy malamutes who love these treats!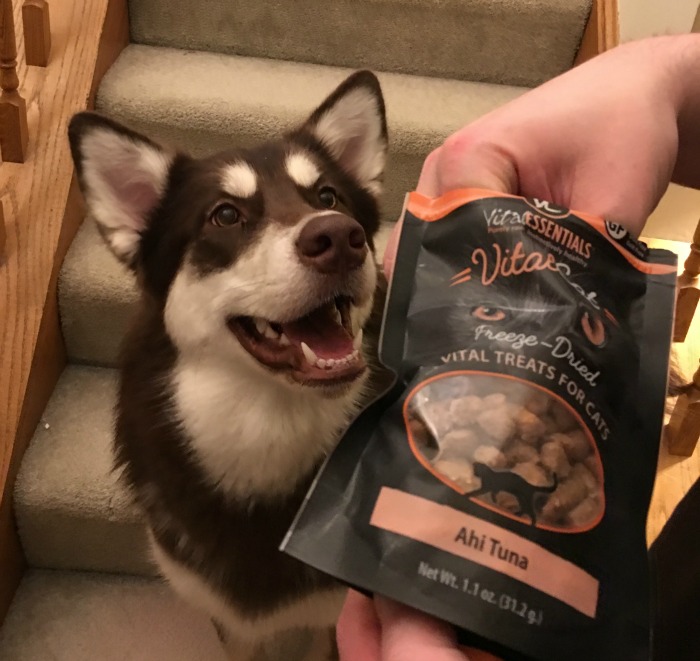 Vital Essentials: Where to Purchase?
Would you like to purchase these awesome fish treats for your own dog or cat ? You can find them on Amazon.com or at a store near you using their store locator. We are certain that once your dog tries these treats, you will never think of raw the same way again!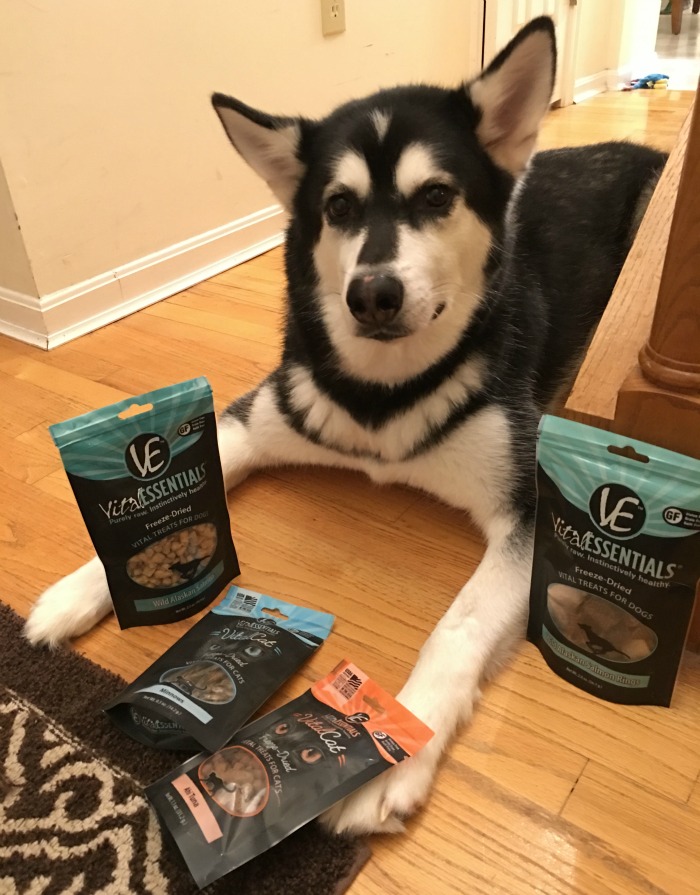 Want to learn more? Check out Vital Essentials on Social Media!
Facebook | Twitter | Pinterest | Instagram | Youtube

Disclosure: Budget Earth did not receive monetary compensation but did receive products for review purposes. All opinions on this product are my own and may differ from our readers' opinions.
Would you like to have your products featured in a giveaway event? Want to increase your social media exposure? Contact susan.l.bewley@gmail.com to see how I can help YOUR company today!