Disclosure: I received these products for free to review. The opinions in my review are honest and my own.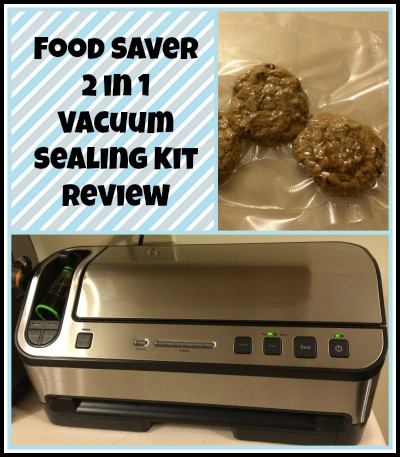 Want to know what I think is one of the worst parts of living a busy lifestyle? Wasting food. I can't tell you how many times I picked up fresh vegetables and meat only to have them end up forgotten and foul in the fridge. In a perfect world, this would never happen, but let's face it, life distracts us all too often. Wouldn't it be great if we had a way to preserve both raw and cooked foods to make them last longer? How about vacuum sealing those wonderful fresh vegetables you got on sale for .99 cents a pound? Recently we discovered the perfect solution to saving us both time and money – the Food Saver 2 in 1 Vacuum Sealing Kit!
Food Saver 2 in 1 Vacuum Sealing Kit: What Is It
Looking for a way to make food last longer and reduce waste in your home? If so, we think you will love the Food Saver 2 in 1 Vacuum Sealing Kit. This new addition to the Food Saver family keeps food fresh up to 5x longer and can save even the most frugal of families $2,700a year based on buying in bulk, sales, and preventing food waste in your home. Best of all, it is super easy to use – it is fully automated, allowing you to make bags and seal your own food easily. By combining both heat sealing and handheld vacuuming in one unit you can save space in your kitchen and money by not having to buy a separate unit. As well, this new system allows you to seal not just official bags but zipper bags, canisters, containers, marinates, and even delicate foods. With the Food Saver, wasted food is a thing of the past!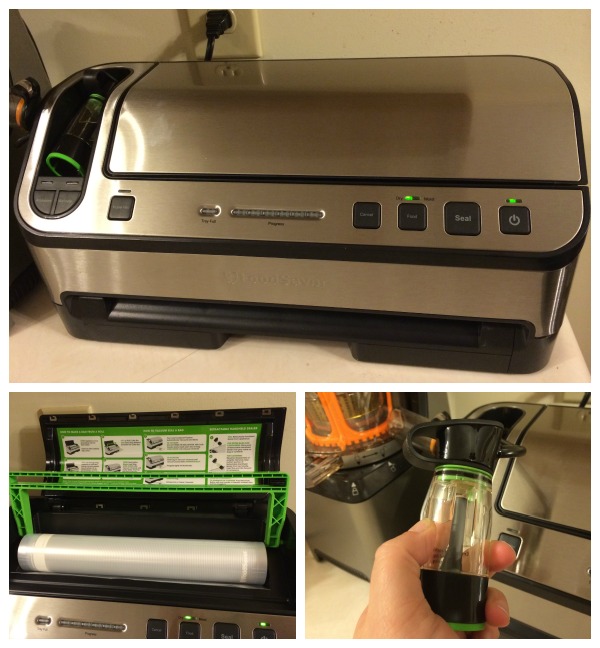 Food Saver 2 in 1 Vacuum Sealing Kit: Overall
I will freely admit, I was nervous when I first took my Food Saver out of the box. For some reason, I thought vacuum sealing my food was going to be a long, drawn out process and was going to be difficult. In all honesty, I was so worried I had my husband upstairs with me, reading the manual and preparing for some complicated procedure that was going to take us an hour or more. Within three minutes he had a bag cut, filled with cookies, and I had it vacuum sealed. The hardest part was actually the waiting for the machine to get all the air out of the bag before it heat sealed our freshly baked cookies. Not only was it very easy, but it is compact enough to easily fit on my counters. This is a big deal for me since I have a very small kitchen with lots of gadgets. Having something this useful that can live on the counter without getting in the way is amazing in my eyes! Based on my own experience, I am delighted to give the Food Saver 2 in 1 Vacuum Sealing Kit an A+ rating!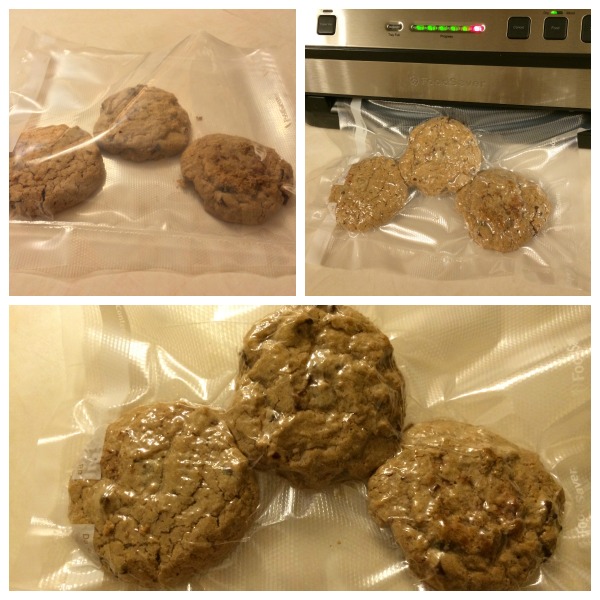 Food Saver 2 in 1 Vacuum Sealing Kit: Where to Purchase
Would you like to purchase this awesome food saving tool for your own kitchen? You can buy the Food Saver 2 in 1 Vacuum Sealing Kit on the Food Saver website for $199. If you are on a tighter budget, don't worry, you can take advantage of their current offer where you can get the Food Saver for four easy payments of $49.75 with free shipping. Once you have tried this easy to use unit, you will never go back to plastic wrapping food or using bulky containers again!
Disclosure: Budget Earth did not receive monetary compensation but did receive products for review purposes. All opinions on this product are my own and may differ from our readers' opinions.
Would you like to have your products featured in a giveaway event? Want to increase your social media exposure? Contact susan.l.bewley@gmail.com to see how I can help YOUR company today!