Like many pet owners, I consider my dog to be part of the family. In many ways, my Reya puppy is very spoiled. She has a variety of toys, different beauty products, all types of treats, and likely even more that I am not considering. Heck, this pup never leaves Petsmart without picking out a brand new toy. While I try to always to keep her looking amazing, I never really thought about her paw pads. It wasn't until recently that I really began to worry about them, when I saw they were getting a bit dry. I was actually quite surprised to learn that the paw pads take just as much care as her nails, leading to me looking for the perfect moisturizer and paw protector for her. After doing a bit of research, I found what could potentially be the perfect, all natural product – the FouFou Dog's Fou-Stick. Wanting to know more, I reached out to FouFouPets, who was nice enough to send me the product for free!
FouFou Dog's Fou-Stick: Paw Care
As pet owners, most of us know that taking care of any animal is more than just making sure they have enough food and water. You have to take care of all of their needed, ranging from proper grooming to making sure they have enough mental stimulation to keep them happy. Taking care of a dog's paws is just as important. The ASPCA did a great job going over proper paw care in their Top 10 Paw Care Tips for Dogs. This article goes into everything from proper nail care to make sure that your dog's paws are properly cared for, ranging from moisturizing to avoiding summer sores.  Taking care of your pets paws is an important part of pet ownership, and is a great way to avoid horrible paw injuries.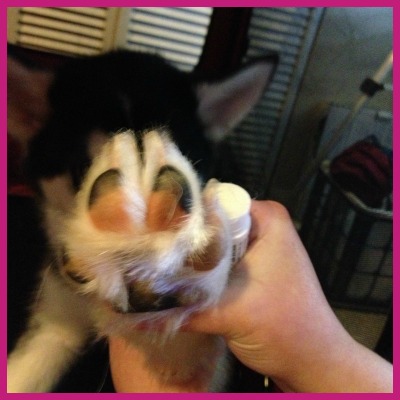 FouFou Dog's Fou-Stick: What Is It
By now, you are probably wondering what exactly FouFou Dog's Fou-Stick is and how it relates to proper paw pad care. This product not only moisturizes your dogs paws, but prevents cracking. Dogs' paws take quite a bit of abuse throughout the day and are one of the most likely parts for a dog to injure. By keeping them properly moisturized, you are preventing cracking, bleeding, and other painful injuries. What is also great about the Fou-Stick is the extra protection it offers against burns from hot concrete and winter salt – two things that are known to be very damaging to little (and in Reya's case, not-so-little) paws. Since this product doesn't leave any residue and goes own transparently, you don't have to worry about any mess.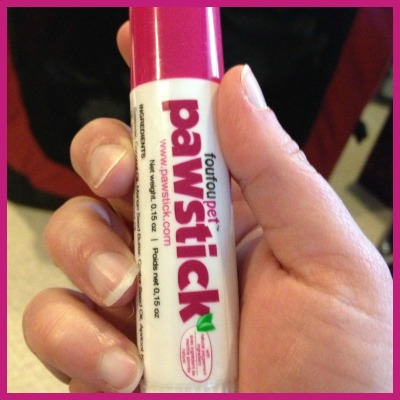 FouFou Dog's Fou-Stick: Effectiveness
So far, I have to say I'm impressed with the FouFou Dog's Fou-Stick. My poor Reya had some very dry paw pads, mostly from walking outside on the concrete. After the first use, her paws were already looking better. Before using this cream, her pads felt like sandpaper – now, they have a nice, soft texture. Even better, Reya loves the peppermint smell! On this note, however, I am happy that it is made from all natural ingredients. She loves it so much that she tries eating this whenever it comes out!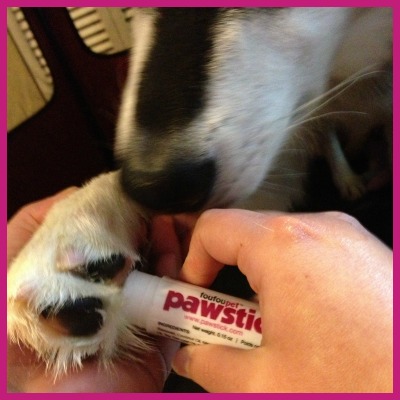 FouFou Dog's Fou-Stick: Overall
Based on my own experience with the FouFou Dog's Fou-Stick, I have to say I am impressed with the moisturizer. Reya likes it and her paws feel so much better! Best of all, its small enough that I can re-apply it easily, making it perfect for traveling.  I can happily give the Fou-Stick an A rating!
FouFou Dog's Fou-Stick: Where to Purchase
Want to purchase a tube of Fou-Stick for your own pup? You can currently purchase this awesome paw protection cream from FouFouPet's website or from Amazon.com. Both sell this pocket sized tube of cream for under $5, allowing you to protect your favorite dog's paws without breaking the bank. To learn more about the Fou-Stick and all the latest offers from the FouFou Brands, make sure to check out the FouFou Brands Facebook Page!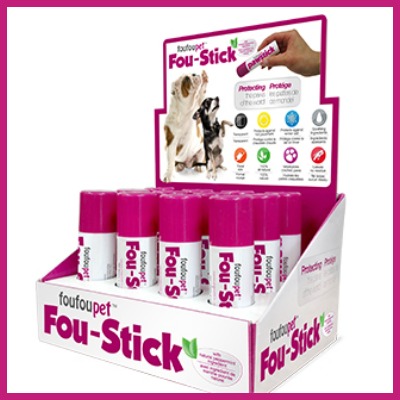 Disclosure: Budget Earth did not receive compensation for this review but did receive free product for review purposes via Tomoson.com. All opinions on this product are my own and may differ from our readers' opinions.
Would you like to have your products featured in a similar giveaway event? Want to increase your social media exposure before the holiday season? See how we can help! Contact budgetearth@gmail.com to see what Mom Powered Medianofollow can do for your company!