Like many of you, I stress out about dinner time. Many people think because I work at home that I have all the time in the world, and that I could always put a home cooked dinner on the table. Personally, I would love if this happened, since it wouldn't mean we are sometimes eating at 8 or 9 at night after finding something quick to fix. It's even worse when I find this amazing, simple recipe on Pinterest that I think everyone in my family will love. As I'm getting the ingredients out and ready to go, I find out that I have to make a homemade marinade that has to sit in the fridge overnight. Of course this is definitely what I want to see when I'm in a hurry! They may be great for a weekend meal, but who has the time for things like that on weeknights?
As you can guess, time is my biggest limiting factor and has recently been the reason I haven't cooked as healthily as I used to for my family. Since I am back on my weight loss 'lifestyle' (I hate the word diet), I have decided I must find the time for cooking home cooked meals, leaving me looking for shortcuts that are healthy and tasty. One of the ways we talked about doing this is grilling, especially since I used to love grilling vegetables and different types of meat on my mother's grill. I can't tell you how excited I was for my husband to purchase our first grill. All I needed at that point was a quick, easy way to cook meat that was fast and didn't add too many calories to our food. This is where I found what I think may be a busy woman's best friend – French's Flavor Infuser Marinades.
French's Flavor Infuser Marinades: What are They
Like me, you probably know French's from their selection of mustards. I have used their mustard for seasoning and cooking, but had never tried any of their marinades prior to this review. For me, this was a whole new experience with the brand, and I have to say I was pretty excited when French's asked me if they could send some products, free of charge, to review. What makes the Flavor Infuser Marinades so innovative and different from every other marinade on the market is the infuser. While I had never heard of it, the concept is used by most professional chefs, who use an infusing tool to inject marinades into meats, allowing them to marinate meat faster and more thoroughly in a restaurant setting. With the unique design of the bottle, the Flavor Infusers are designed to insert the tip of the bottle into your preferred meat, distributing the marinade thoroughly throughout. Because it is injected, rather than simply soaking in, you can drastically reduce marinating time, bringing it from hours to a short ten minute time span. In other words, it makes properly grilling meat a 30 minute affair from start to finish, saving you valuable time! With four fun flavors – Caribbean Jerk, Zesty Italian, Classic Steak, & Sweet & Tangy Teriyaki – you can find the right flavor for just about every meal with these infusers.
The only catch is that you cannot reuse the bottles. When you cook, you need to accept that you will be throwing away some of the bottle, or cooking 3-4 pounds of meat in one go. Before I really thought about it, I couldn't really think of any reason why I wouldn't just put the top on it and use it later. With a bit more thought, however, I realized that this was not a good idea at all since the injecting method also means that the tip is contaminated from the raw meat. While this is perfectly fine for meat you are going thoroughly cook, it isn't a good idea to leave it sitting on something, especially on a marinade you are planning on using on other meat! With the proper amount of planning, and some willingness to enjoy leftovers, however, you can avoid most waste.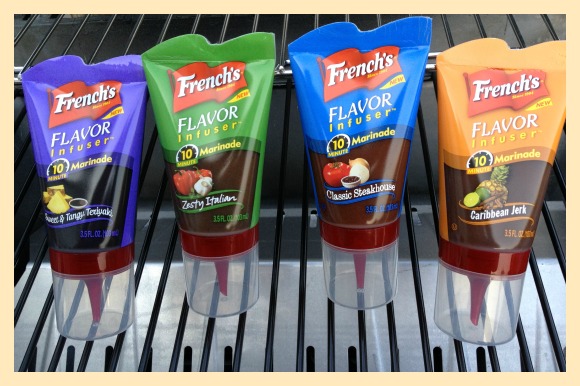 French's Flavor Infuser Marinades: Caribbean Jerk
Before I started cooking, I asked my husband which of the French's Flavor Infuser Marinades he wanted to try first. I was really surprised how quickly he said the Caribbean Jerk. Looking at the information I found online, I was surprised to see this was the most allergy friendly marinade out of all the choices. It is gluten free and free of all the common allergies, such as soy, wheat, and peanut. While most things seemed to recommend it for pork, I am not a huge pork fan. While I do cook with it every once in a blue moon, I much prefer chicken. After getting our chicken trimmed and cut into friendly serving sizes, I started using the infuser in the meat. I was surprised at just how easy it was to use. I thought it would be difficult or a choice, but just as it advertised, it was super easy and mess free. The hardest part was waiting the ten minutes for it to marinade.
Luckily, the ten minutes went relatively fast, especially with a hyper dog who had been in the house all day. As you can see, the results from the grill looked rather delicious! The best part, however, was the flavor. I wasn't really sure what to expect from the Caribbean jerk, but it was a mild, sweet flavor. In my opinion, the best part was how juice the chicken turned out. It by far was the juiciest chicken I had ever tasted! What surprised me even more was when my husband heated up the leftovers the next day – it was just as juicy, after being REHEATED in the microwave! From what I have seen so far, the French's Flavor Infusers seem to really make a difference!
French's Flavor Infuser Marinades: Zesty Italian
I won't lie, I was really looking forward to using the French's Flavor Infuser Marinade in Zesty Italian. We had the chicken already prepped from the night before and were ready to see how this marinade tasted. Like the Caribbean Jerk, this marinade is also gluten free, making a great choice for those who are on this type of diet. As the grill was pre-heating, I started infusing my chicken with the marinade. I found that this marinade was a bit thinner than some of the others, which is not a bad thing. It seemed to really soak into the chicken. Before I walked away to let it sit for ten minutes, I also spread some of the extra marinade on the top of the chicken, hoping it would give it even more flavor.
Once it was finished marinating, I placed our chicken pieces on the grill. When I first flipped the chicken, I knew this was going to be a delightful meal. One of the pieces of chicken accidentally stuck to the grill, showing off the lovely juiciness in the center. It had to be the hardest wait out of all the meals we had cooked. After finishing, however, we very quickly cut into it in the house. While all the marinades are delicious, this has to by far be my favorite. Out of all the Flavor Infuser marinades, this has the most kick, giving a nice mixture of sweet and spicy. I could easily see using this marinade all year round with its great flavor. I'm actually hoping the next time I purchase it to try it in the oven, seeing I can get the same results there!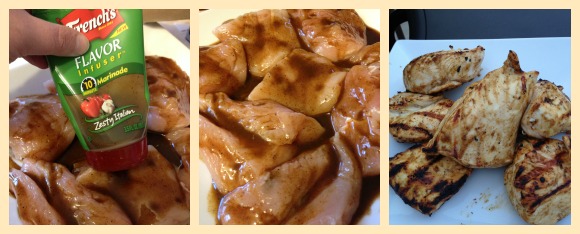 French's Flavor Infuser Marinades: Classic Steakhouse
When I first opened the Classic Steakhouse marinade, I will be honest, I was nervous. I've always messed up cooking steak. Even those fool proof recipes on Pinterest I have messed up. To me, if the French's Flavor Infuser Marinades were going to fail, it would be here with my steak cooking skills. After trimming the steak, I put the infuser tip in the meat and got to work. The meat was quickly getting a nice, dark color, letting me know that the marinade was soaking into the meat. After what seemed like a long ten minute wait, we threw the steaks on the grill. With the thin cuts I purchased, they actually cooked faster than I expected. So much so that my husband was worried I messed up the steaks – again. To our surprise when we cut open the meat, it was juicy despite being cooked to a medium-well finish. Of course, the best part was the flavor! My steak actually tasted GOOD! I think in all my years of cooking, I had never been so excited! I actually had found a marinade that made even MY steaks taste good!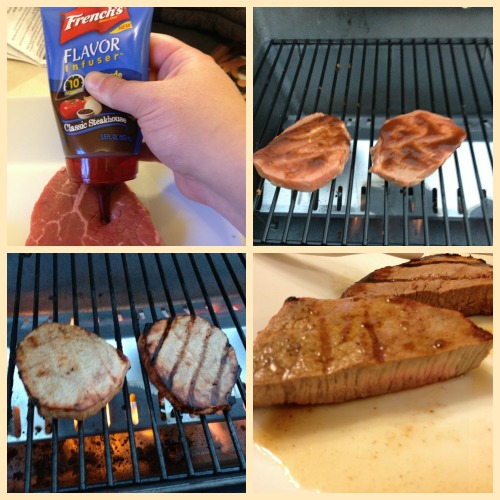 French's Flavor Infuser Marinades: Sweet & Tangy Teriyaki
To test out the Sweet & Tangy Teriyaki, I decided to try something a bit different and see how this marinade works with ground beef. I had some extra ground beef in the fridge and thought burgers would be a perfect test. Awhile back, I tried burgers with marinade infused in the middle of the burger, giving the burgers a nice, juicy flavorful treat in the center. While I had no clue how to do it before, the French's Flavor Infuser Marinade seemed made for projects like this! Wanting to get the most flavor, I rolled each of the burgers in a ball and then infused the center of the meat with the marinade. With ground beef, you can see the meat expanding and taking in the flavor. As with the others, I had the burgers sit for ten minutes before taking them out to the grill.
Now, because this was my last marinade to test, Murphy's law decided to kick in. Just as I was about to put the burgers on the grill – something on the grill broke. While I didn't really get what happened, I did understand my husband telling me he would have to fix it later, leaving me quickly making dinner on the stove. While it did take a bit longer, I ended up with the most wonderful hamburgers. As you can see from the pictures, the burgers were very flavorful, even the ones that were closer to well done! Best of all, the marinade worked just as planned, giving everyone a nice little flavorful treat in the center of the burgers!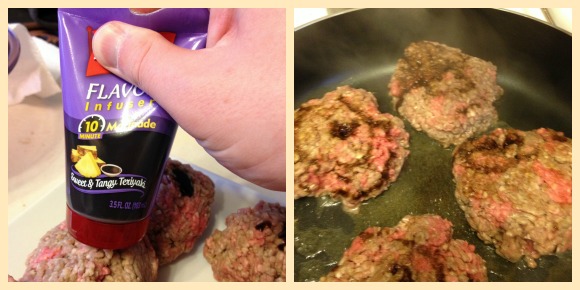 French's Flavor Infuser Marinades: Overall
I have made and purchased quite a few marinades over the years but I don't think anything I have tried has topped this marinade for speed and taste. I don't think I've ever had chicken this juicy! I think the secret to this marinade lies with the infuser, although the ingredients used to make the marinade certainly seemed good as well. One thing is for certain, this marinade is now becoming part of my budget and I'm planning on stocking up the next time it's on sale. This marinade may very well become my life saver for those busy days when I don't have time for lengthy preparation, especially since my husband feels comfortable using these as well. So, what do I think of French's Flavor Infuser Marinades? In all honesty, I'm not sure an A+ is a high enough rating with how these seem to make just about any type of meat taste. Either way, I don't think I could recommend this marinade enough! If you love to grill, it's a must try in my book!
French's Flavor Infuser Marinades: Where to Purchase
Want to try French's new Flavor Infuser Marinades for yourself? Unlike other products that are sometimes hard to find, these marinades can be found in your local grocery store or big box retailer. As a matter of fact, they were displayed at my local Kroger last time I was in the store, and I'm planning on stocking up. With a 12 month shelf life, why not? Since they were in the aisle with all the other marinades, I'm assuming that will be where you can find them in your own preferred store as well. They are currently retailed for $2.99 a bottle, making them a bargain for quick meal nights!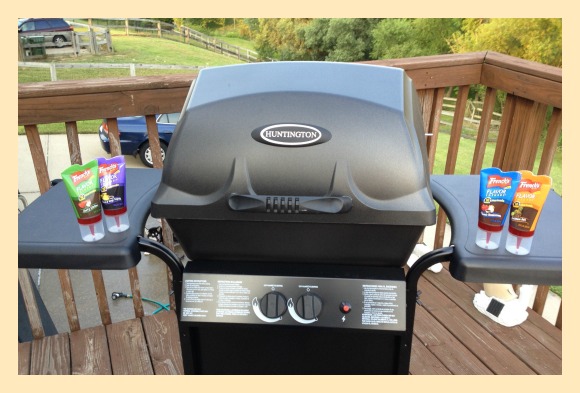 Disclosure: Budget Earth did not receive compensation for this review but did receive free product for review purposes via French's. All opinions on this product are my own and may differ from our readers' opinions.
Would you like to have your products featured in a similar giveaway event? Want to increase your social media exposure before the holiday season? See how we can help! Contact budgetearth@gmail.com to see what we can do for your company!