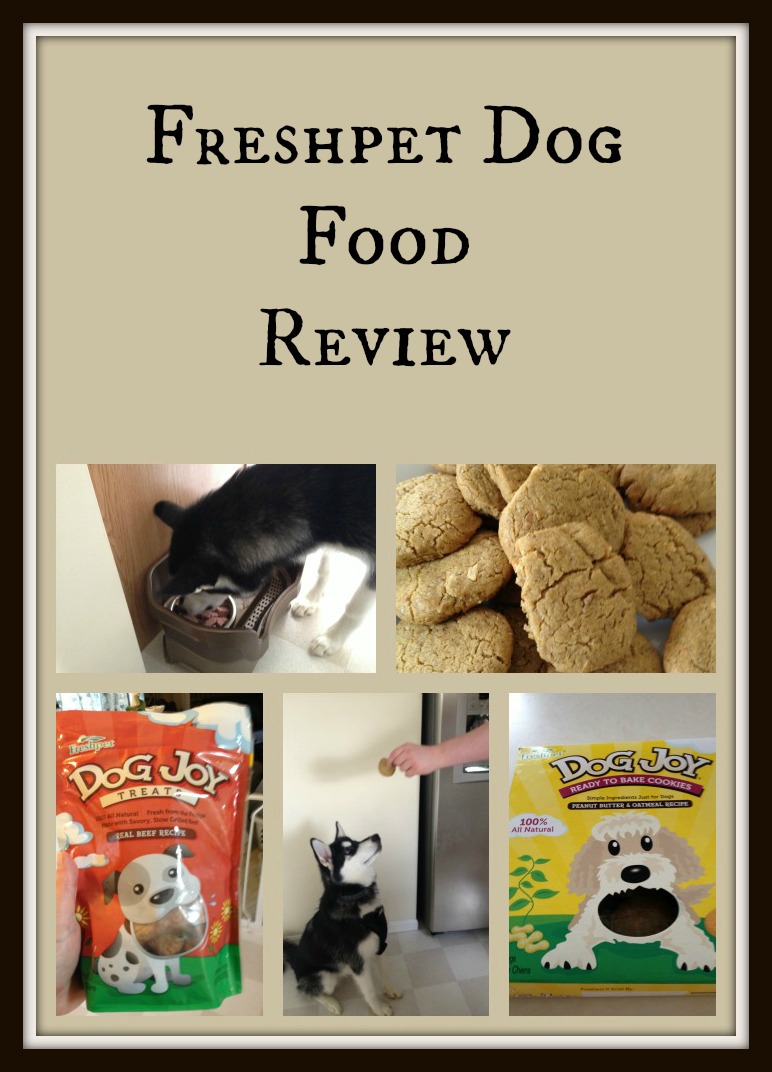 Like most pet owners, I worry quite a bit about my dog. Even though our house is fairly puppy proof, she is constantly getting herself in trouble. You never know what you are going to find in Reya's mouth. Even though table food isn't an approved treat (unless it's raw vegetables), we still have issues with our little scavenger sneaking when she thinks no one is looking. Obviously no one will notice if a carrot is missing from the counter, right? If you own a dog, you are probably nodding and going "this sounds just like my dog." Getting a dog to focus on just eating their food is always a challenge, since they are usually bottomless pits when food is added to the mix.
There is one dirty little secret that the pet food industry doesn't want you to know. That expensive food that you can barely afford every month? I hate to break this to you, but its garbage. Even some of the natural foods out there aren't safe for our furry friends since they contain animal byproducts. While I am not going to go into detail about to look for when purchasing healthy pet food, I will tell you that it is a major frustration for pet owners. I am always on the lookout for better options when it comes to Reya's diet. What I have always been curious about is the odd Fresh Pet refrigerator in most pet store food aisles. Wanting to know a bit more, I reached out to Freshpet, who was nice enough to not only answer my questions, but send a cool review pack so I could try one of their products for free! Having an excuse to try their food, I not only got one of their packs for review, but some of their more popular products so I could give you guys my full opinion of this company!
Fresh Pet: Who Are They
For those of you who follow me, you know that I normally write a good description of a company, what they stand for, and why we should take notice. Freshpet did such a great job explaining this, that I felt I really couldn't do a better job than their entertaining little video, which is provided below.
Fresh Pet Select Slice & Serve
When I got my little care package from FreshPet, I had a coupon to try one of their products for free, valued at up to $6.99. While I had a lot of choices at my local Meijer, I decided to go with their most popular food, their Fresh Pet Select Slice & Serve Pack in Chunky Beef, Vegetable, and Rice Recipe. I had read from their website and online that this was quickly becoming the most popular food in the US since it not natural, but met all the AAFCO Dog Food Nutritional standards. I considered it a good start since I could read EVERY ingredient in this pack. It also contained many of the awesome vitamins and minerals you find in some dog supplements.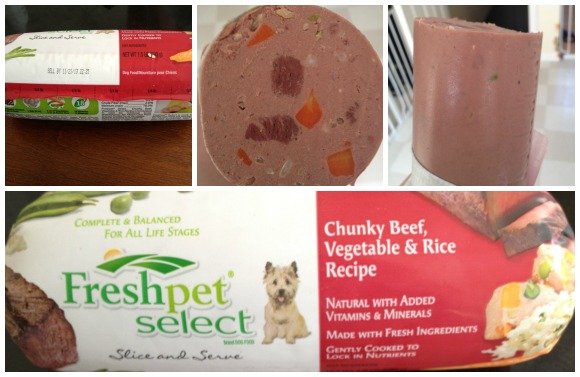 As you can see from the picture, this rolled food has very specific instructions, helping you slice the right amount for your own dog's dietary needs. With Reya being an Alaskan Malamute puppy that was already over 60 lbs, she took most of the roll. What really surprised me the most about this food was it smelled like real food. It really reminded me of a roll of bologna, except it had real pieces of steak, rice, and vegetables throughout the food. As for the taste test, I don't think I have ever seen Reya clean a bowl that thoroughly. She LOVED this stuff.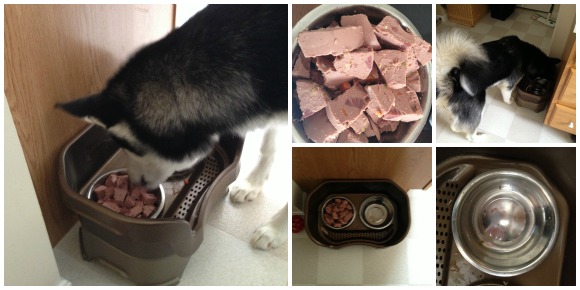 Fresh Pet Dog Joy Treats
One of the things that really bugs me as a dog owner is that there really aren't any exceptionally healthy treats for dogs. There are handful of options out there, but they still aren't amazing if you look at the back of the bag. Other are great food, but smell absolutely terrible. While Reya eats it, I can't stand the smell of her breath after eating these treats. After having such a good experience with their dog food, I purchased two bags of Fresh Pet Dog treats with my own money. The first ones I tried were the Dog Joy Beef Treats. As you can see from the picture, they are little rolled up piece of meat, oats, and other seasoning. As a matter of fact, these treats are usually made  with only six ingredients, with the first two being beef and chicken.
Having no clue what to expect from these treats, I have to say it was much better than expected. I have spent more than $5 a bag on treats in the past, and they NEVER got the reaction of these treats. Reya will do just about ANYTHING when she sees these treats. In facts, we had her learning come and stay much faster using these treats since she was encouraged by them. The only problem I have with these treats is I have to hide them in the fridge. The first time she saw them in the fridge, our silly pup snuck in next to me and stole the bag!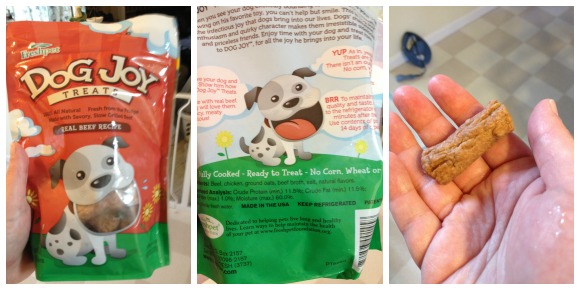 Fresh Pet Dog Joy Ready to Bake Cookies
This is one of those times that really shows how much I love my dog and how much I love you guys. I really loved the concept of the Fresh Pet Dog Joy Ready to Bake Cookies. It just seemed like a really great concept in my mind. The only problem with these cookies is they come in peanut butter (I have a mild to moderate peanut allergy). After reading the six ingredients in these cookies, I knew I had to try them and just put a mask on while baking these cookies. Thankfully, my husband helped quite a bit with these cookies, especially when it came to baking the cookies and feeding them to Reya.
As you can see from the pictures, you don't really get much more user friendly then these ready to bake cookies. These cookies were out of the fridge and baked in less than 15 minutes, creating cute little cookies for the puppy. Best of all, my whole house smelled like fresh cookies! What made me smile even more though was how excited Reya was about these cookies. I think we may have a new outdoor treat! My only complaint is that I wish Fresh Pet had another flavor on the market for those of us who are allergic to peanuts.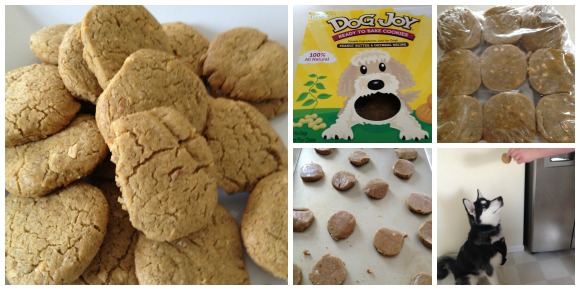 FreshPet: Overall
What is my opinion of FreshPet? In all honesty, I think this may very well be the best dog food on the market. It is healthy, natural, and loved by dogs. While it may be a bit cost prohibitive for me to have Reya on the food while she is still a puppy, I am likely going to switch her to FreshPet when she is fully grown and not needing three large meals a day. I really wish somewhere in my area had the puppy version in stock, but I'm guessing it's so popular no one can keep it on the shelves. Either way, after extensive puppy testing, I can happily give Freshpet's products an A+ rating.
FreshPet: Where to Buy
Want to try Freshpet for yourself? You can purchase this great foods at Petsmart, Petco, Wal-Mart, Target, Meijer, or in most pet stores. Many grocery stores (Kroger for me) carry their food as well, but I know everyone has different stores. To see where the closet retailer is in your area, I would recommend using the Freshpet Store Locator feature on their website.
Disclosure: Budget Earth did not receive compensation for this review but did receive one free product for review purposes from Petfresh. The other products were purchased using writer's own money.  All opinions on this product are my own and may differ from our readers' opinions.
Would you like to have your products featured in a similar giveaway event? Want to increase your social media exposure before the holiday season? See how we can help! Contact budgetearth@gmail.com to see what Mom Powered Media can do for your company!