Over the past year, I have been working hard to lose weight. I have been doing it not only for my own health, but for the future of my family. You see, my husband and I are hoping to have our first child sometime in the next year to two years. One of the agreements we made is that we both wanted to be healthy before we started a family, wanting to make sure I wouldn't be an 'at risk' pregnancy and that we would both truly be ready for the job. While my physical health is something I know I can change, I have always been a bit worried about the unknown. Having lost one of my childhood friends to leukemia, childhood diseases and genetic disorders have seemed all too real to me. For this reason, we decided a long time ago we wanted to have genetic testing before we started a family.
The biggest problem I knew we would face with genetic testing was cost. Many of the tests that are on the market cost hundreds, if not thousands of dollars. While we hope to both have insurance at some point (we are both self employed), we know it's not an option at the moment. At least, that was our thought until we found out about 23 and Me, a genetic testing service. This service provides you with over 240 different health reports, all of which tells you quite a bit of information about your own personal genetics, things like:
Being a Carrier for Certain Diseases/Conditions
Disease Risks
Drug Responses
Offspring Traits (thing such as hair color, eating habits, & health concerns)
While I know it may seem a bit pessimistic to worry about these things, it's also showing a bit of caution. For example, if I found out I'm at an increased risk of having diabetes, I know to not only watch my own diet, but the diet of my future children as well. To me, knowledge is power and is the first step to guaranteeing that you and your family can live a healthy, happy lifestyle.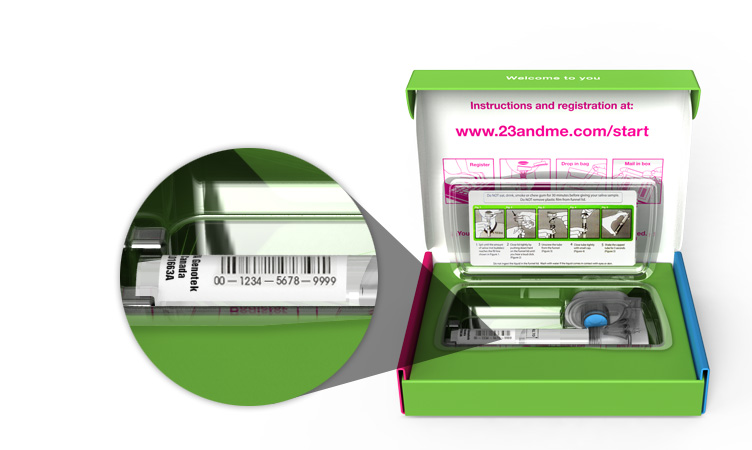 What I also loved about 23 and Me is that its more than a genetic testing system that looks for diseases – it is also a way to learn about your family. One of the spiffy things about this testing service is that they also look at your ancestor composition, allowing you to learn more about your own family history, find new relatives, create a family tree, and more. As someone who was originally a social studies teacher, I have always been fascinated by my own family's past and where we originated. Since genetics don't lie, this can be the best way to learn!
If you were like me when I first found out about 23 and Me, you probably have two questions – how does it work and how much does it cost? Unlike other genetics tests that require expensive blood tests, 23 and Me only needs you to spit into a cup in their kit and send it back. From your saliva, they are able to pull up your own unique DNA within 5 – 8 weeks. Once you get your results, you can also constantly get updates about your DNA as new research comes out, letting you have the best information possible without any additional cost (some similar services have subscription fees). Since for kids it is only $99, it seems like a real deal, making it great for couples like us who do our best to live on a budget. To learn more about genetic testing and this great service, make sure to check out 23 and Me. I think we will be ordering two of these sets soon!
I was selected for this opportunity as a member of Clever Girls Collective and the content and opinions expressed here are all my own. Budget Earth did receive monetary compensation for this post.