If you cook, you know there a few things that are essential to any kitchen – a good set of pots and pans, seasonings, and an excellent set of knives. When I first went out on my own, I had the worst piece of junk knives that I tried to use to cook. Looking back at it now, I am surprised I didn't cut my hand open with these knives since they were terrible at cutting and took more force to cut anything than was safe. Once I moved in with my husband, I was spoiled since he had purchased a good set of Cutco knives. While I would love to buy these knives and give them out as gifts, they are very expensive, making them impossible for most people to afford. This is why I have recently taken a liking to Ginsu Sofuto Knives.
When it comes to good knives, Ginsu and Cutco have always been bitter rivals, but Ginsu has always been more affordable for most families. If it wasn't for my brother in law selling Cutco knives, we likely would have a set of Ginsu knives since they are comparable. My family used these knives growing up and they are just amazing – corrosion resistant Japanese steel, known to stay sharp for a lifetime. The most recent addition to the Ginsu family – the Ginsu Sofuto Knives – is perfect for nearly any family since they are not only durable, but add color to any kitchen.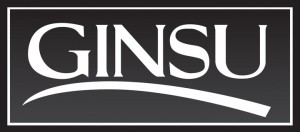 Looking at the Ginsu Sofuto Knives, I am most impressed with the ergonomically designed slip resistant handle. These colorful handles are designed to fit perfectly in your hand; thus making slips nearly impossible and cutting a comfortable, easy experience. What impressed me the most about these handles, however, is the fact that they are designed to accommodate both right handed and left handed cooks. Having had to share a kitchen with my left handed mother for years before moving out, I can tell you that having knives that work well for everyone in your household is a major plus!
Caring for the Ginsu Sofuto Knives is also easy, since they can be washed on the top rack of your dishwasher. To get the best use out of your knives, however, most cooks recommend that you wash your knives by hand using a non-abrasive cloth and cleaner. As well, it is important to have a great place to store your knives. The Ginsu Sofuto Knives 10 piece set comes with a beautiful, hard wood case that safely stores the blades when they are not in use. Not only are your beautiful knives well protected in the hardwood block, they make a beautiful addition to your kitchen!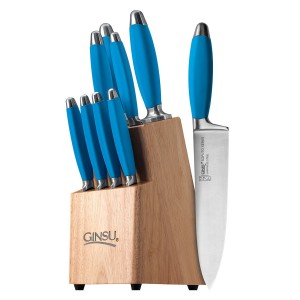 As I said, my husband bought my Cutco knives, but they took us quite a while to pay off. Our set, that came with a similar wood case, cost us about $600 and tax. While Cutco knives are amazing, they are very VERY expensive. What is so great about Ginsu Sofuto Knives is that they cut like Cutco knives, but are much more affordable, especially with all the modern advancements that have come out since we bought our knives. Most of their 10 piece sets can be purchased for under $95 on Amazon. If this set is a bit too expensive, you can also buy a 5 piece Ginsu Sofuto Knife Set for under $60. Who knew that you could get high quality knives for so cheap? As you can guess, this is an amazing wedding present for newlyweds!
If you would like to learn more about the Ginsu Sofuto Knives, feel free to click on the picture below. We are certain you will love these knives!