My sister-in-law recently offered me a free full-sized sample of got2b's POWDER'ful volumizing styling powder to review. I have slightly wavy, very thin hair (every time I go to a hairdresser the first thing I'm told is "your hair is SO FINE!" And unfortunately, that's not meant in the "it's so fabulous" kind of way); if your hair type is anything like mine, you probably know that it easily falls flat, so upon hearing that got2b's product promised instant root boost and volume, I was eager to try it out. The styling powder is packaged in a very sleek purple and silver container that's about 3.5 inches tall, so it's very simple to throw into your purse for easy travel.
Before writing this review, I decided to try the styling powder out on several different occasions just to see what would work best for me. The directions state to shake a small amount of the powder into your palm and to rub your hands together, distributing it into dry hair and focusing on your roots. There is also a short tip beneath the instructions that says you can shake the powder directly into the roots of your hair and work it in with your fingers for extra volume.
When I followed the main instructions, I was disappointed to find that there was no discernable difference to my hair. Following the "tip" line, however, yielded much better results. The powder is white, so you need to make sure you really work it in so that there isn't any visible residue, but as long as you don't use too much product I don't think this is much of an issue. I should add that this is only something to worry about if you sprinkle it directly on to your scalp. If you follow the regular directions, this won't be a problem because when you rub the product between your hands it actually disappears (and the directions mention this). A few small sprinkles (I did this in a few places on my scalp) are all that's needed to give your hair extra lift and body. The powder comes in a .35 oz container, but I have a feeling this product will last me a long time.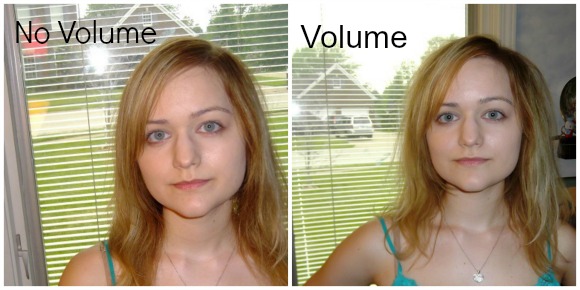 While I noticed that my hair did still gradually flatten out over the day (as is the norm for most people, I would think), every time I fluffed my hair a bit it quickly regained its lift. I'm used to doing this anyway, so it's nice to be able to get that extra body back each time. The effect of the powder sort of reminds me of that hairspray-and-tease process. The results kind of mimic that (probably why my hair looks a bit crazy in the picture – but you can actually smooth your hair down a little, and it still looks fine).
I also noticed that the product seems to work best for me on "second day" hair. I wash my hair every other day, so on days when my hair was freshly washed the product didn't work very well. I'd also note that the powder does leave a bit of residue after having it in all day (just like with hairspray or other hair products, you can feel it in your hair), so I would highly recommend washing your hair in between uses. Luckily, it washes out easily and I didn't experience any issues with it irritating my sensitive skin.
In short, I was very satisfied with the product. Got2b's volumizing powder gave me much better results than some of the other root boosting products I've tried, and I would definitely recommend this to people with thin, limp hair like mine who'd like some extra body.