Have you ever made a gourd birdhouse? When I was a child, I loved it when my mom would get dried gourds from craft festivals or the farmers' market. Growing up in a farm community, you could find them easily throughout the year, making decorating a birdhouse one of my favorite summer pastimes. It was always great getting together with my friends and seeing who could paint the coolest birdhouse. Almost all the houses lived in our yard since we had the most trees, and mom loved watching the birds.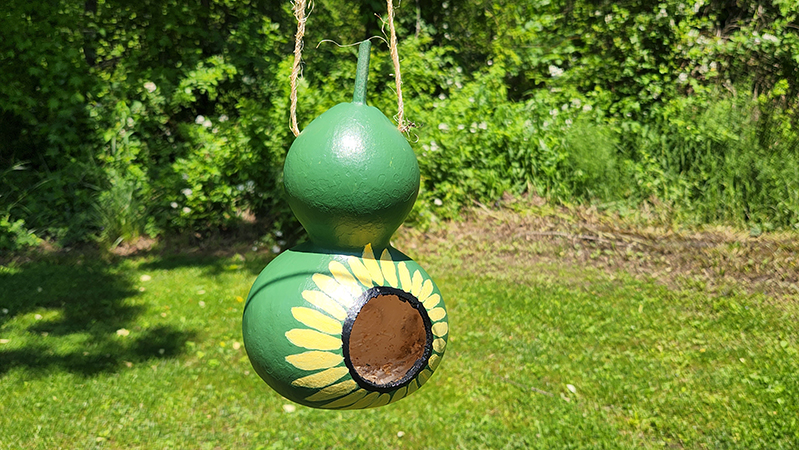 Now that I'm an adult with my yard, I love watching the birds just as much. While I have bought birdhouses in the past, it has been sad washing them fall apart rather quickly or be unusable by the birds. Even worse, finding out the birdhouses created using toxic chemicals to make them 'look pretty is bad for the birds living in them. For this reason, I have started moving away from 'purchased' birdhouses and looking at buying my own. It seems better to make my birdhouse with non-toxic paints and make my unique lawn art.
Of course, the hard part was figuring out how to make simple birdhouses. I love the idea of making something that is not only safe but biodegradable or compostable. The best way to do that is using something from nature– like gourds! The hard part was figuring out how to make them, primarily since my brothers always dealt with the complex parts (I just painted). Thankfully, after doing some research and having help from a friend, I learned that making my DIY gourd birdhouse was very easy! The hard part was figuring out how I wanted to design my birdhouse!
Want to know the best part of this craft project? These gourd birdhouses are the perfect kids' craft project. Make sure you have an adult on hand to do the drilling and deal with the sealant. The rest is a fun craft project that children will enjoy throughout the summer – allowing them to enjoy their hard work and learn more about birds!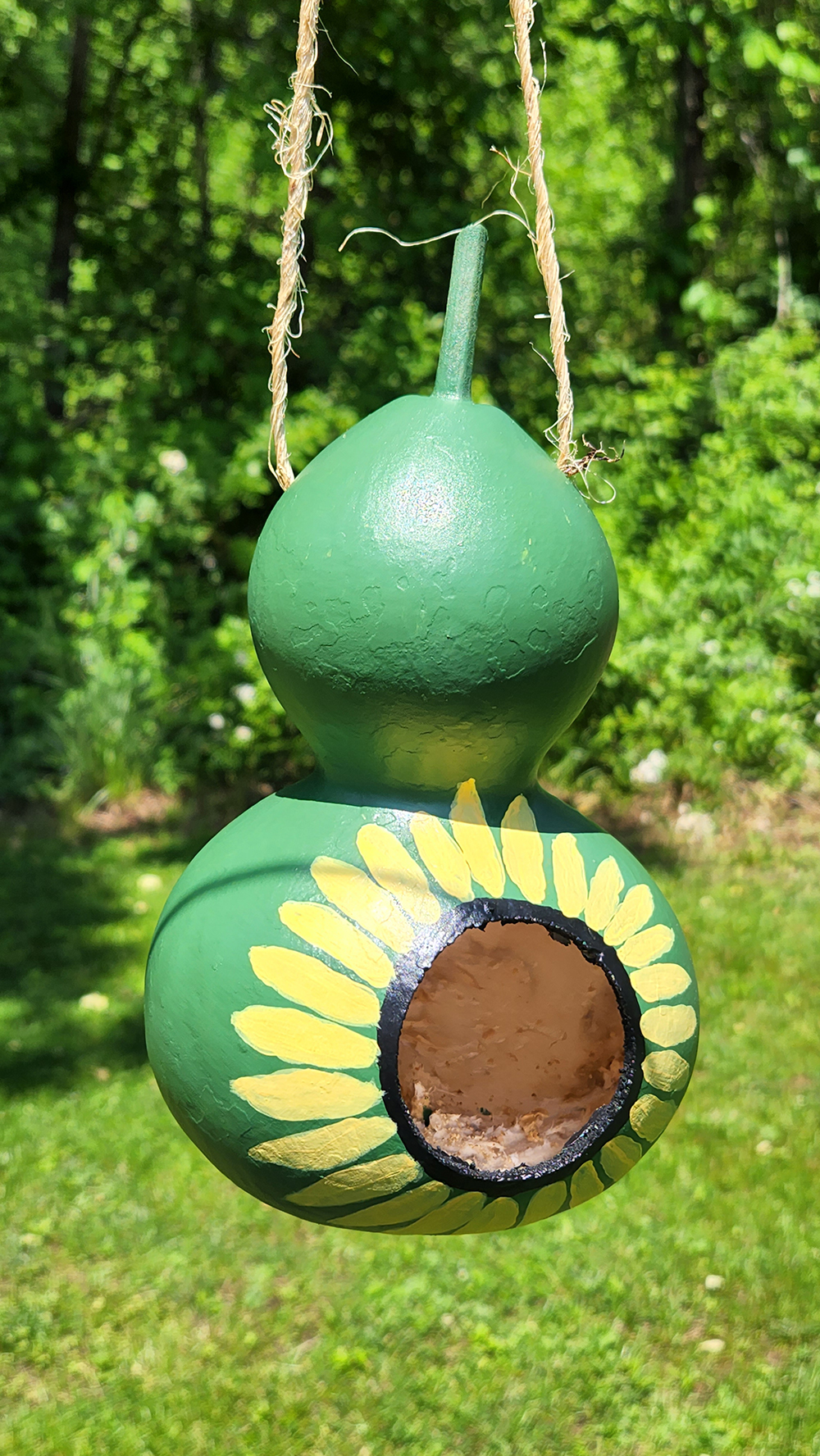 Are you ready to make your DIY gourd birdhouse? Check out the directions below and share with us how your birdhouse turned out! Don't forget to check out our other craft and DIY projects!
Print
Easy Gourd Birdhouse
A cute little gourd bird house that is easy to make and customizable. Great DIY project to do with kids!
Author:
Prep Time:

30 Minutes

Total Time:

30 Minutes

Yield:

1

Bird House

1

x
1

Pre-Dried Gourd
Drill with Small Drill Bit

5

Inch Spade Bit or Hole Bit
Twine or Cord
Pliers
Scissors
Paint & Paint Brush (optional)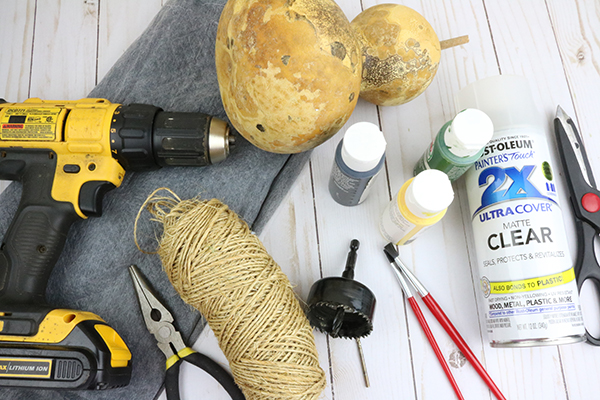 Instructions
Step 1: With a drill, start by creating 4 to 5 small holes at the bottom of the gourd for drainage.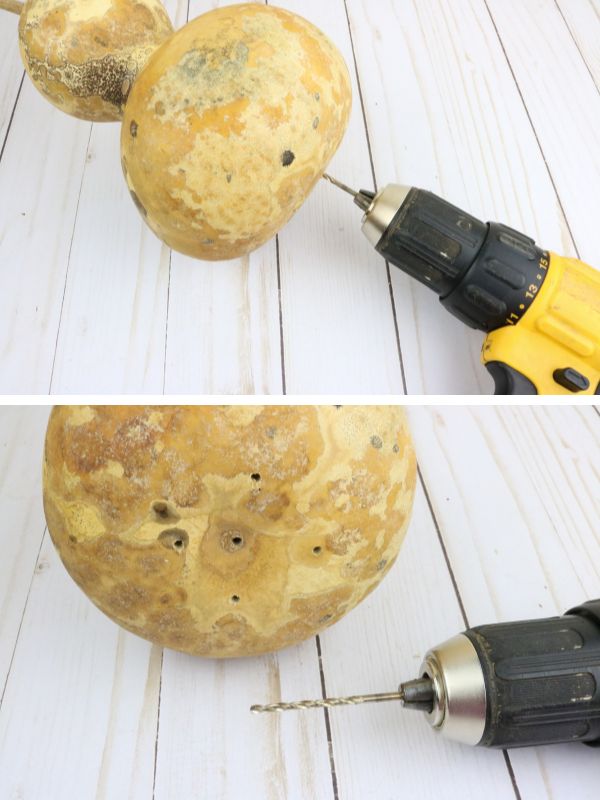 Step 2: Go to the top of the gourd. Drill a hole about 1-inch from the top.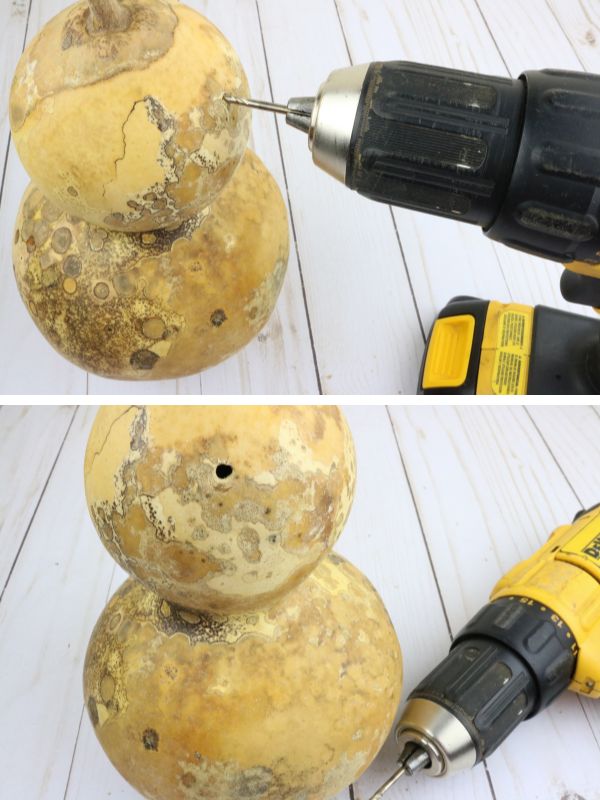 Step 3: Using a spade or hole bit, make a hole on the widest side of the gourd (about 1 to 2 inches from the bottom. The hole will be the 'opening' of your bird house.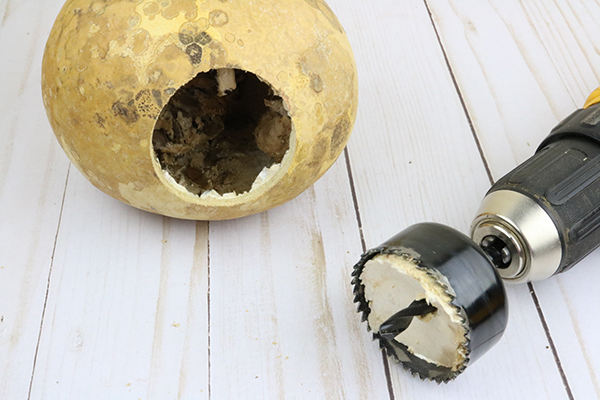 Step 4: Remove all seeds inside the gourd. You can do this by shaking them out of the hole or using pliers.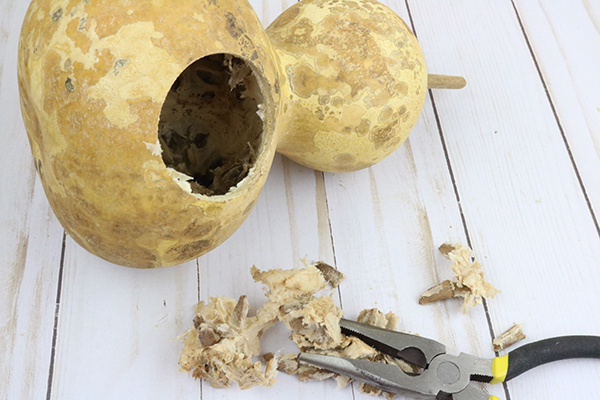 Step 5: If you desire, you can paint the gourd or leave it natural. The sky is the limit with your creativity, making this a great painting project for kids!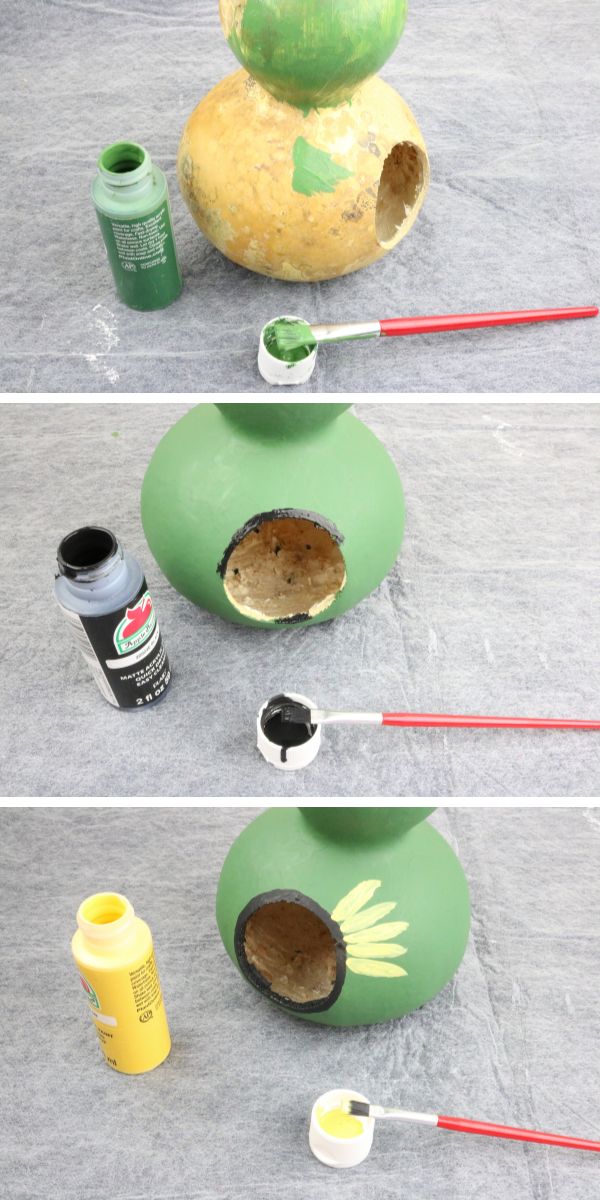 Step 6: once the paint has finished drying, place the twine in the holes and tie a knot to create the hanger for your birdhouse.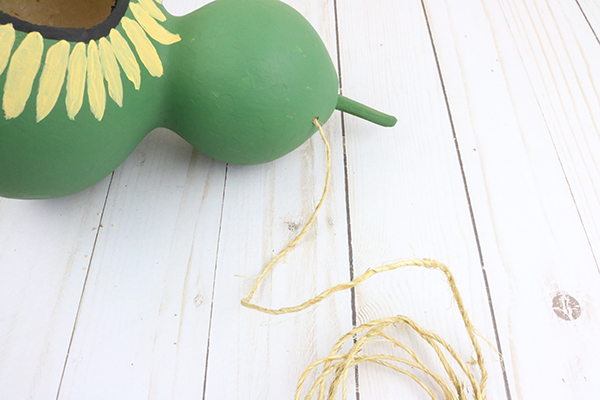 Step 7: To make sure your birdhouse lasts, make sure to seal it with a sealer. Lightly spray the sealer with the first coat and allow it to dry (for drying times, look at the directions of your preferred sealer).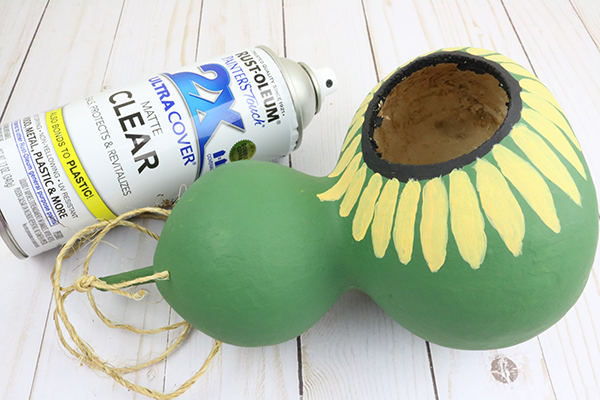 Step 8: Apply a second coat of sealer to your birdhouse. Allow to dry thoroughly per sealer instructions.
Step 9: Once dry, hang your gourd birdhouse in your desired location. Place a few seeds inside to attract birds.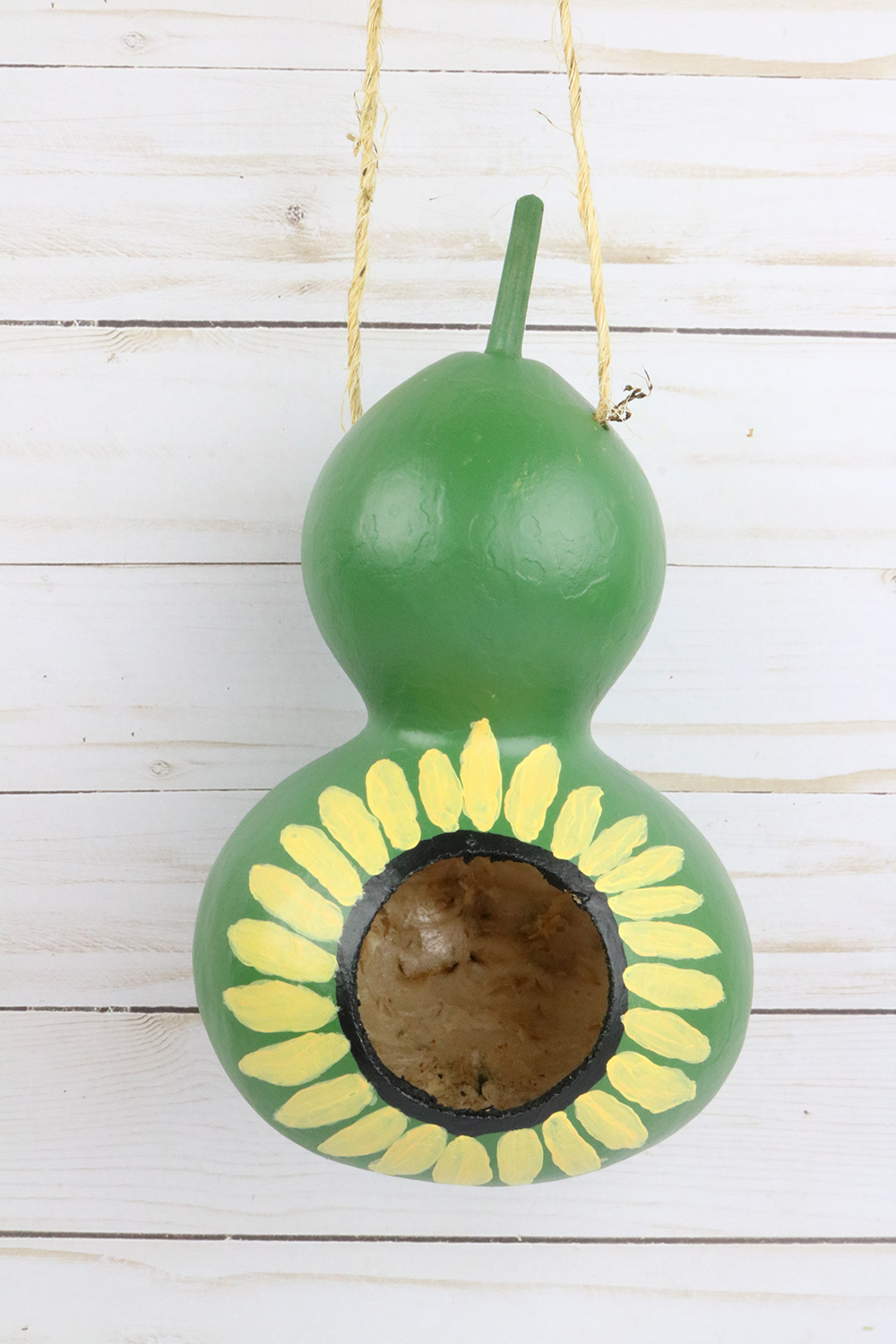 Notes
Note 1: If you grow your own gourds, make sure to let it dry for 3-4 months in a cool place before starting this project.
Note 2: While you may gently wash the outside before starting, do not soak it.
---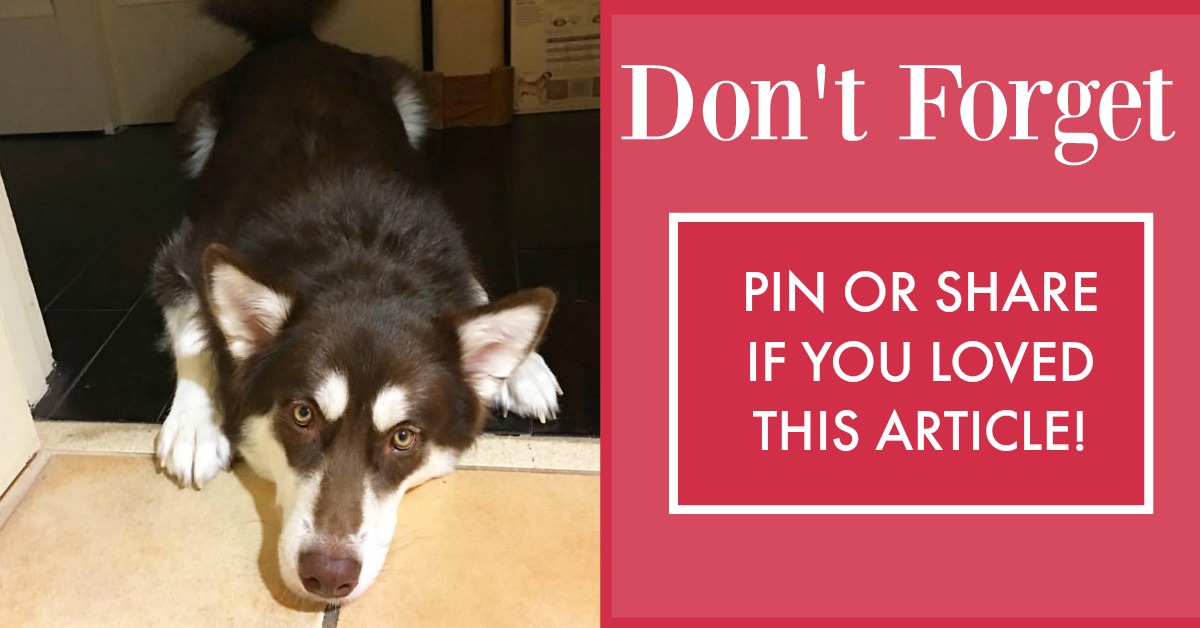 ---