Disclosure: I received these products for free to review. The opinions in my review are honest and my own.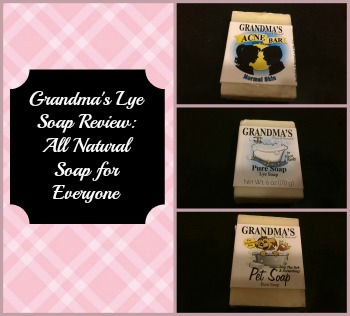 As some of you know, I am a big fan of natural products, especially natural soaps. It is on my to-do list to someday make my own homemade soaps, but until then, I love to try out new soaps and different natural cosmetics from companies of all sizes. Lately, I have been trying hard to find a high quality bath soap for my family, including one for Reya. While looking for the perfect soap I was approached by a company that really caught my interest – Grandma's Lye Soap. Not only did they have all natural, quality bath soaps, but soaps for pets as well. Once I read a bit more and saw their selection of products, I couldn't wait for my box of review soaps to arrive!
Grandma's Lye Soap: What is It
Love the idea of using all natural, lye soap? If so, we think you will love Grandma's Lye Soap. Most soaps on the market are actually detergent, filled with lots of ingredients that you should carefully consider putting on your skin. In the end, these can leave your skin dry, broken out, or oily. With Grandma's Lye Soap, you are getting natural, herbal soaps, and lotion made of only the best natural ingredients. As well, this soap is made right here in the United states, using a similar method used by people for over 100 years. Once you have tried lye soap, you will see why people are refusing to use anything else!

Grandma's Lye Soap: Overall
For my review, Grandma's Lye Soap sent me 3 varieties of their soap – the original Grandma's Lye Soap, Grandma's Acne Bar for Normal Skin, and Grandma's Pet Bar. Before I go any further, I want to say one thing – all of these soaps are truly fantastic! I have tried quite a few lye soaps in the past and I haven't liked any of them as much as Grandma's Lye Soap. The original soap has a very pleasant, neutral scent and leaves you feeling refreshed and clean without stripping too many of your skin's natural oils. As for the pet soap, it seemed to work much better for our Reya. Normally when we wash Reya a bottle of traditional liquid pet soap only lasts for three, maybe four washes. With the Pet Bar, we barely touched it, leaving Reya clean and smelling great to her humans!
While I loved the other soaps I got for review, the real treasure in my eyes is the acne soap. I have tried so many acne products over the years and nothing seemed to completely work. When I got the Acne Bar, I thought it was going to be like a lot of the other products I had tried – I was wrong. After using this soap for a week my acne and especially blackheads were very quickly clearing up. My husband even made a comment about how great my skin looked and wanted to know what I was doing differently. One thing is for certain, I am not going to stop using this soap anytime soon! Based on my own experience using Grandma's Lye Soap, I am happy to give this soap an A+ rating!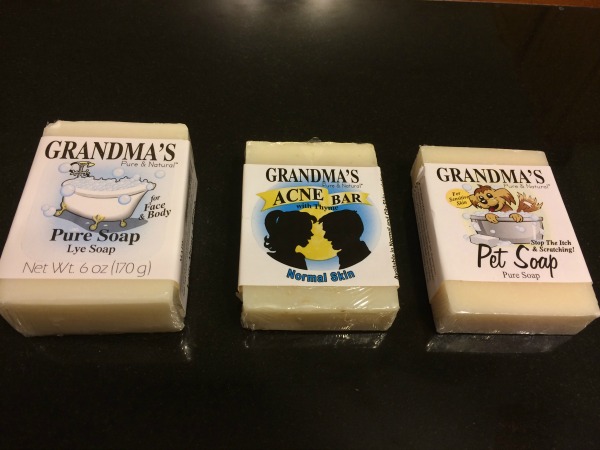 Grandma's Lye Soap: Where to Purchase
Would you love to try this awesome, handmade soap for yourself? You can purchase Grandma's Lye Soap on Grandma's Pure & Natural website! Most of the bar soaps on their website cost $6 a bar, making them a real bargain when it comes to natural lye soaps. Also, don't forget to check some of their other awesome products, including their all natural lotions, and lip balms!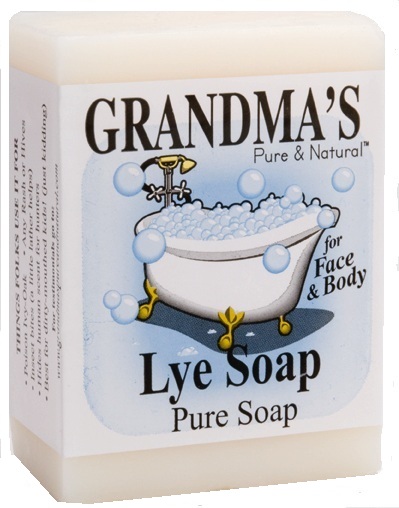 Disclosure: Budget Earth did not receive compensation but did receive products for review purposes. All opinions on this product are my own and may differ from our readers' opinions.
Would you like to have your products featured in a giveaway event? Want to increase your social media exposure this holiday season? See how Mom Powered Media can help! Contact susan.l.bewley@gmail.com to see what we can do for your company!