As many of you know, I try hard to use only natural cleaners in my home. I go out of my way to find new and interesting things to keep my house not only clean, but free of the pollutants that are in many homes. Many people don't know this, but multiple studies have shown that the air in our homes has more pollutants than the air outside. While I am a major fan of Method cleaners, I have never been too happy with their laundry soap or most of the other natural soaps on the market. They are expensive and just don't seem to do the same job. The main laundry detergent I use is CitraSuds, but it is usually sold out on Alice and Amazon is very hit or miss with its sales on this detergent. For this reason, I am constantly on the lookout for natural laundry detergents. Recently, I heard about a new (to me) natural laundry soap that intrigued me – soap nuts. When I saw an opportunity to review Greener Living Products soap nuts and some of their other natural products, I just couldn't pass up the chance!
Greener Living Products: What are Soap Nuts
By now, you are likely wondering what the heck are soap nuts? I was a bit nervous to try them at first with a peanut allergy. While I know peanuts aren't really nuts, I was reluctant to believe that any nuts would do much of anything. I was surprised to learn that soap nuts are actually berries grown in many tropical countries. Once these berries are handpicked, they are dried in the sun and once they are finished, the seeds are removed from the berries, leaving the outer shell which is used for cleaning. Really, you can't get much more natural than these berries, which have been used for centuries in tropical areas of the world. Best of all, Greener Living's soap nuts are certified organic with USDA and EcoCert. This all natural laundry detergent is also color safe, perfect for all types of fabric, safe for all washers (especially HE), and biodegradable.
Greener Living Products: Soap Nuts – Do they Work?
So far, I LOVE soap nuts. They are very easy to use and leave my laundry smelling clean without using any additives or unnecessary fragrances. All you have to do is use them is put the soap nuts in a small muslin bag, tie it, and throw in the laundry. On the instructions that come with the nuts, it claims that these nuts are only good for four to five loads. I got SEVEN full loads out of my soap nuts before they started looking dark and dull. I tried everything from towels, cotton clothing, and a mix of delicate items. Everything worked great. The only problem you can experience is that sometimes little pieces of the soap nuts will come out of the bag and float around the laundry. It doesn't cause damage but can be a little annoying. This didn't start happening for me, however, until load six and seven since the soap nuts were starting to soften and fall apart.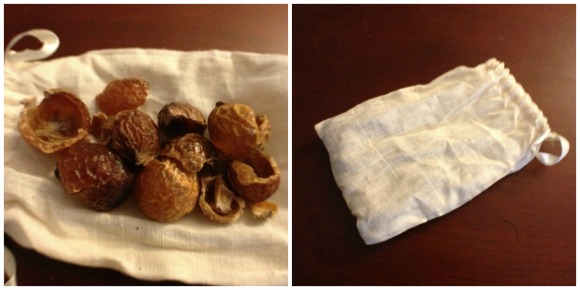 Greener Living Products: Soap Nuts Bath Bar
As someone who makes soap, I was very curious to try the bath bar. This bar is made exclusively for Greener Living Products and is made using coconut oil, olive oil, glycerin and soapnuts liquid. From my own experience with the soap, I am very impressed. It doesn't dissolve quickly in water, softens the skin, and leaves your skin feeling great, even after working out. With the ingredients in the soap, it is also perfect for sensitive skin – allowing people with troubled skin to enjoy a bar of natural soap made with them in mind.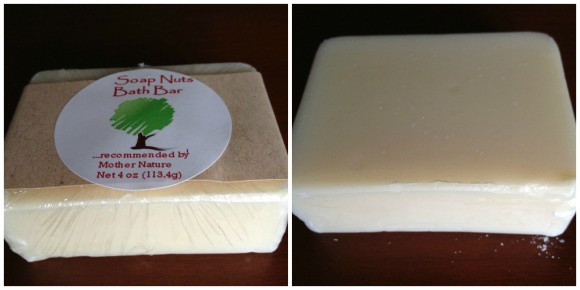 Greener Living Products: Safix Scrub Pad
This was another product that I thought was pretty spiffy. I normally hate using steel wool since it often comes with some unknown chemical on the pads. Well, Greener Living's safix scrub pad is a great solution, at least in my opinion. This pad is made using outer coconut core fibers and is great at getting off tough sticky or burnt food out of stainless steel pots. I tested mine my safix pad in the Crockpot without soap first just to see how it worked it on its own. I found that with minimal effort it was able to remove this grime on its own. While some of the fibers did come off, it was very effective.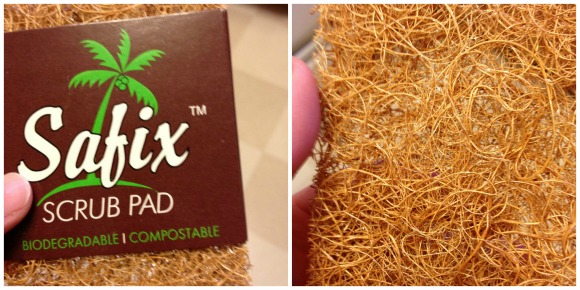 Greener Living Products : Overall
Based on my own experience, I don't think I can recommend these products enough. The soap nuts did an amazing job in my front load HE washer and my skin feels amazing after using the soap. With how hard it is to find high quality eco-friendly items, I think most of my readers will be happy with these products. I know I may very well be putting in an order myself of the soap nuts since they do just a great job!
Greener Living Products : Where to Purchase
Currently, you can purchase any of these products, including the organic soap nuts on the Greener Living website. I also found that they are available on Amazon.com for $25.50 with free shipping for a 1.1 lb box. Unlike some other retailers, they are available for purchase in the United States and Canada.
Greener Living Products Giveaway
Would you love to sample some soap nuts and these other amazing products from Greener Living Products? If so, we have an amazing giveaway opportunity for you! They are sponsoring this awesome giveaway where readers will get a sample of soap nuts, a bar of soap nut soap, and a safix scrubbing pad. Make sure to read all the rules below before entering the Rafflecopter!
Green Living Giveaway
1 Readers will receive a sample pack of Soap Nuts, a bar of bath soap, & a Safix Scrubbing Pad.
Open to US & Canada.
Winner will be chosen at random through Rafflecopter via Random.org.
Giveaway ends May 14th at 11:59pm.
Winner will be notified through email.
Winner will have 48 hours to respond before new winner is chosen.
Must be 18 Years or Older to Enter Rafflecopter.
Entering the Rafflecopter Means You Agree to Terms Above.
Good Luck!
Disclosure: Budget Earth did not receive monetary compensation for this review and giveaway, but did receive a product sample pack for review purposes via Tomoson.com. All of the opinions on this blog are the opinions of said author and these opinions may differ from your own.