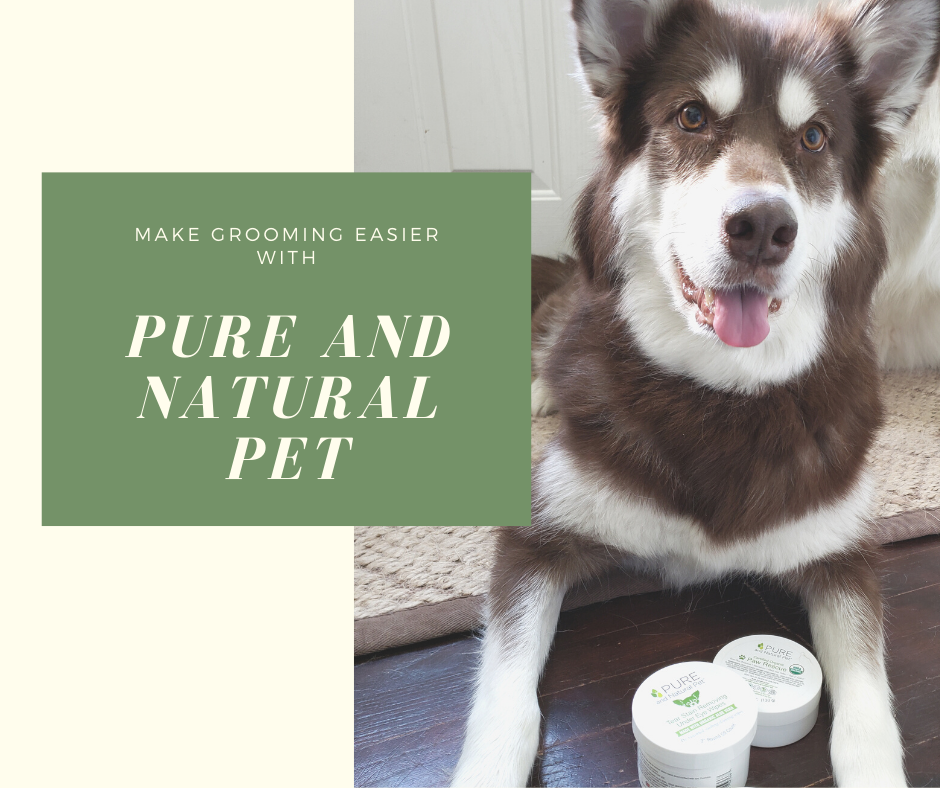 Can you believe that spring is finally here? With the beautiful weather, we have been bringing the girls out more. While the girls enjoy it, this has also lead to more baths and grooming time. As most owners of double-coated dogs will tell you, this is also one of the seasons where our dogs' blow coat. Dealing with their fur during this time is a huge deal with our favorite shed control shampoo and conditioner, but it isn't the only product we use in our arsenal of grooming products. Luckily, our favorite brand of natural and organic pet products, Pure and Natural Pet, has a variety of fantastic products perfect for active dogs like Ivi and Rylie!
Pure and Natural Pet Organic Paw Rescue
Do your pup's paws need some pampering? Give them the attention they deserve with USDA certified organic Pure and Natural Pet Paw Rescue. This amazing paw cream is made using only all-natural, food-grade organic ingredients, helping heal, soothe, and moisturize as it works to restore your pup's paw pads. Since it is free of chemicals, paraben, and is fragrance-free, it is even great for dogs with sensitive paws and allergies. All you have to do is gently massage the cream onto your dog's paw pads and make sure to include it in your dog's regular grooming routine to make sure it doesn't just soften and heal your dog's paw pads, but protect them as well.
While Ivi has always had pretty good looking paw pads, Rylie has always had a problem with hers. Mostly because she loves running and sliding on just about…well…everything. Her curiosity is one of the most adorable things about her, but it doesn't make caring for her paws easy. We are also washing and dealing with dry pads, abrasions, roughness on her paws and elbows. Taking care of those issues is so easy, though, with Pure and Natural Pet's Organic Paw Rescue. All you have to do is take a small amount of the waxy cream and gently massage it into the paw pad. It is also not very easy for dogs to lick off, so Rylie usually gives up quickly. Overall, I have been delighted with Paw Rescue and am excited to have it as part of our grooming tool kit!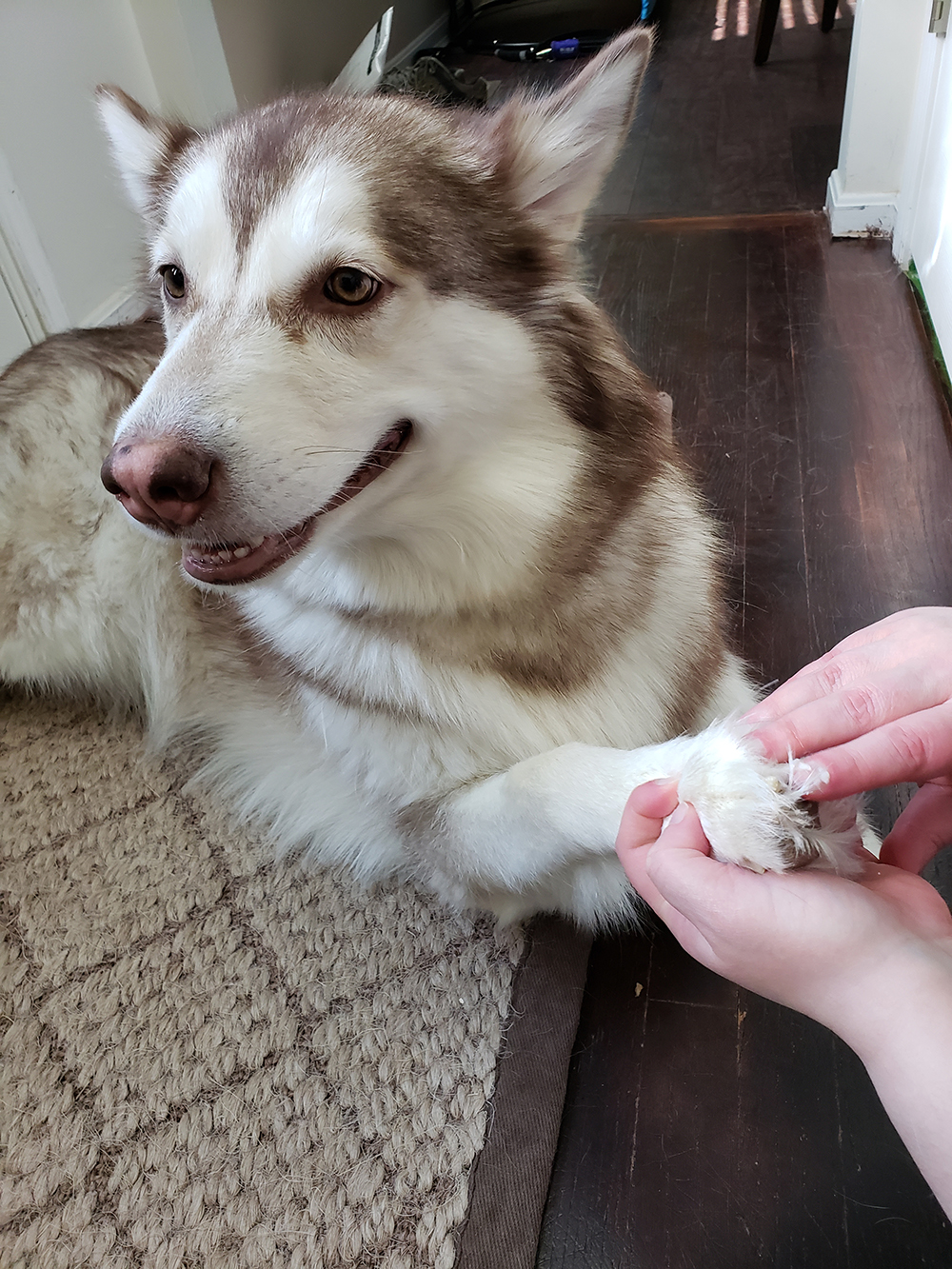 Pure and Natural Pet Tear Stain Removing Under Eye Wipes
Does your pup have tear stains around their eyes? Easily clean away eye stains with Pure and Natural Pet Tear Stain Removing Under Eye Wipes. These eco-friendly flushable, 3" rounds are completely unscented and easy to use. Each of these ultra-gentle eye wipes (made with aloe vera) have special enzymes that break down tear-stained, what are protein-based, leaving your dogs fur clean and without residue. As well, they are paraben-free, contain no synthetic dyes, sulfate-free, formaldehyde-free, don't affect flea and tick treatments, and are made right in the United States!
I don't know what it is, but Ivi has always had a problem with tear stains (my guess is due to her dark fur). Usually, we try washing it off with warm water and a bit of no-rinse shampoo, but it is usually a fight and doesn't clean her eye area as thoroughly as we would like. With the Pure and Natural Pet Tear Stain Removing Under Eye Wipes, cleaning is super easy. Just very quickly wipe the area, praise Ivi, and we are good to go! As well, they are flushable, meaning one less thing in a landfill!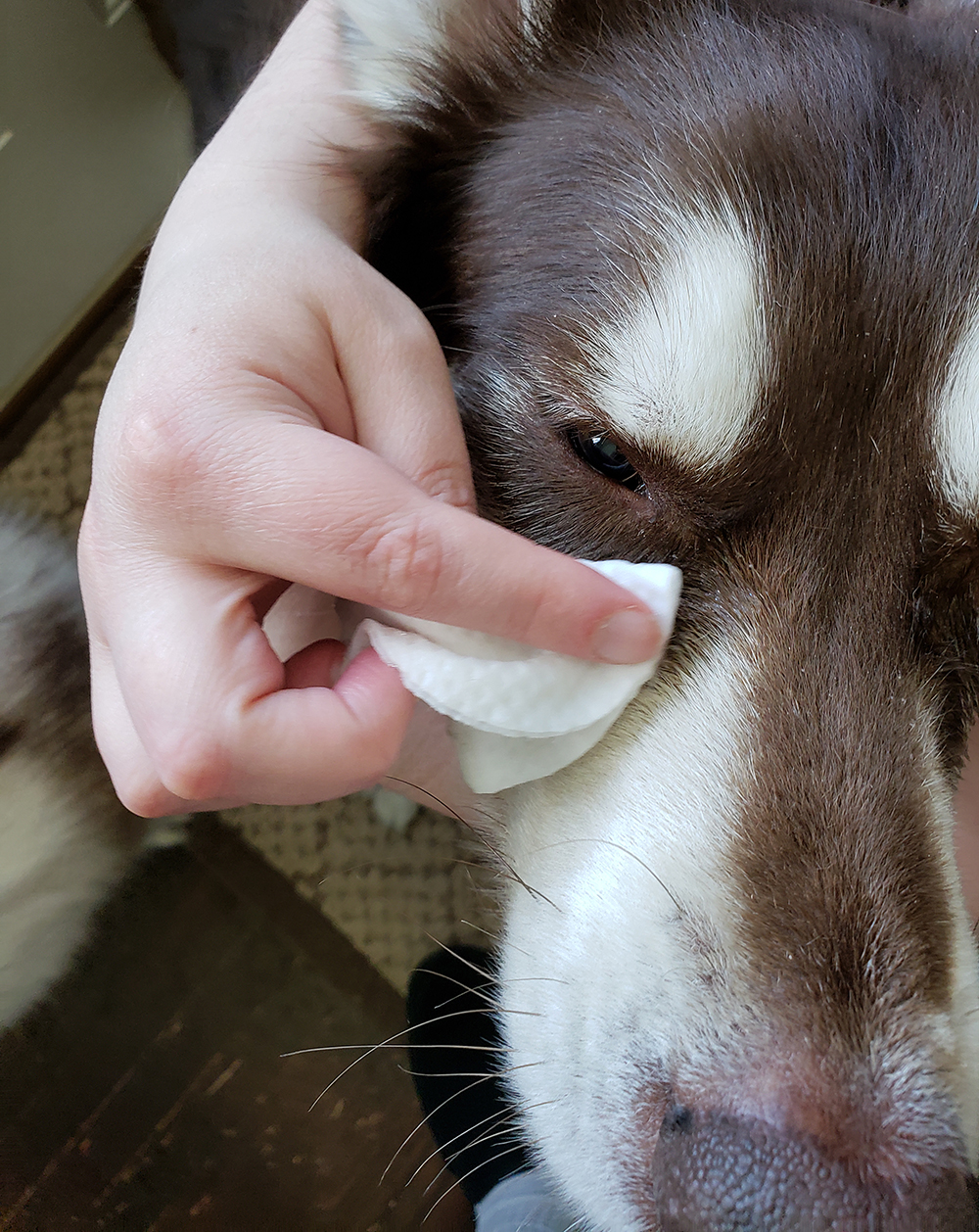 Pure and Natural Pet Organic Healing Aid
Do you have a pup that sometimes has skin issues or is a bit accident-prone? If so, we think you will love Pure and Natural Pet Organic Healing Aid Ointment. This wellness cream is excellent to have on hand to soothe aches and stiffness, while also treating minor cuts and wounds. It contains all-natural organic ingredients, including calendula oil for its antifungal, anti-inflammatory, and antibacterial properties and neem oil to treat minor injuries and cuts. Since it is made from food-grade ingredients, it is also completely safe for your dog to lick, something that is very important for dogs (since almost everything goes in their mouth).
Like most owners, I don't like seeing my dog in pain, even if it is a minor injury. The biggest problem with treating injuries, however, is that it has to be something safe for dogs to lick. That is easier said than done, especially when most injury creams say they can't be ingested or have a poison control warning. With the Pure and Natural Pet Organic Healing Aid, I can rest easy knowing that this is a first aid slave that is designed with our pups in mind. With antifungal and antibacterial properties, it takes care of minor wounds and doesn't come off easily with our dogs trying to lick wounds. I found this out myself when I had a hard time getting the salve off my own hands after testing it, taking multiple washing, and some time to come off. It really is the best of both worlds, being easy to apply and designed for dogs who are likely not to leave an injury alone (and thankfully not like the taste either). This is now our go-to first aid cream for the girls, and I'm planning on getting more to include in our pet first aid kit.
Pure and Natural Pet Products: Where To Purchase
Would you like to purchase one of these fantastic products featured in this article or other organic grooming products for your pup? You can find the full selection of Pure and Natural Pet products on their website! Who knew keeping our pets healthy and looking fabulous was so easy?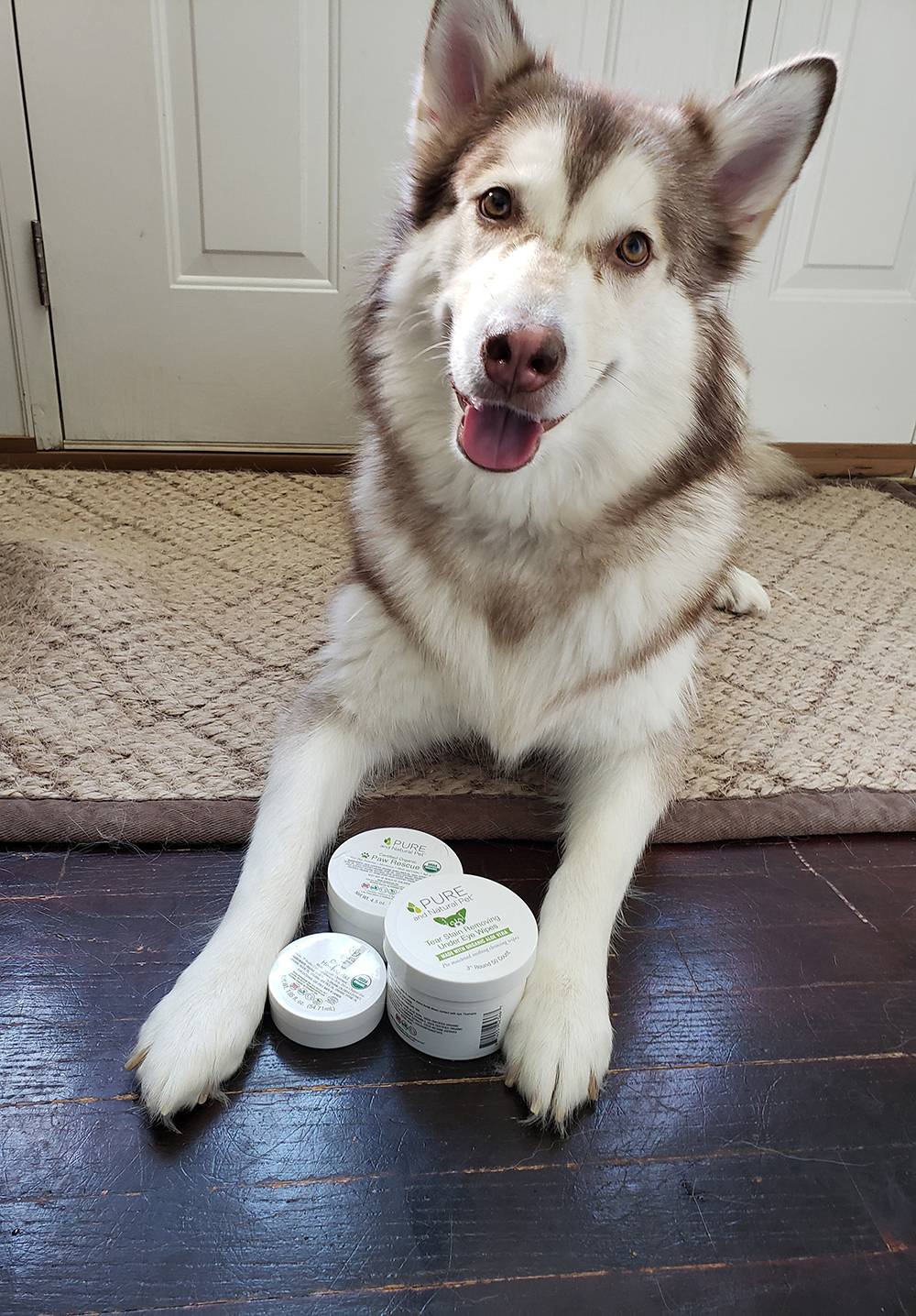 ---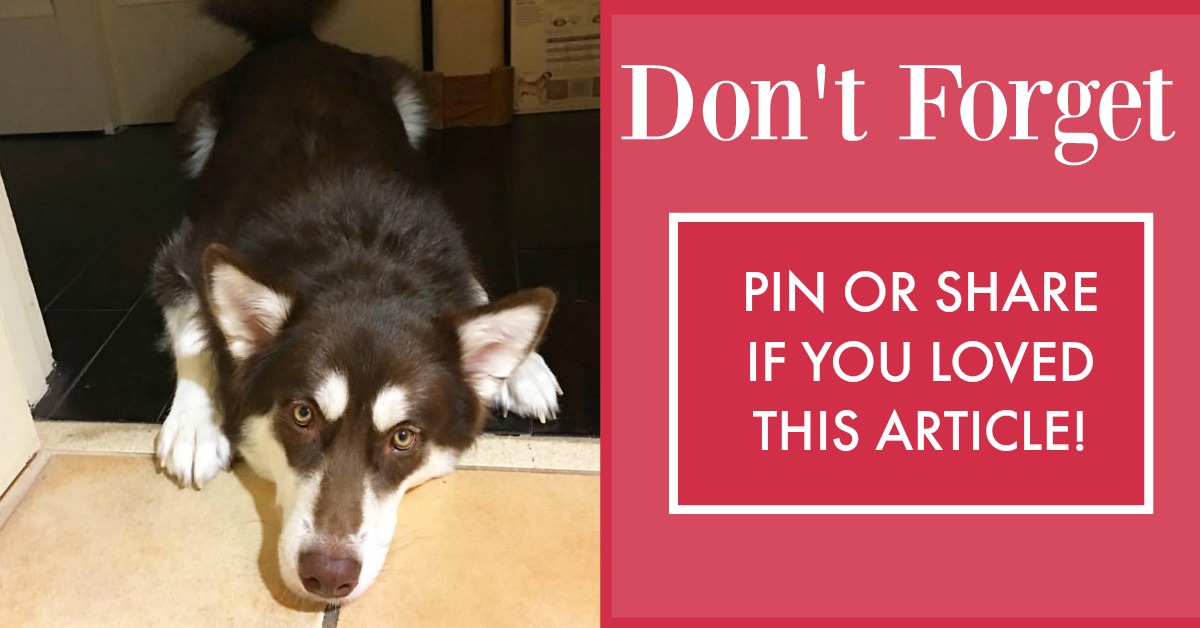 ---