Disclosure: I received these products for free to review. The opinions in my review are honest and my own.
Like many other dog owners, I spend quite a bit of money on treats. Even though I would love the convenience of running to Petsmart and buying treats, I have found that I have to buy most of what I get for Reya at specialty pet stores or Amazon.com since I want her eating only high quality, natural treats. Sometimes, this has meant that we have to experiment with treats, and we have certainly found some things that – while she will eat it – are far from her favorite (anything salmon). This is one of the reasons why I love pet subscription boxes – they allow you to try so many different products without committing to purchase too much of any one thing. When I heard there was a new pet subscription box on the market – Happy Dog Box – I knew I had to try it and see if it was something that truly worked for my family.
Happy Dog Box: What is It
Do you want to spoil your favorite dog with yummy toys and treats each month? If so, we are delighted to introduce you to the Happy Dog Box. Unlike other dog subscription boxes on the market, they introduce you to not only premium, all natural treats, but toys as well. As well as featuring these awesome items, they also allow dog owners to match the box to their size of dog, allowing you to get a box specially designed for small, medium, or large dogs. For me, this is a big deal since many boxes don't match themselves to the size of your dog, leaving a large dog owner like me with toys that could quickly become a choking hazard. To see an example of one of their boxes, check out our video review of the December 2013 Happy Dog Box for large dogs.
Happy Dog Box: Overall
What do I think of the Happy Dog Box? I will be honest with everyone, I was blown away when I opened this box. Sure, I have tried quite a few pet subscription boxes, but none of them had such a large variety of quality items. As well, I saw firsthand that I was getting a deal trying all the items in this box, leaving me with no doubt this is a good deal for any normal subscriber. As well, having a box that fits Reya is a major plus, and so far, she loves EVERYTHING in this box! Based on our own experience with the Happy Dog Box, I am delighted to give it an A+ rating and highly recommend it to all of my readers!
Happy Dog Box: Where to Purchase
Would you love to subscribe to this pet subscription box and try it for yourself? Currently, you can purchase a monthly or 3 month subscription box for $25 a month, or purchase a 6 month subscription for only $21 a month. With all the quality items in this box, your dog will be running wild with all these yummy treats and toys every month!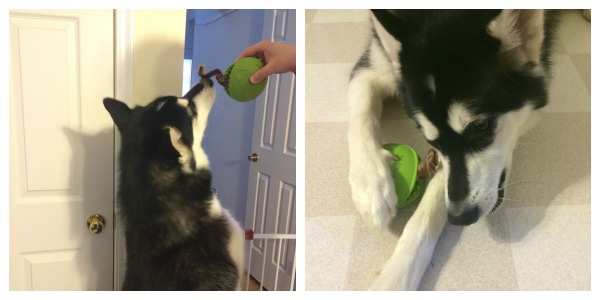 Disclosure: Budget Earth did not receive compensation but did receive products for review purposes. All opinions on this product are my own and may differ from our readers' opinions.
Would you like to have your products featured in a giveaway event? Want to increase your social media exposure this holiday season? See how Mom Powered Media can help! Contact susan.l.bewley@gmail.com to see what we can do for your company!