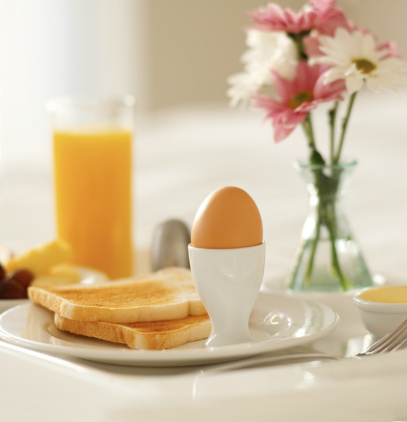 Treating yourself to a breakfast out can be nice on occasion, but what about all the days you decide to eat at home?  Will you be forced to resign yourself to another tasteless frozen waffle or a soggy bowl of cereal?  When you think of breakfast foods, you might think of the stereotypical options like toast or pancakes, but that doesn't mean you need to stick with those choices.  It's easy to get creative in the kitchen and cook yourself up something that you can get excited to wake up and eat in the morning.
One of the most common excuses people who eat out for breakfast often make is that they simply don't have time to cook themselves a "proper" breakfast.  However, it might surprise them to know that, in the time it takes them to drive to a fast food restaurant and wait in line for their order (or even less!), they could actually be making themselves a tasty and healthy breakfast at home.
If you are the type of person who enjoys sleeping in, there are plenty of healthy breakfast ideas for you, too!  Some make-ahead options include crockpot oatmeal, muffins (two of my absolute favorite recipes are this chocolate chip zucchini bread and this blueberry muffin one, but if you prefer savory options you might consider something like ham and cheddar or even an egg mug recipe), and—one of my brother's personal favorites—quiche.  If you often find yourself scrambling to get ready in the morning, you could easily make many of these recipes over the weekend and still have leftovers to enjoy all week long.
If you get excited about traditional breakfast items like pancakes and waffles, you might consider taking a breather from your usual recipe and enjoy some variations such as strawberry shortcake, cookie dough, or apple pie pancakes (all of which have been devised by healthy dessert blogger Chocolate Covered Katie).  If you're looking for something to sip on the go, you might like a breakfast smoothie such as these apple pie or oatmeal cookie smoothies.
Want something fun to make for your kids (or even just yourself)?  Frozen banana pops are a delight for all ages.  Just slice a banana into quarters, dip the pieces into yogurt, and roll in crushed breakfast cereal or even nuts and freeze them for a couple of hours or overnight.  If you wanted, you could even make a breakfast banana split or "build your own sundae" breakfast bar.  Arrange a selection of sliced fruit, yogurt, whole grain cereals, and/or whole grain pancakes or toast, and let everyone mix and match to create their own toppings.  If you're looking for some easy cleanup, lay everything out on paper plates.  Baked donuts can also be a great, healthy treat.
If you're someone who simply isn't very hungry in the morning but still would like to something in your stomach, try making your own granola or breakfast bars.  You could also pair a piece of fruit with something like cheese or nut butter (bananas and apples are both good choices to pair with either option).