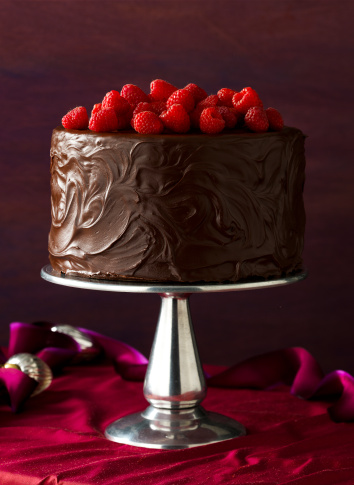 We're right in the middle of the holiday season, and of course nothing says "holiday treat" like desserts!  Plum puddings, fruitcakes, and gingerbread men abound this time of year.  While it is a good idea to enjoy a dessert every once in a while, some of us are still watching our weights or trying to maintain a healthy lifestyle without overindulging.  How do you fit something like dessert into such a lifestyle?  You can try using some cooking substitutes to reduce the amount of fat and calories in your recipes, or try cooking lighter versions of some holiday favorites.
Looking for a healthy cake recipe?  Try this chocolate cake or these confetti cupcakes.  My sister asked me to make her a white cake for her birthday, so I simply left out the sprinkles and they were a big hit.  My mom thinks they taste similar to Nilla wafer cookies, and everyone at the kitchen table agreed that the cake is sweet enough on its own without the frosting. Angel food cake is another love of mine, and it's delicious whether you use almond or vanilla extract, or – as I like to use – a combination of both.
How about a more "natural" dessert?  One that doesn't involve a lot of ingredients?  Cooking light doesn't have to be difficult.  Some of the best recipes are the simplest.  Baked apples are a delicious option, as are baked bananas.  If you're serving a family, you might consider a warm comfort dish such as apple cranberry crumble.
For a dessert-like breakfast, try banana bread French toast, deep dish cinnamon roll pie (made with chickpeas!), or Lisa Lillien's pecan caramel sticky buns.  You can nosh on those while making some cute gingerbread men (there's also a raw option for vegans) with the rest of the family.
Food isn't the only option for dessert; hot drinks are delicious, too!  A cup of cinnamon mocha coffee, a mug of cocoa, tea (Celestial Seasonings has some delicious holiday flavors, including sugar cookie, candy cane, and gingerbread), or some spiced cider also makes a great after-dinner treat.  If you're feeling brave, you can ignore the cold weather outside and opt for frozen hot chocolate.  My friend Katie recently posted a healthy, vegan eggnog recipe on her healthy dessert blog (while you're there, take a look at her eggnog spice cake).  Prefer candy canes and peppermint to eggnog?  This peppermint pie, trifle, chocolate chip candy cane cheesecake, and this DQ blizzard swap all fit the bill when it comes to cooking light.
Gift ideas.
If you want a fun, healthy dessert that you can wrap up and give as a Christmas present, try making some skinny yellow cake pops.  Gingerbread truffles are another great alternative.  You can make either into a bouquet by wrapping a few in cellophane and tying them together with a colorful ribbon.  Lots of people also love to give fudge around the holidays, and this is a great chocolate peppermint recipe.
Another dessert that I love to bake and give out for the holiday season is biscotti.  You know, those long, thin, crunchy cookies that are great alone or dipped into coffee or cocoa?  I swear by this vanilla almond recipe.  If you like the flavor of angel food cake, you'll love it, too.  Drizzle some melted chocolate over half and leave the other half plain to give your recipient some variety.  Is your crunchy cookie-loving friend more of a chocoholic?  Here's a great recipe for them.  Just bake up the biscotti and put them in a decorative tin!