As some of you know, I have been trying to cut a lot of unhealthy foods out of my family's diet. While we do eat quite a few healthy foods, there are some snack foods that we have had problems cutting. Trying to find some healthier alternatives, I looked into Healthy Surprise – a subscription box service that sends you a big box of natural, vegan friendly snacks every month. When I found out that Healthy Surprise was willing to let me review one of their boxes for free, I jumped at the chance – especially knowing some of my readers wanted to learn more about subscription box services like this.
Healthy Surprise Box: Opening
Healthy Surprise Box: Bare Fruit Crunchy Granny Smith Apple Chips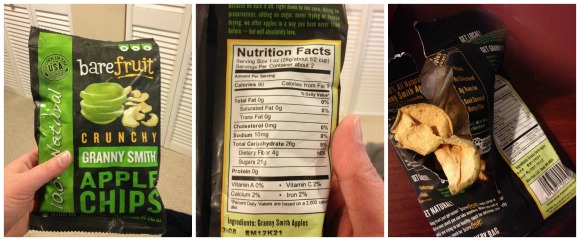 The first product that my husband and I tried in the Healthy Surprise box was the Bare Fruit Crunchy Granny Smith Apple Chips. As you can see from the picture, these chips are very healthy and are just dried granny smith apples. They are preservative free and contain no added sugars, or added anything else, for that matter – they are 100% fruit! While they aren't the prettiest chips, they are perfect snacks for adults and kids alike. In this sample package, you get two servings of chips, which are 90 calories per serving.
So, how did these chips taste? Well, there were mixed results in my household with these chips. I personally thought they were pretty good and tasted like most other natural dried apple chips I have eaten. The mix of sweet and tart made them a great, all natural snack in my eyes. As for my husband – he hated them. He didn't care for the taste and thought they were much too sweet. Since he normally dislikes dried fruit, I didn't find his reaction too surprising. As someone who loves dried fruit though, I give the first snack in this box a thumbs up!
Healthy Surprise Box: Rise Energy Bar in Coconut Acai

When I first bit into this energy bar – I was truly amazed. This is bar far the best energy bar I have tried to this date. Even my husband, who hates anything acai, though the Rise Energy Bar in cocotnut acai was amazing. The only thing I'm disappointed about is that there wasn't a second one of these bars in the box! As for the taste of the bar, it is sweet with a nice, soft but chewy texture. Best of all, I had this as a late afternoon snack since we didn't eat dinner until late the night I tried this. In all, this has been my favorite item in the Healthy Surprise box.
Healthy Surprise Box: Freshly Wild Kale Joy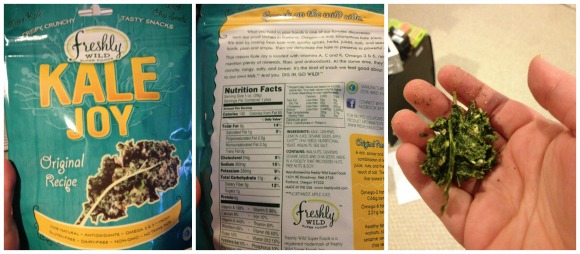 Out of all the items I have tried in the Healthy Surprise box, this is one I could have lived without. I have to say, I did not like this at all. It has a very strong aftertaste that is a bit difficult to get out of your mouth. The overall texture when you first start eating it isn't terrible, but the aftertaste is a real killer. Since I have been wanting to try kale chips for awhile, I am very glad this was in the Healthy Surprise Box since now I know to avoid it!
Healthy Surprise Box: Walnut Fig Rawma Bar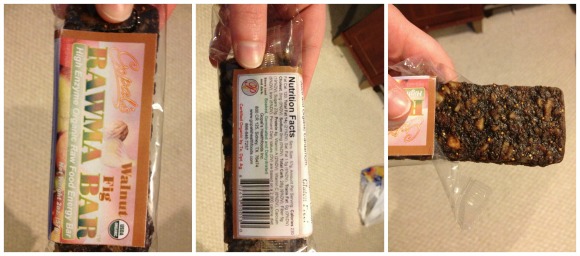 This was another pleasant surprise in the Healthy Surprise Box. My husband and I both though the Rawma Bar was actually pretty good. It has a nice, soft texture and a sweet flavor from the figs. What surprised me the most is that you can barely taste the nuts over the figs. For my husband, this amazing since he hates most nuts. While I thought the cardamom in it was a bit odd while I was reading the packaging, it really did add an excellent flavor to this bar, making it another must buy in the Healthy Surprise Box.
Healthy Surprise Box: LiveSmart Skinny Yummy Original Nutty Fruit Bar – Raw Energy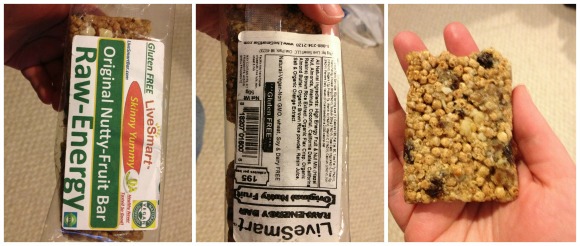 The Livesmart Skinny Yummy Original Nutty Fruit Bar was another nice surprise in the Healthy Surprise Box. It is slightly fruity but has a very nice, nutty flavor. This was another energy bar in the box that I wasn't expecting my husband to like. Surprisingly, he seemed to like it. If you are a on a raw or gluten free diet, this is definitely a must have! I could easily see this as a great snack food!
Healthy Surprise Box: Cocomo Joe Fig Bar

I have to say this is another bar that was a very nice, pleasant surprise. If you like coconut, like my husband and me, you will LOVE the Cocomo Joe Fig Bar. My only confusion is that there doesn't seem to be much fig in the bar at all. To me, this bar is so sweet I would consider to be a very nice dessert. If you are someone who is trying to fight a sweets addiction or turn it into something healthier, this is the right bar for you!
Healthy Surprise Box: Fuji Apple Crisps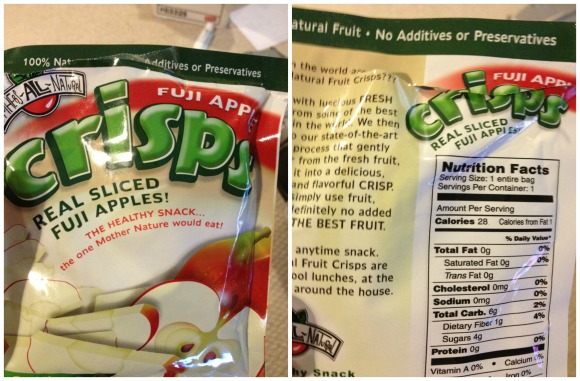 While these apple chips are really good, they are also very very weird. These apple chips are actually freeze dried, giving them a very soft, fluffy texture. The only strange thing is that they have almost the same texture as communion wafers. Both myself and my husband liked them so it's not a bad thing – just very different!
Healthy Surprise Box: Hail Merry Vanilla Maple Almonds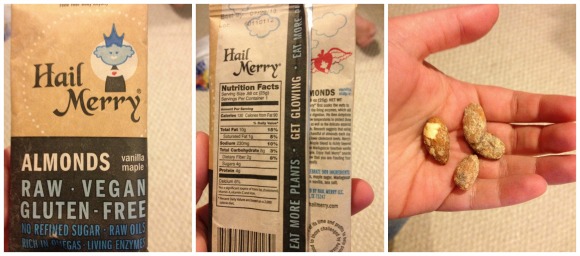 This is another great raw and gluten free snack. These almonds taste exactly like you would expect – almonds with a nice vanilla and maple flavor. What is so odd about these almonds is that the aftertaste is actually a very good thing. It leaves a very nice, pure vanilla taste in your mouth that is quite good! If I had to come up with a complaint, the only one I could think of is that the bag really doesn't seem big enough!
Healthy Surprise Box: Olomomo Nut Co Righteous Cinnamon Cayenne Almonds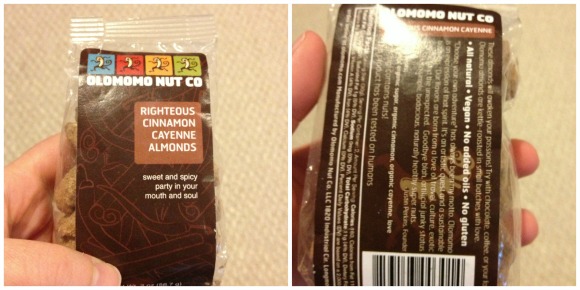 I'll be quite honest with everyone. I was a bit scared of these almonds since I couldn't imagine a sweet and spicy almond. After tasting them, they really aren't that bad. Nothing amazing, but I would eat them. I personally think they are a bit too spicy. My husband seemed to think well of them. While he eats those, I will happily stick to my Hail Merry Almonds!
Healthy Surprise Box: Sunfood Organic Incan Berries

Okay, I really tried to like these Incan Berries. Reading the package, I was impressed with just how healthy these berries are compared to many other snack foods. Unfortunately, once I opened the package I just couldn't find a single thing I liked about them. They have a very grainy texture and are very sour and bitter. Since I'm not someone who usually cares for bitter foods, I will pass on these.
Healthy Surprise Box: Fruit.0 Bananan Blueberry & Blackberry Fruit Juice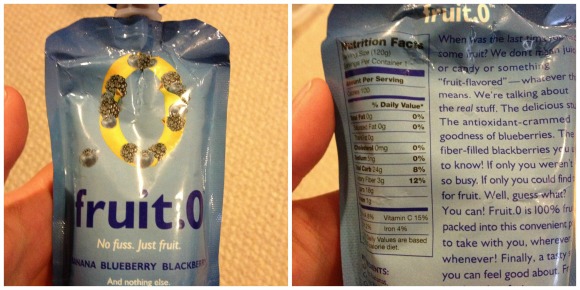 I have to admit, it is very difficult to find 100% organic fruit juice, especially juice that is meant to be portable. When I first saw this in the box, I couldn't help but think how useful this would be for moms who love putting fruit juice in their child's lunch. As for the taste and texture, it is pretty much a fruit smoothie on the go. As someone who loves making my own fruit smoothies in my Vitamix, I thought it was a pretty ingenious idea. While I think it could be better without the banana, it is a good product.
Healthy Surprise Box: Righteously Raw Chocolate
In my Healthy Surprise Box, I got three little sqaures of chocolate – Pure Dark, Synergy Spice, & Divine Mint. These chocolates are organic, vegan friendly, gluten-free, and contain no refined sugars. Having never had vegan friendly chocolate before, I had no clue what to expect. The dark chocolate was very good in my opinion, along with the mint, but was very bitter. The synergy spice though I couldn't even finish. It was much too spicy for my taste (it has cayenne pepper).
Healthy Surprise Box: Overall
Having lived for years with someone who was vegetarian and considering going vegan, I know how difficult it is to find good healthy foods for those diets. With all the yummy treats in this box, I wouldn't consider the starter box a bad deal at $33. The only reason I don't consider it too expensive is the fact that all the foods are gluten-free, dairy free, and most are organic. As well, the box did exactly as advertised – allowing me to try a variety of healthy foods without buying a large amount of product. I would definitely recommend this box and give it an A- rating. While I would love to give this A, I know for some of my readers the $33 cost is a bit cost prohibitive. For those who are vegan or prefer organic food, this box is a great deal.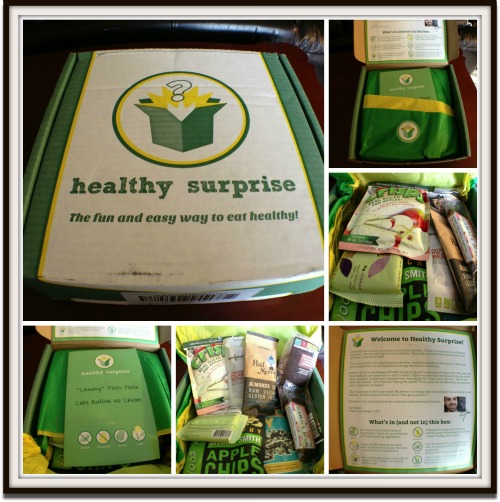 Disclosure: Budget Earth did not receive monetary compensation for this review , but did receive a Healthy Surprise Box free for review purposes. All of the opinions on this blog are the opinions of said author and these opinions may differ from your own.