Disclosure: I received these products for free to review. The opinions in my review are honest and my own.
Like many other pet owners, I am very concerned about my dog and what goes in her mouth. Dog owners, let's face it – our dogs put just about everything in their mouths and at some point, they will have tried putting just about everything in the house in their mouths. It is our job to make sure that dangerous things stay out of their reach and that approved toys and treats are safe enough to go in their mouths. While we would assume that most dog treats are safe, you would be surprised at some of the dangerous chemicals that have found their way into some treats and how toxic they can be for their systems. This is why it is important that we only buy treats and food from reputable manufacturers, especially with all the recall scares lately.
Lately, I have been trying to get a collection of different jerky treats for Reya. We learned recently that she absolutely LOVES jerky and have been on the lookout since we can no longer purchase her favorite venison treats. As I was researching different treats, I was approached by Hillside Farms, asking if I was willing to review their all natural chicken jerky. After reading some very good things online, I said yes, curious to see how this jerky compared to some of her other treats!
Hillside Farms Chicken Jerky: Who are They
Looking for a company that makes all natural, healthy treats for your favorite dog? If so, we think you will love Hillside Farms. This family owned company is based out of Southern California and is proud to be one of the largest suppliers of dog food treats in the world, selling over 700 million treats worldwide. All of their products originate from premium, natural ingredients like chicken breast, duck breast, fruits, and vegetables. If you are looking for wholesome treats that you are proud to give your furry family members, then you will love their low fat, high protein dog treats!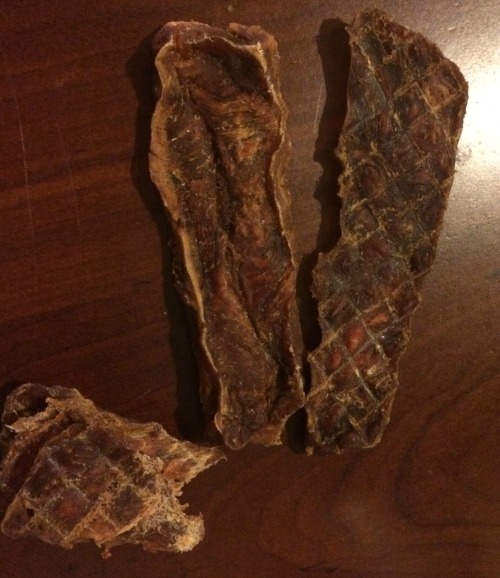 Hillside Farms Chicken Jerky: No Recall Concerns
When I first got my bag of Hillside Farms Chicken Jerky, the first thing I did was check the bag to see where it was made. In all honesty, I panicked when I saw it was made in China and was ready to go no further, especially after hearing all the scary recalls in the news. Just to make sure they weren't in the recall, I looked online and on their site. What I found blew me away. All of their products were not only registered with the FDA, but follow all USDA guidelines for human food production. To prove that they are perfect for human and dog consumption alike, each batch is sent to a private lab in the US for testing and they are proud to publish all the lab results online on their website. To find the test results for your own bag of food, you find the lot number on the bag, go to their report menu, and you can read it right there or print it out if you like. If you would like to see the report for my bag of Hillside Farms Chicken Jerky, go to the report page and look for lot number WPHFCJ16007.  Now that I was confident that the recalls had nothing to do with the product on my table, it was time to see what our four-legged tester thought of them!
Hillside Farms Chicken Jerky: Overall
If you are a dog owner, you likely know for yourself that dogs LOVE jerky. When this bag of jerky arrived in the mail, Reya was all about the box and attempted to carry it off herself if I would only have let her. Once she calmed down, we opened the bag of treats and took a look inside. Having seen quite a bit of jerky, I was expecting smelly, nasty jerky – the stuff you normally see for dogs. This, smelled almost like my husband's jerky, and looked like it too. I was actually surprised at the quality. Reya, however, was the true test. After earning her jerky with some command reinforcement, she happily took a big piece of jerky. Not only did she love this jerky, but she had to spend quite a bit of time chewing it, making the treat last longer than any other jerky we've given her, and making her take her time to enjoy it. To say the least, I am very pleased with my experience with Hillside Farms Chicken Jerky and will likely be purchasing some more of their products once we finish this bag. Based on my own experience, I am happy to give their chicken jerky an A+ rating and highly recommend it!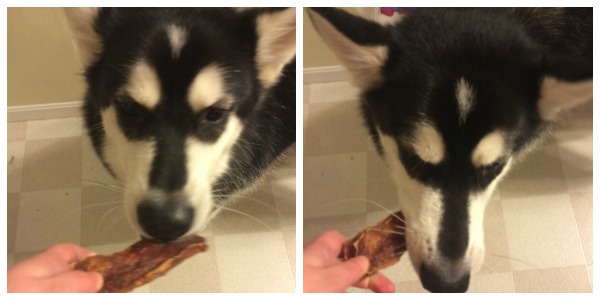 Hillside Farms Chicken Jerky: Where to Purchase
Would you love to purchase some of this awesome jerky for your own dog? Currently, you can purchase Hillside Farms Chicken Jerky at Winn Dixie, Bi-Lo, Amazon.com, or the Hillside Farms website! Currently, you can purchase the Hillside Farm Chicken Jerky on Amazon.com for $11.79.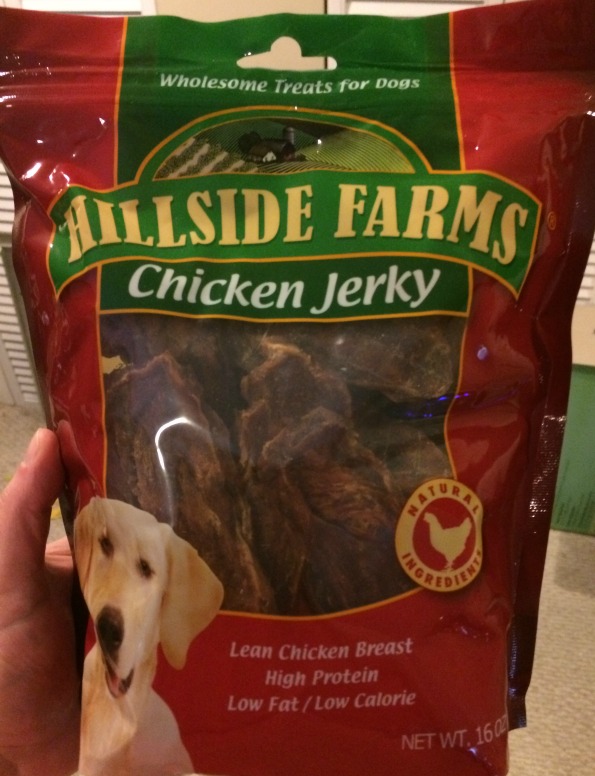 Disclosure: Budget Earth did not receive compensation but did receive products for review purposes. Budget Earth may, however, receive compensation through purchases from affiliate links in this post. All opinions on this product are my own and may differ from our readers' opinions.
Would you like to have your products featured in a giveaway event? Want to increase your social media exposure this holiday season? See how Mom Powered Media can help! Contact susan.l.bewley@gmail.com to see what we can do for your company!