Disclosure: I received these products for free to review. The opinions in my review are honest and my own.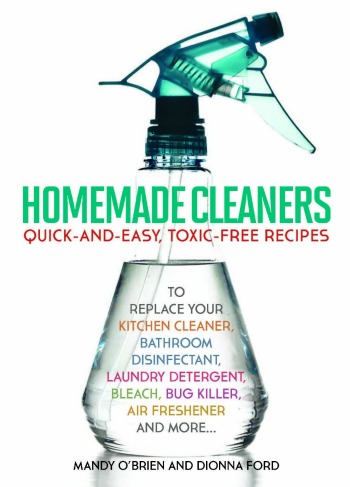 As many of you now, I try hard to keep everything as natural as possible in our home. While I have moved to steaming some things, there are just some cleaners and household products I have had a hard time ditching. While I was on my search for the perfect cleaners, I was approached to review a new book that really caught my interest – Homemade Cleaners: Quick & Easy Toxic Free Recipes. Once my book arrived, I couldn't wait to start trying these all natural cleaning recipes!
Homemade Cleaners Book: What is It
Want to make your own homemade cleaners? If so, we think you will love Homemade Cleaners: Quick & Easy Toxic Free Recipes. This book focuses on offering families a better solution for keeping your home clean by giving you homemade recipes using simple and affordable items that you will likely find in your own home. Once you have tried many of these recipes you will see why many families are moving to all natural, homemade cleaners!
Homemade Cleaners Book: Overall
Personally, I thought this book was a wealth of information. It has recipes for just about everything, from cleaning floors to making your own wool dryer balls. There really isn't much I haven't found a recipe for and with the books layout, you can easily find cleaners for just about any area in the home. Not only all the recipes eco-friendly, but designed to save you money without introducing toxic chemicals into your home. Based on my own experience with this book, I am happy to give Homemade Cleaners: Quick & Easy Toxic Free Recipes an A+ rating!
Homemade Cleaners Book: Where to Purchase
Want to purchase this book for making your own cleaners? You can purchase Homemade Cleaners: Quick & Easy Toxic Free Recipes on Amazon.com for $12.30 or buy the Kindle edition for $9.99!
Disclosure: Budget Earth did not receive compensation but did receive products for review purposes. Budget Earth may, however, receive compensation through purchases from affiliate links in this post. All opinions on this product are my own and may differ from our readers' opinions.
 Would you like to have your products featured in a giveaway event? Want to increase your social media exposure this holiday season? See how Mom Powered Media can help! Contact susan.l.bewley@gmail.com to see what we can do for your company!