Disclosure: I received this product for free to review. The opinions in my review are honest and my own.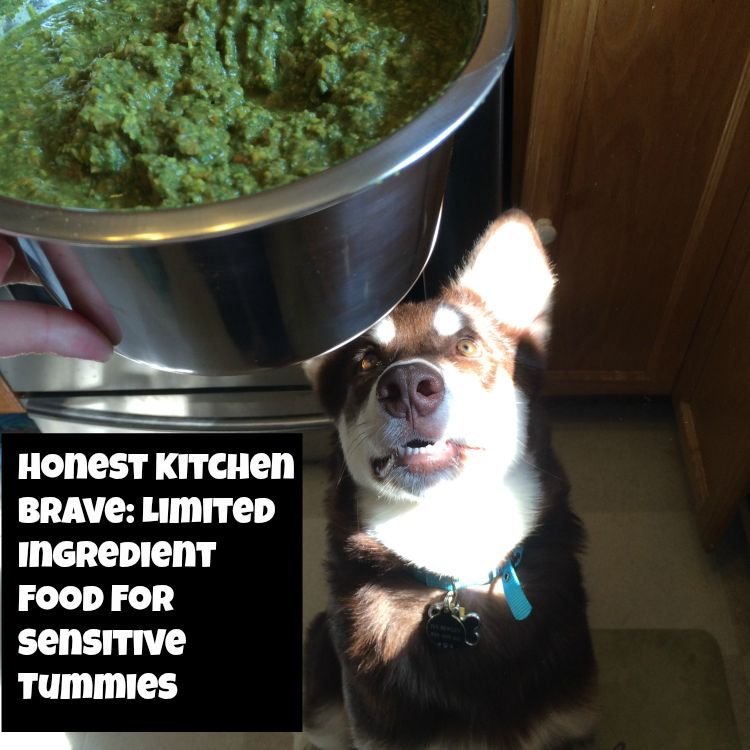 How many of you have ever dealt with doggy allergies? I will freely admit, it has been a real problem recently in our household. Ivi seemed to constantly have an upset tummy and potty time wasn't…well..let's leave it as it wasn't pleasant. After quite a bit of trial and error, we finally found the culprit – turkey. That's right, we are pretty certain are sweet little puppy is allergic to turkey. Once we figured out the problem, we couldn't believe how many products just say 'poultry' or have turkey in them. To make things safer on her poor little puppy tummy, we have depended on Honest Kitchen to keep her happy and healthy. While Ivi loves their Revel food, she much prefers anything involving fish. Luckily, Honest Kitchen recently come out with a food that sounded perfect for our Ivi puppy – Brave!
Honest Kitchen Brave: What is It?
Looking for a food with limited ingredients that is perfect for puppies and dogs with sensitive tummies or allergies? If so, we think you will love Honest Kitchen's Brave food from their new Limited Ingredient Collection. This new food contains only six whole food ingredients, plus vitamins and minerals: Marine Stewardship Council Certified pollock, organic coconut, chickpeas, celery, pumpkin, and spinach.  Best of all, it is completely grain free, potato free, and poultry free! As well, this dehydrated food is completely safe for puppies and nursing moms, making it a great addition to the Honest Kitchen family!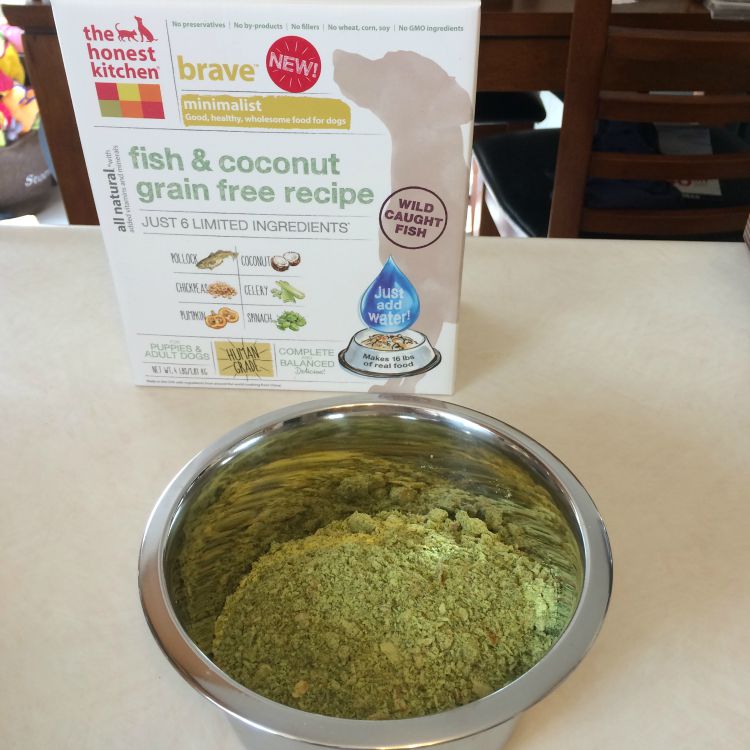 Honest Kitchen Brave: Overall
As many of you know, Honest Kitchen has been a staple presence in our household since Reya was a puppy. When Ivi had issues chewing kibble during her first few days in our home, we immediately put her on Honest Kitchen's Revel food. Since she is used to Honest Kitchen, she was excited when she saw an Honest  Kitchen box open and preparation beginning in the kitchen. When she smelled the fish however, she was even more excited. She couldn't wait to get started and immediately buried her cute little puppy face in the food. Even Reya, who normally hates fish, was happy to try this food. Overall, this limited ingredient food has been a big win in our family and we now have a new food that we know is not only safe for Ivi, but something she considers a real treat.  Based on our own experience, we are delighted to give Honest Kitchen's new Brave food an A+ rating and highly recommend it to all of our readers!
Honest Kitchen Brave: Where to Purchase?
Want to purchase this wonderful food for your favorite puppy or dog? You can find Honest Kitchen Brave and other foods in their new Limited Ingredients collection on the Honest Kitchen Website. We are certain that your dogs will love Honest Kitchen just as much as ours!
Want to learn more? Check out Honest Kitchen on Social Media!
Facebook | Twitter | Pinterest | Instagram | Google+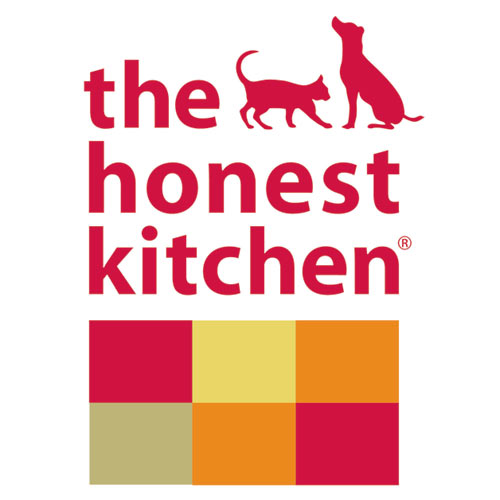 Disclosure: Budget Earth did not receive monetary compensation but did receive products for review purposes. All opinions on this product are my own and may differ from our readers' opinions.
Would you like to have your products featured in a giveaway event? Want to increase your social media exposure? Contact susan.l.bewley@gmail.com to see how I can help YOUR company today!