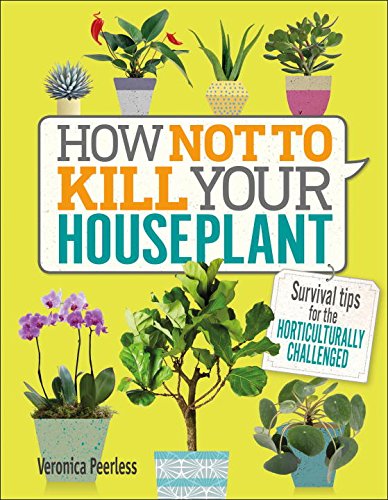 Are you someone who loves having plants indoors? If I had my choice, I would have live (dog safe) plants all throughout my house. To me, there is just something wonderful about having nature indoors. My only issue is that while I love plants, sometimes they don't exactly love me. Unlike my mom who was great at keeping just about anything alive, I am horrible when it comes to plants. Even the prettiest plants I have often seem to die due to me having absolutely no clue how to care for them, or researching sometimes a bit too late what to do since I often assumed all they needed was a sunny window and some water. Luckily, I recently found the perfect book for people like me – How Not to Kill Your Houseplants.
How Not to Kill Your Houseplant: About the Book
Do you love house plants but have problems keeping them alive? If so, we think you will love How Not to Kill Your Houseplant by Veronica Peerless. Here is what the publisher has to say about this book!
Can't keep a houseplant alive, no matter how hard you try and how good your intentions are? This is the book for you. You need this book. Give plants a chance.

Help your plant live with survival tips and learn the simple ways not to kill your plants.With over 50 different types of popular houseplants, How Not to Kill Your Houseplant summarizes what type of care your plants do (or don't) need. Be on the lookout for warning signs of a sick plant, from brown spots to crispy leaves, and make sure you take the proper action to rescue your plant.

Learn the basics of horticulture, from watering your plant to what kind of soil it should be placed in to how much light it needs every day to if a certain type of plant will thrive in your living space. Find out how to keep a cactus alive, where to hang air plants, and how to repot succulents.

Full of helpful tips, pictures, and informational panels, How Not to Kill Your Houseplant will turn your home into a beautiful greenhouse of healthy, happy plants.
How Not to Kill Your Houseplant: Our Thoughts
As someone who loves plants but finds that sometimes plants don't love me, I have to say that I love this book. This easy to use guide tells you how to care for most plants we can find in stores or nurseries that are meant to be indoors, as well as what to do if things go wrong. Best of all, it even includes pictures, allowing you to look at your plant and tell quickly if it is healthy or may need some extra TLC. It also gives you helpful tips such as what other plants have similar care and the perfect conditions for your plant. Overall, I consider this book a must with any exotic houseplants or to anyone who you know really loves plants to death indoors but…may need some extra instruction.
How Not to Kill Your Houseplant: Where to Purchase?
Want to purchase this book for yourself or someone you know as a gift? You can buy How Not to Kill Your Houseplant on Amazon.com for only $10.52.
Would you like to have your products featured in a giveaway event? Want to increase your social media exposure? Contact susan.l.bewley@gmail.com to see how I can help YOUR company today!