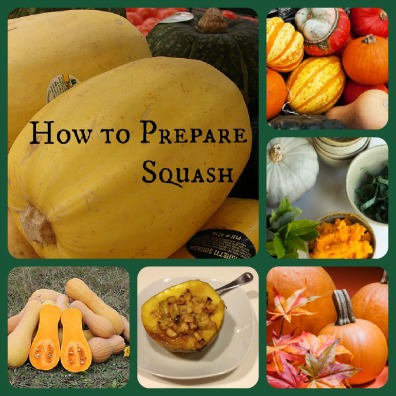 Perhaps you have an abundance of zucchini from your garden, or possibly there was a particular squash at the market that seemed to be calling your name – the question, now, is how will you prepare it?  One of the wonderful things about squash is that, despite the number of varieties available, they can all be prepared in similar ways.
Summer Squash
To prepare and use summer squash:
Thoroughly scrub under running water until the skin feels clean.  Cut off and discard the stem end and scrape off the other end.  It is only necessary to peel the skin if it is unusually tough or the surface feels especially gritty after washing.
Depending on your recipe, you may grate, slice, or chop the squash.
Steam.  One of the easiest ways to prepare summer squash is to steam it in the microwave.
Cut the squash into 1/4- to 1/2-inch slices.
Place in a microwave-safe bowl, and then cover and microwave it on high for 2 minutes.
Stir the squash, and then microwave it another 2 to 4 minutes until just tender.
Grill.  If you've planned a barbeque with the family, why not add some zucchini and yellow squash to your menu?
Preheat the grill and adjust it for medium heat.
Cut your squash into 3/4- to 1-inch-thick slices and skewer them. Lightly brush the squash slices with olive oil and sprinkle them with salt and pepper (you can also use a marinade).
Place the squash on the rack of the uncovered grill directly over medium heat.  Grill for 10 minutes or until the squash is just tender, turning them once during the cooking time.
Baked goods. When it comes to adding some moisture and additional nutrients to cakes, breads, or bars, you can use the coarse side of a box grater to shred zucchini or yellow squash and then add them to your recipe.  Both varieties may be used interchangeably.
Roast.
Preheat oven to 425 degrees F.
Cut squash into bite-size chunks and then place in a large, shallow roasting pan.  Drizzle the squash with olive oil and sprinkle with salt, pepper, or your favorite seasoning (my family is fond of both garlic pepper and Mrs. Dash blends).
Roast squash uncovered for about 15 minutes or until the squash is just tender, stirring once.
Broil.
Preheat the broiler and cut squash into 1/4- to 1/2-inch slices.  Arrange them in a single layer in a large, shallow roasting pan and drizzle with olive oil.
Sprinkle squash with (optional) salt and pepper.  Toss to coat.
Place squash about 5 inches from the heating source and broil for 3 to 5 minutes or until just tender.
Sauté. Cook in butter over medium-high heat until barely tender. Season with herbs of your choice, salt, and pepper.
Try squash in a foil pack, lasagna, or veggie stew, for a family friendly dinner.  Grilled vegetable wraps make a great vegetarian lunch.  It's not possible for me to discuss zucchini without raving about my favorite bread recipe.  If you're used to eating your squash cooked, it may be a nice change of pace for you to try it raw, such as in this recipe for summer squash ribbons.
Winter Squash
Steam/boil.
Peel squash, remove seeds, and cut the flesh into small chunks.
Cover the bottom of a pot with about 1 inch of boiling water.  Add 1/2 teaspoon of salt & cover tightly, bringing to a rapid boil.
Add squash; cover tightly and cook for 12 to 40 minutes (this depends on the age of the squash and size of the pieces).
Once desired tenderness is reached, strain the squash, mash well (or puree in a blender), and add butter or other seasonings.
For boiling: Prepare as directed above, only cover the squash chunks completely with water instead of just the 1 inch.
Fry:
Clean and prepare the squash by peeling the skin and removing the seeds and pulp (young summer squash can be cooked with the skin on, but wash them well first).
Cut squash into slices or chunks, then cook in butter over medium-high heat (uncovered) until pieces are fork tender. Season with salt, pepper or choice of herbs (you can also add thinly sliced onion).
Microwave: Cut the squash in half and discard the seeds. Microwave on high for seven minutes per pound.
Bake.
Preheat the over to 400°F.
Depending on the variety of squash, you may wish to cut it in half or in pieces large enough for individual servings.  After scraping out the seeds and the stringy parts, place the pieces cut side up on a large, rimmed baking pan.
Dress the squash the way you would like.  For example, you may wish to drizzle it with a little olive oil, or dot each piece with a little butter (about 1 teaspoon), brown sugar, honey or maple syrup, and a sprinkle of salt.  You could also try butter, garlic cloves, and fresh herbs.
Pour 1/3 cup of boiling water into the baking pan, then cover the pan with a lid or foil.
Bake for about 1 hour, removing the cover for the last 20 minutes of baking.
Note:  Squashes do not require peeling before baking, but the seeds should be removed. If small squashes are to be baked whole, cut a slice off the top or end and remove the seeds.
Roast.
Preheat oven to 400°F.
Cut squash in half, removing seeds and stringy bits, and then cut again into individual portion sizes.
Coat pieces with olive oil and place on a baking sheet with the cut sides facing up. Sprinkle with salt and pepper, if desired.
Roast at for one hour, turning pieces after 30 minutes (or as needed) to prevent burning.  Remove from oven once tender, scoop out the flesh, and serve.
Alternatively:  Peel the squash first, removing the seeds and stringy parts, and then cut into approximately 1/4″ slices. Proceed as above, but heating time will be closer to 30 minutes.
Peeling: Some squashes have edible skin, but when you wish to remove it peel with either a sharp knife or a vegetable peeler.  Be aware that some varieties are far more difficult than others to peel.  You may wish to cut the squash into smaller pieces before peeling, to make the job easier.  If the squash proves extra stubborn to peel, you can try heating it in the microwave or oven for a few minutes, allow it to cool a bit first, and again try peeling it.
Try some baked butternut squash fries in addition to your lunch, or a casserole for dinner.  Curry is another tasty, warming fall favorite.  If you're looking for a breakfast dish, leftover squash is a great addition to a frittata.
As you can see, there really is no wrong way to prepare squash, and you can tell when it's done by the fork tenderness.  Grill, steam, broil, boil, puree, bake, mash or fry them—whatever method for preparing squash you choose, the results are sure to be delicious.  Go ahead and add that beautiful butternut or striking spaghetti squash to your cart.  Your healthy eating budget won't suffer because, after all, fall fruits and vegetables are in season.