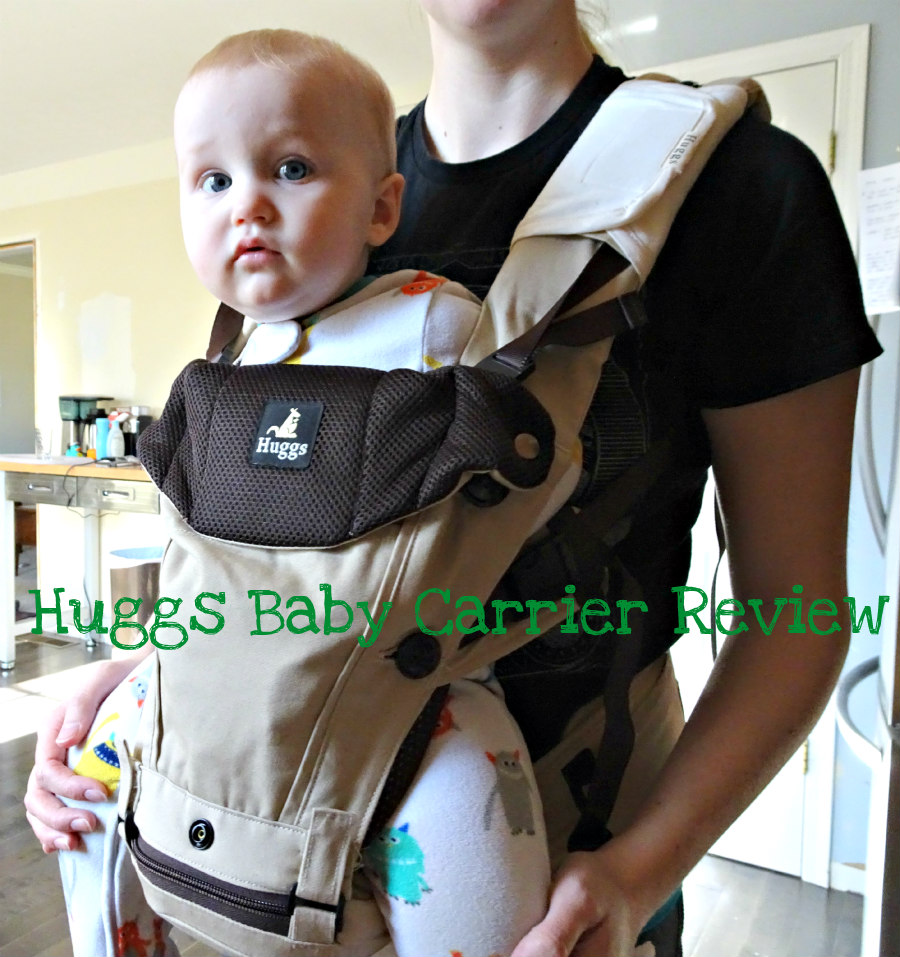 Motherhood is messy. Motherhood is demanding. Motherhood means always having your hands full, literally and figuratively, especially when your kids are young. Enter the Huggs Baby Carrier to the rescue! With their special Hip Seat Technology and six different carrying positions, this carrier makes motherhood just a little bit easier. Hands-free? Yes, please! Note: This post contains photos of crazy mom-hair, comfy yoga pants, and no makeup. Ye have been warned!
With six different carrying positions, I was excited to try them all to find out which was our favorite. We tried three of these carrying positions both indoors and outdoors to thoroughly test out the carrier's capabilities. The Huggs carrier can do a crisscross strap variation for users who are more petite, but as I am 5' 7", I did not test out this variation.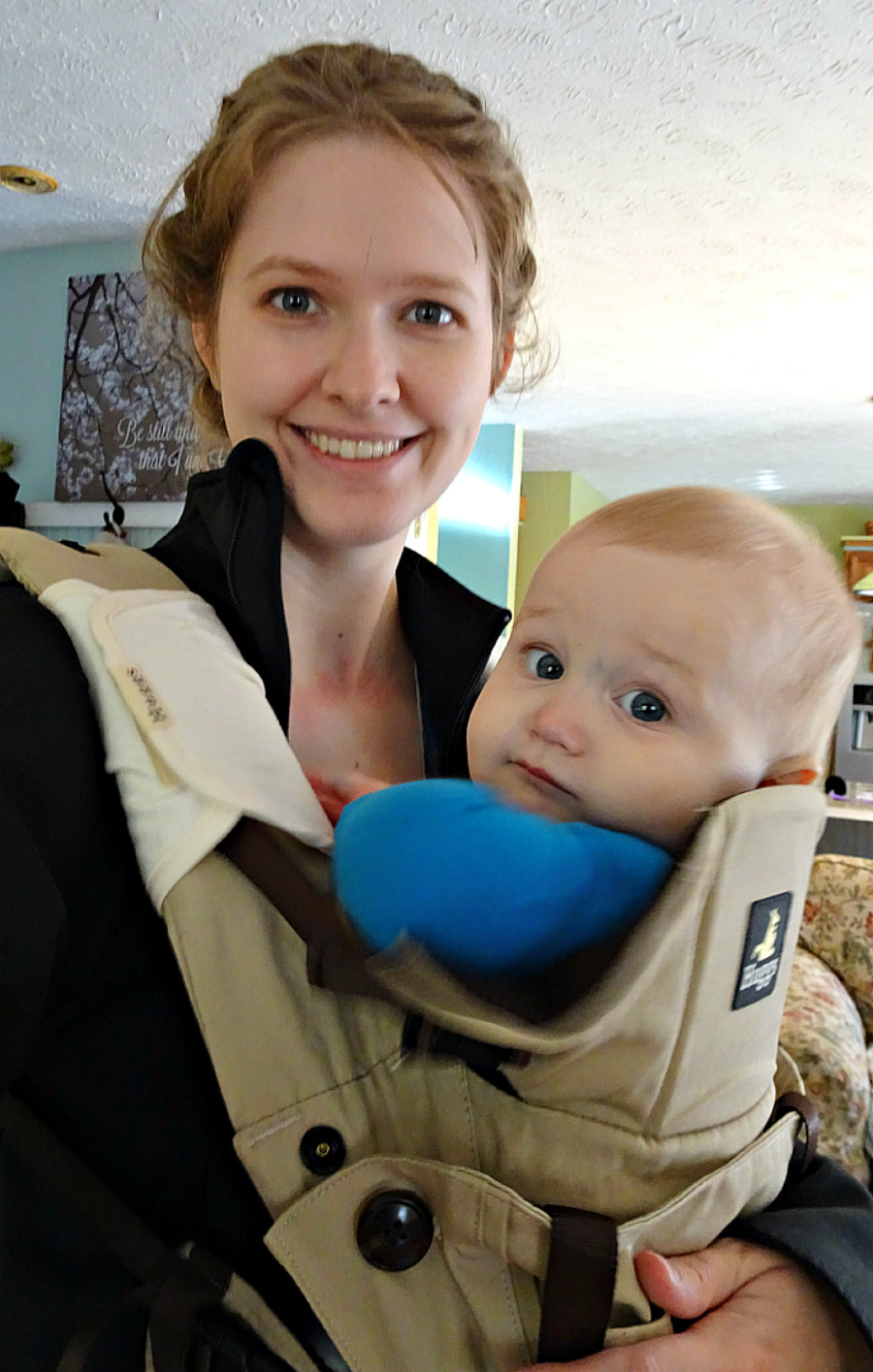 I had never seen a baby carrier quite like the Huggs from Abiie. The seat on this carrier made me think that it might feel heavier or more off balance from other carriers I had tried. However, when I first secured my ten-month-old baby boy into the front-inward position, I was pleasantly surprised at how well the hip seat distributed the weight onto my hips and off my back. The classic front-inward position was instantly snug and cozy for both me and my baby.  I found this position to be easy to use both indoors and outdoors. The shoulders are well-padded with foam and do not dig into my skin at all.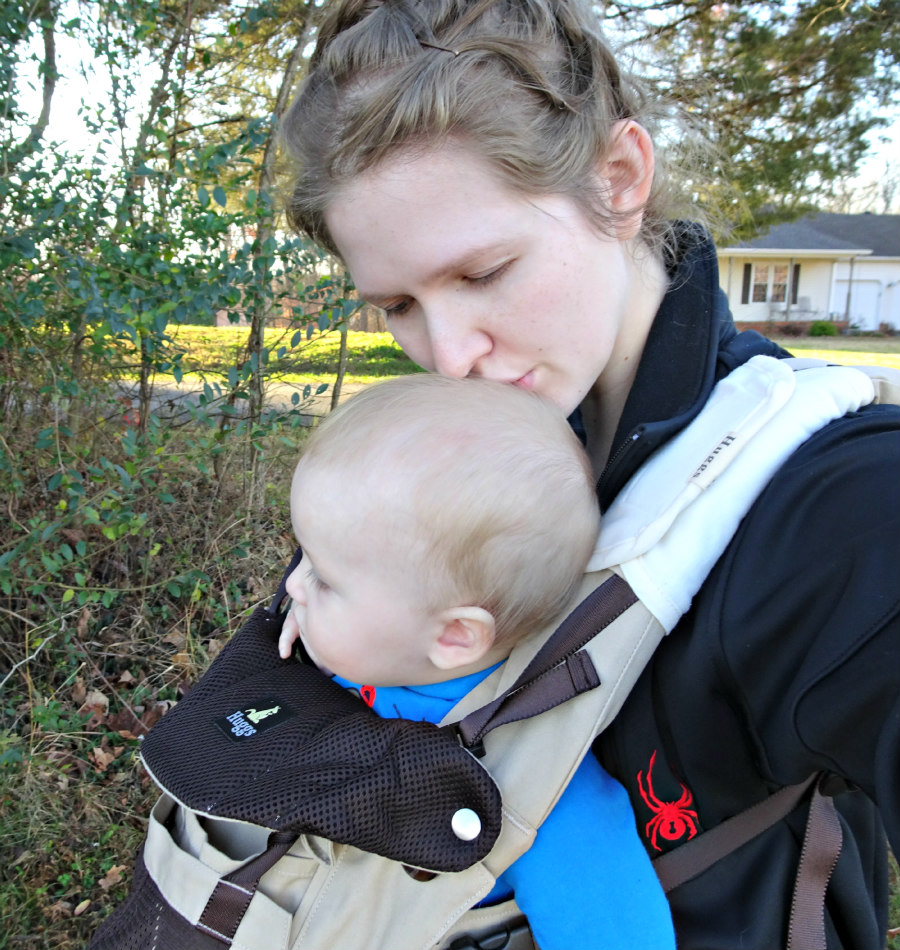 Next, we tried the front-outward carrying position. My son absolutely loved being faced outward! He was babbling and moving his head back and forth in excitement as he could really view everything (except me) from this vantage point. I felt that this position was just as comfortable and easy as the front-inward method.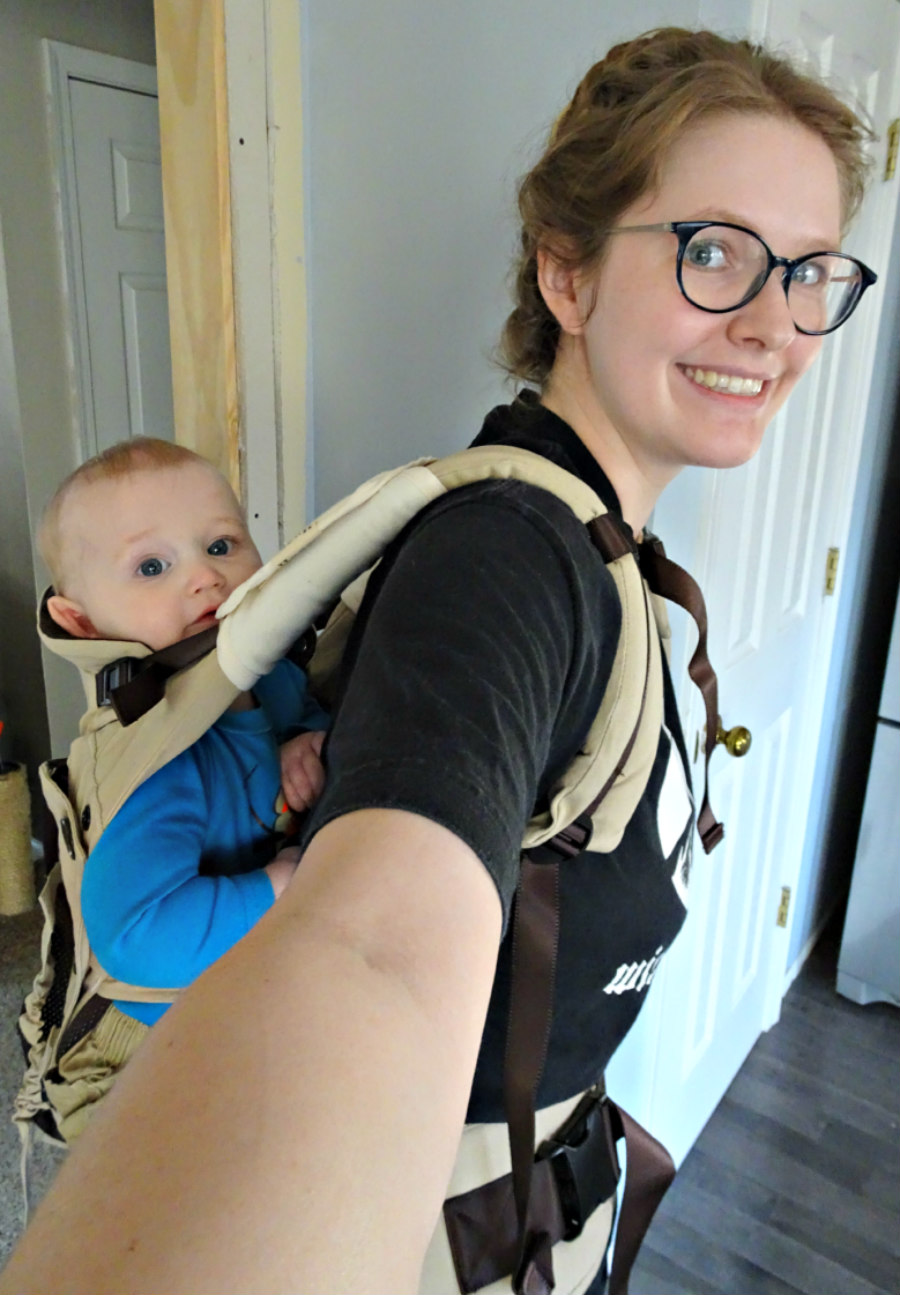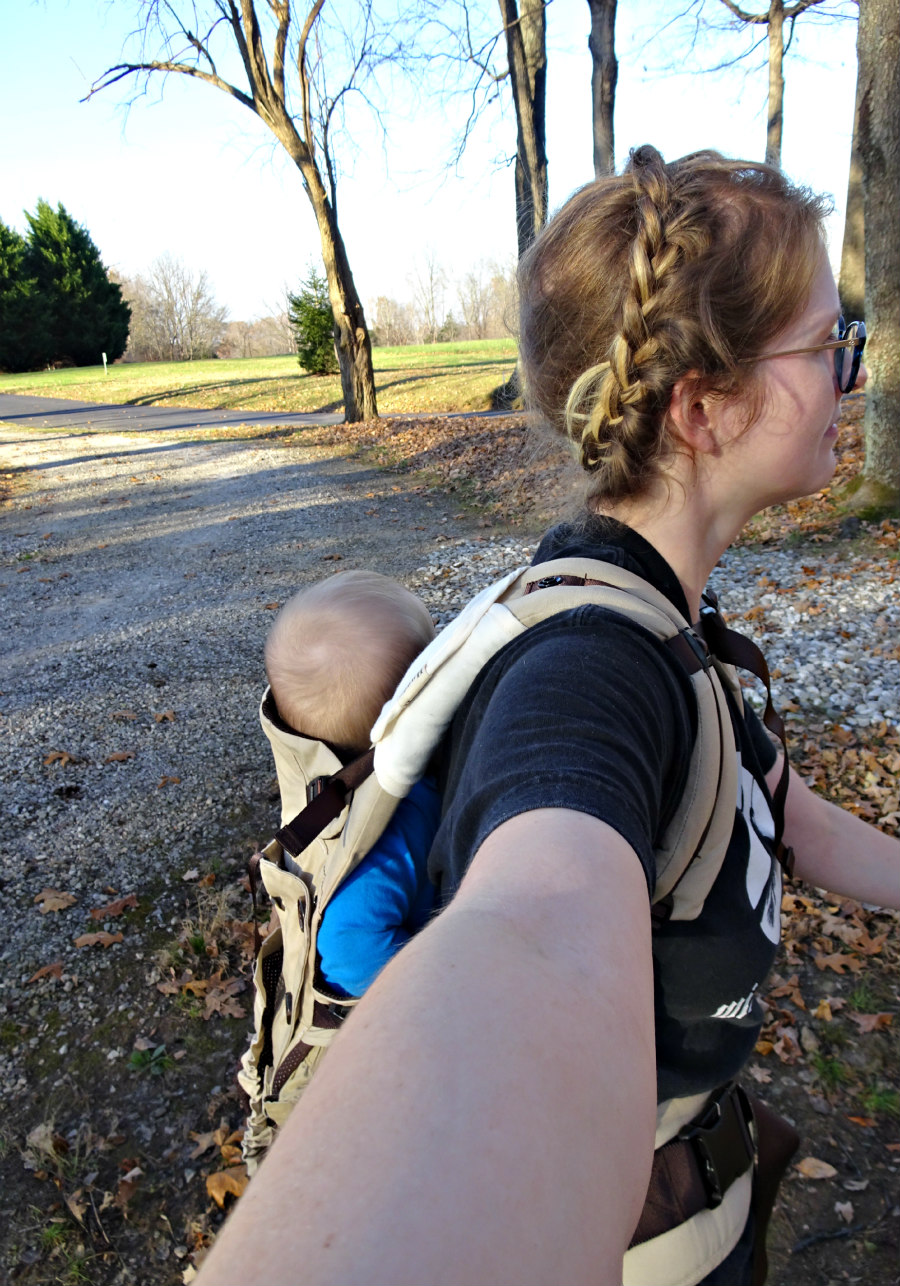 Then we attempted the back-carry position. I was very intimidated by this position and failed multiple times to get it right. Thankfully, Abiie provides links in their Huggs manual for video instructions! Using their video, I was finally able to get the carrier into the back-carry position. I also recommend using a mirror and loosening the straps more than you need to give you lots of room to maneuver as you adjust the baby and carrier into this position.
My son thought that being on my back was funny, and started laughing at our reflection in the mirror. I found that as we went on our walk, the back carrying position was not as comfortable for me as the inward and outward ones were. I felt more pressure on my back towards the end of our walk. I think the back-carrying position would be better for hiking and inclines than just normal walks around the neighborhood. I think that I finally understand what it must be like to carry around a hobbit on your back as you trek through Middle Earth.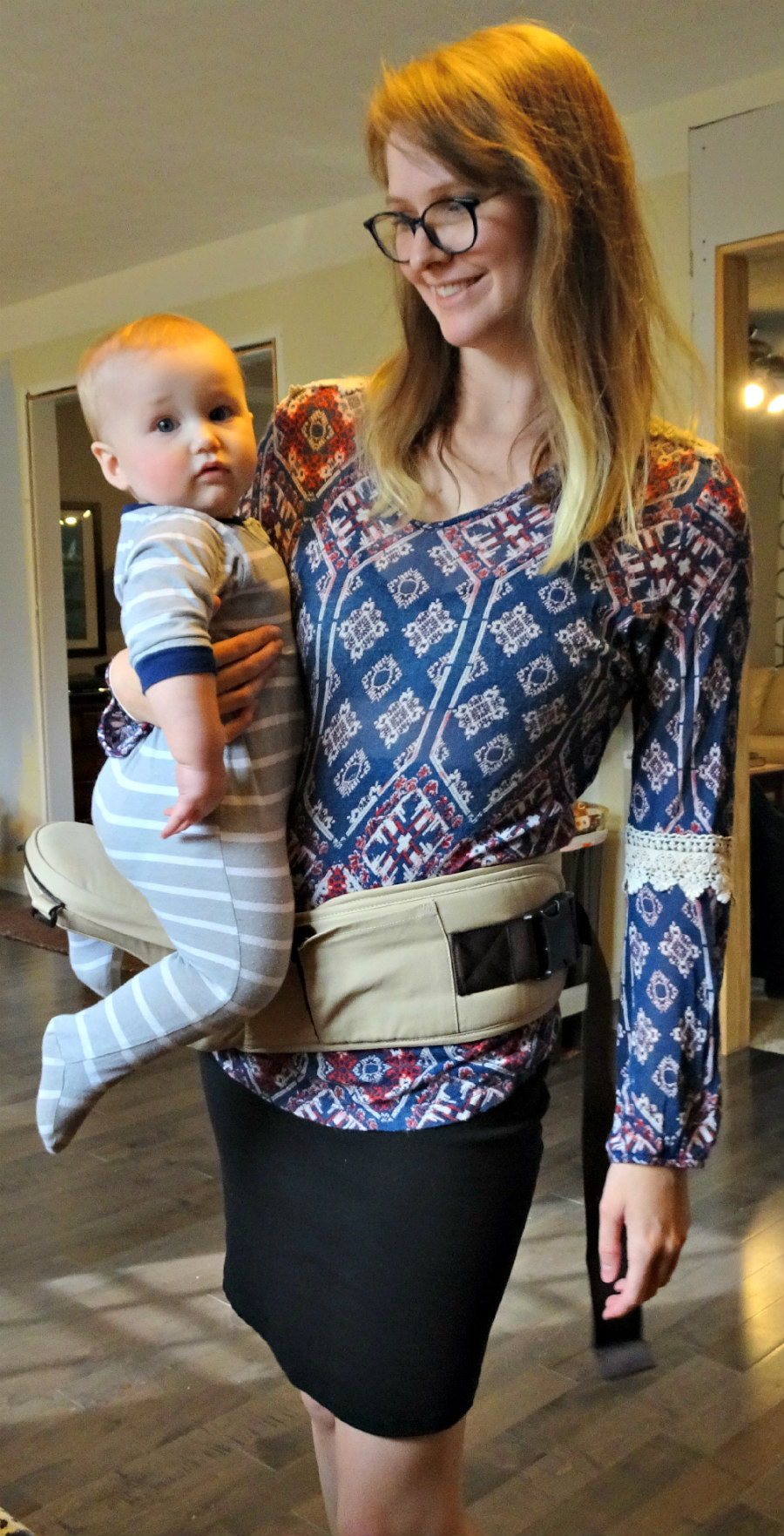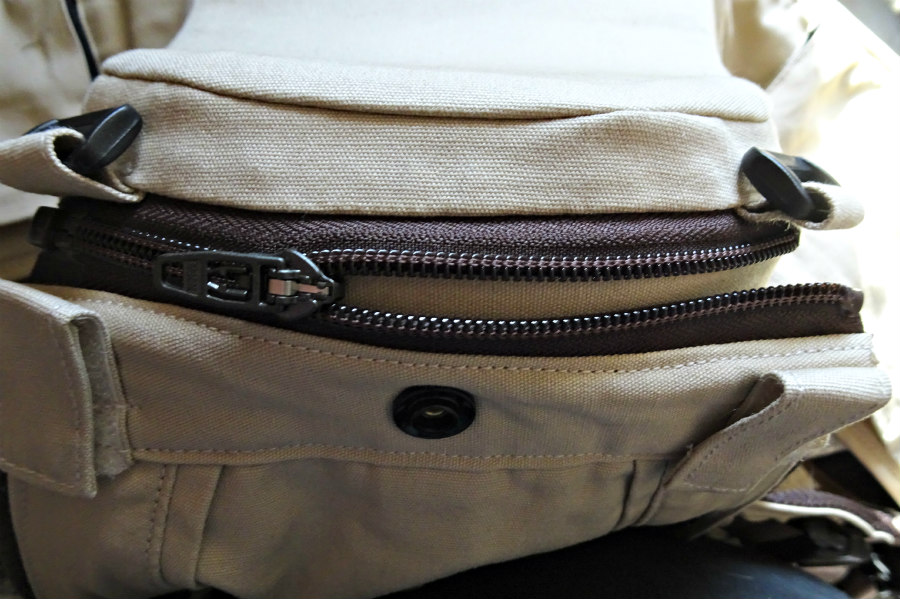 Finally, we tested the hip-carrying method. By unzipping the main carrier and straps from the hip seat, you can easily achieve this position. My son loves being carried around on my hip like a little koala bear, so he was quite content sitting on the hip seat with my arm around him. I could immediately tell the difference between using the Huggs compared to when I hold my baby by myself. The weight on my hip was evenly distributed and I didn't have to adjust my son from slipping down every few minutes like ice cream melting in the sun like I normally do.
I attempted the second variation of the hip-carry by placing my son facing outward on my hip. He did not seem to care too much for this and kept leaning forward thinking I was trying to set him down. Sadly, I couldn't get a good picture of this as he kept getting upset! I am confident that once he is a bit older he will like the outward hip-carry position better.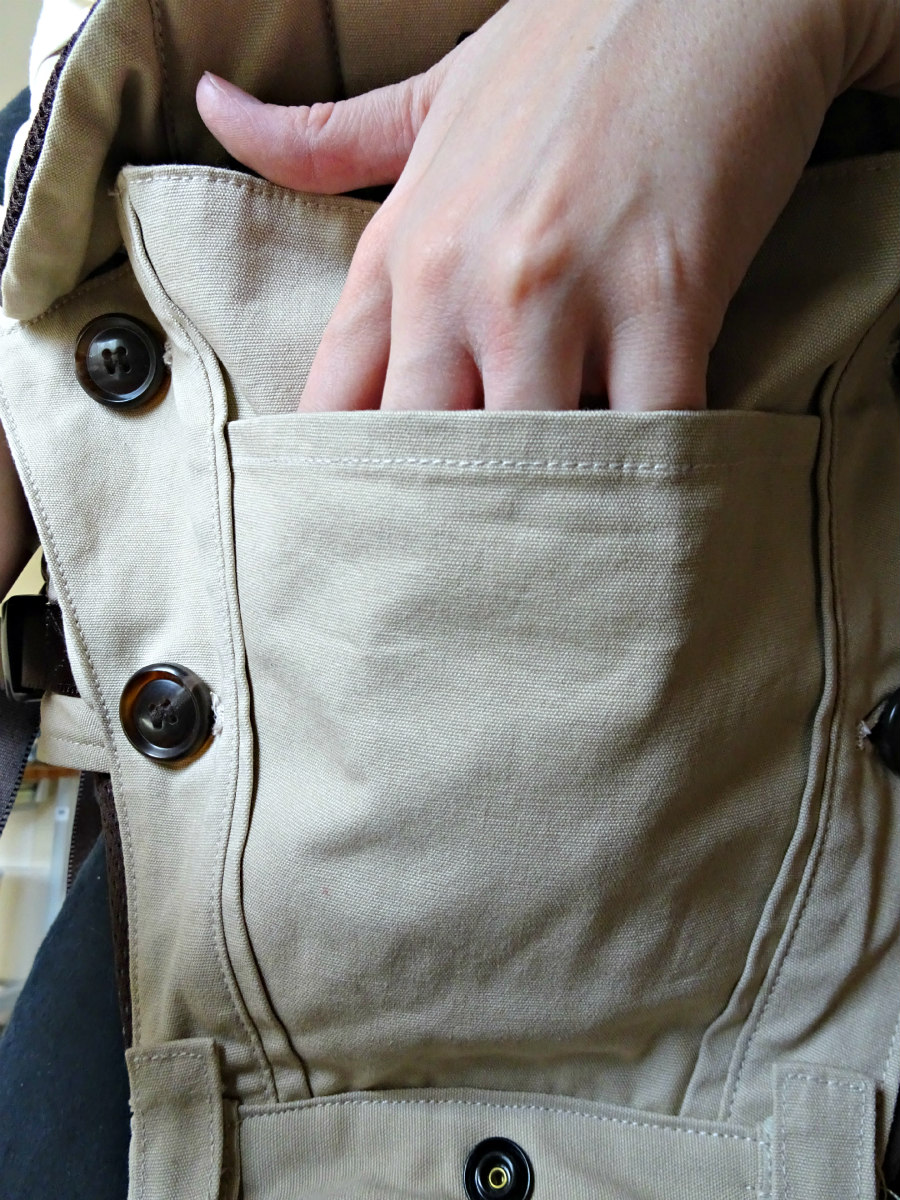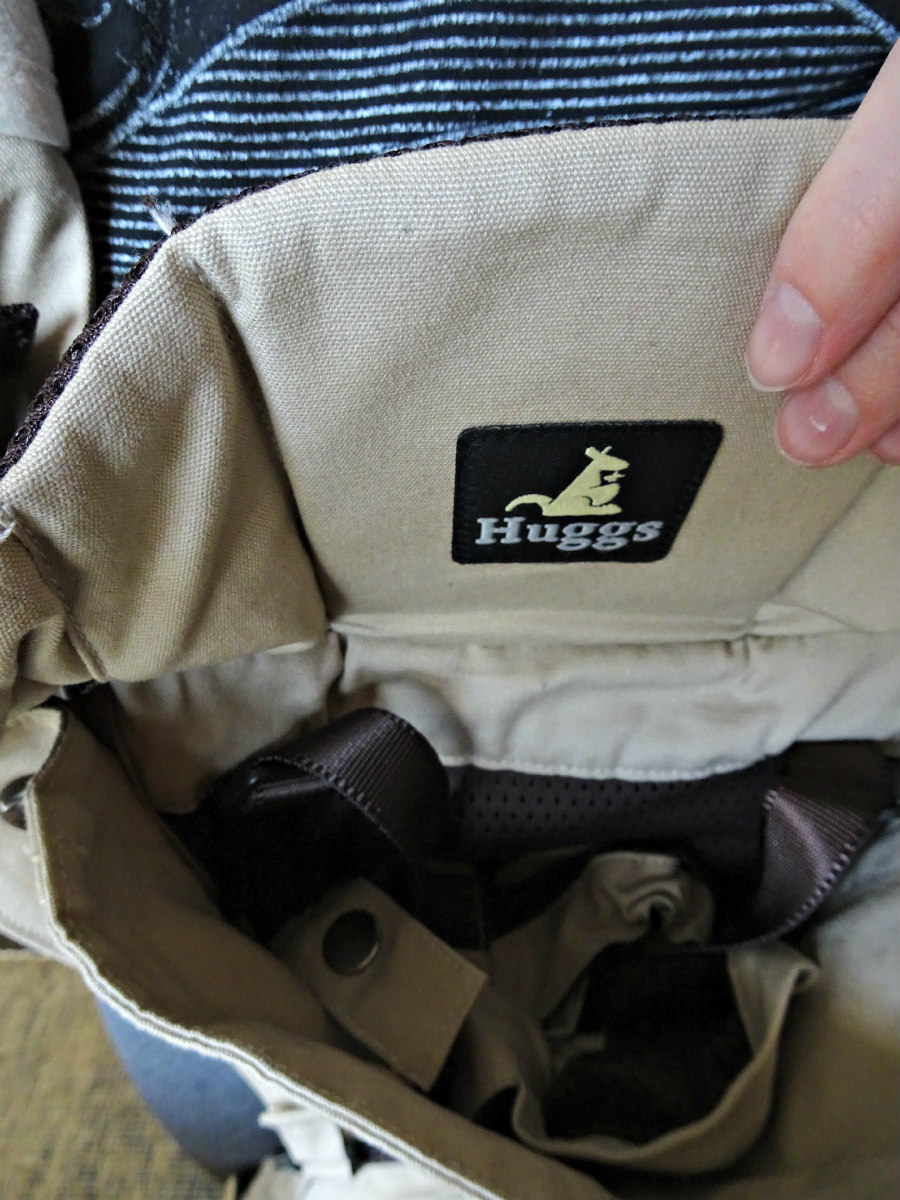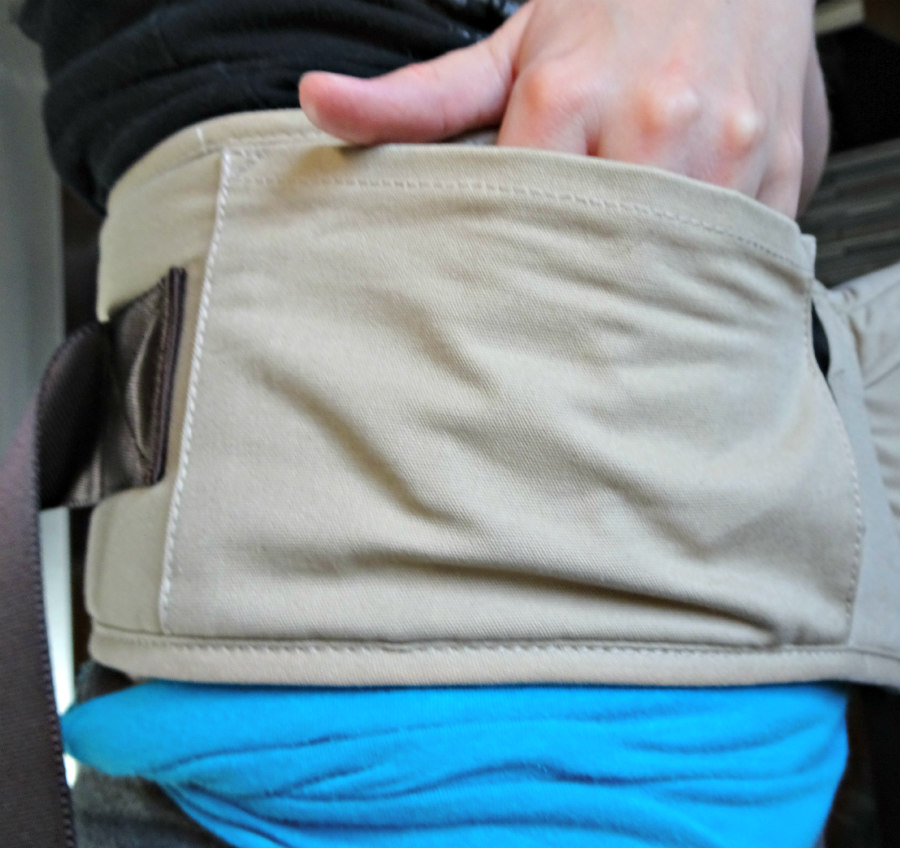 Thought we were done with all the awesome features of this carrier? Nope! The Huggs baby carrier has many other helpful specs! With two stretchy pockets located on either side of the hip strap and two pockets located on the front of the carrier, there is plenty of room for your phone, keys, or other small essentials that you may want to have within easy reach.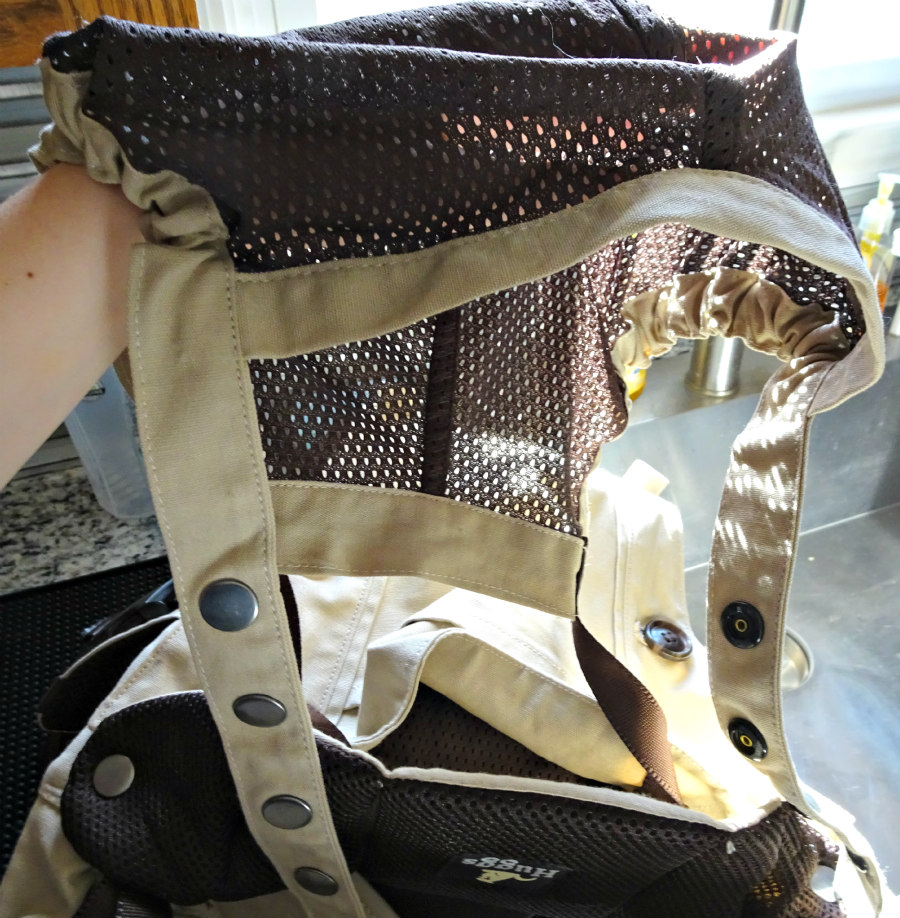 A detachable mesh hood can be conveniently secured over your child's head using snaps. The hood is perfect for protecting your little one from the elements while the mesh allows plenty of air-flow for safe breathing. My son did not like the hood and would cry and struggle against it. The poor little guy is teething and did not like mommy messing with him! He loved the carrier but hated the hood. I know that when he was younger he wouldn't have put up a fight against it and perhaps when he is a bit older he will not mind the hood.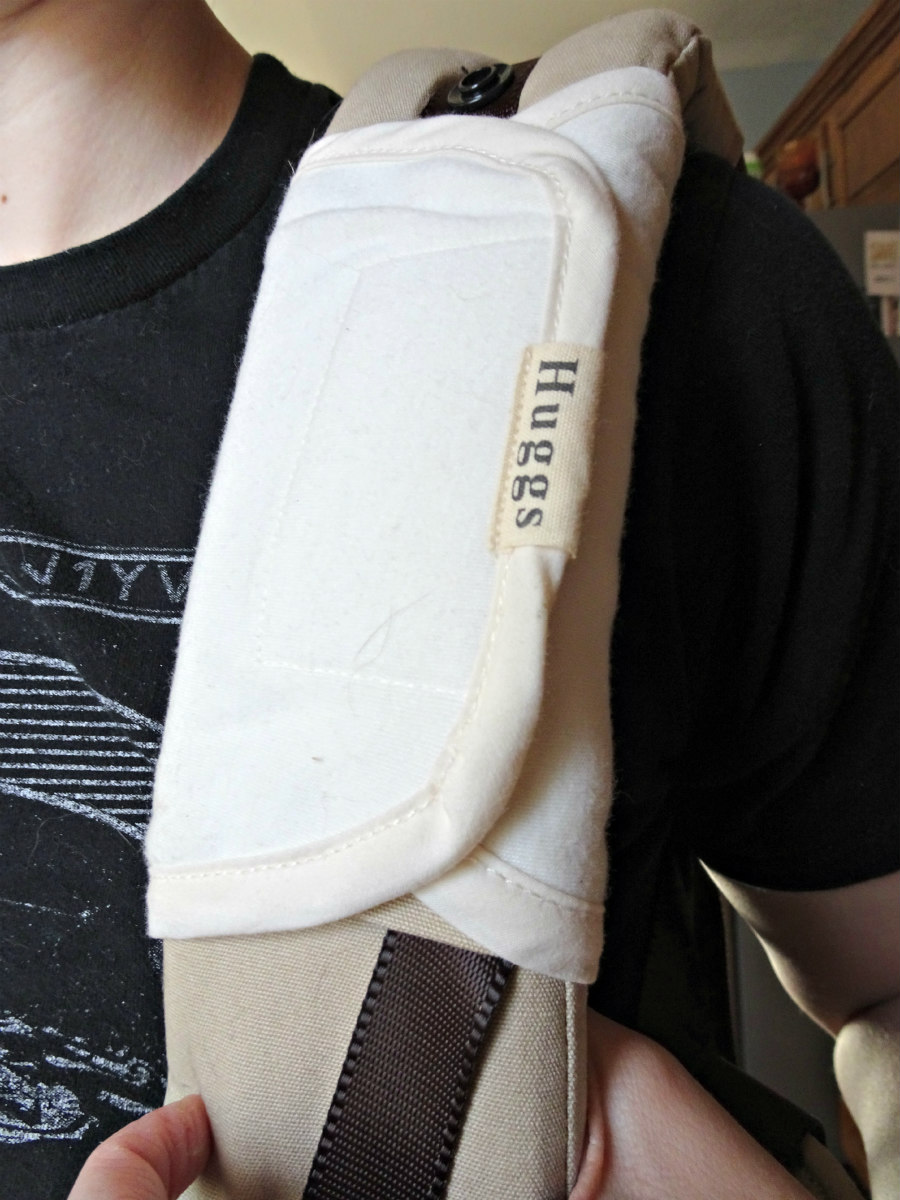 Speaking of teething, there are two detachable teething pads on each shoulder strap that are made of 100% cotton and are oh-so-soft for your baby to munch on. Hurray for built-in teethers!
I love the color and design of the Huggs carrier as well. The brown and khaki colors are stylish enough for mom while being 'cool' enough for dad to wear. There is also a slate gray color option.
The Huggs baby carrier is so customizable you can start using it with your three-month-old and continue until your child is three years old. I see myself utilizing this carrier for quite a while! Overall, the Huggs baby carrier is comfortable, versatile, and stylish.  The Huggs baby carrier is truly the best seat on the go!
Want to learn more? Check out the Abbiie on social media!
Facebook | Twitter | Pinterest | Instagram