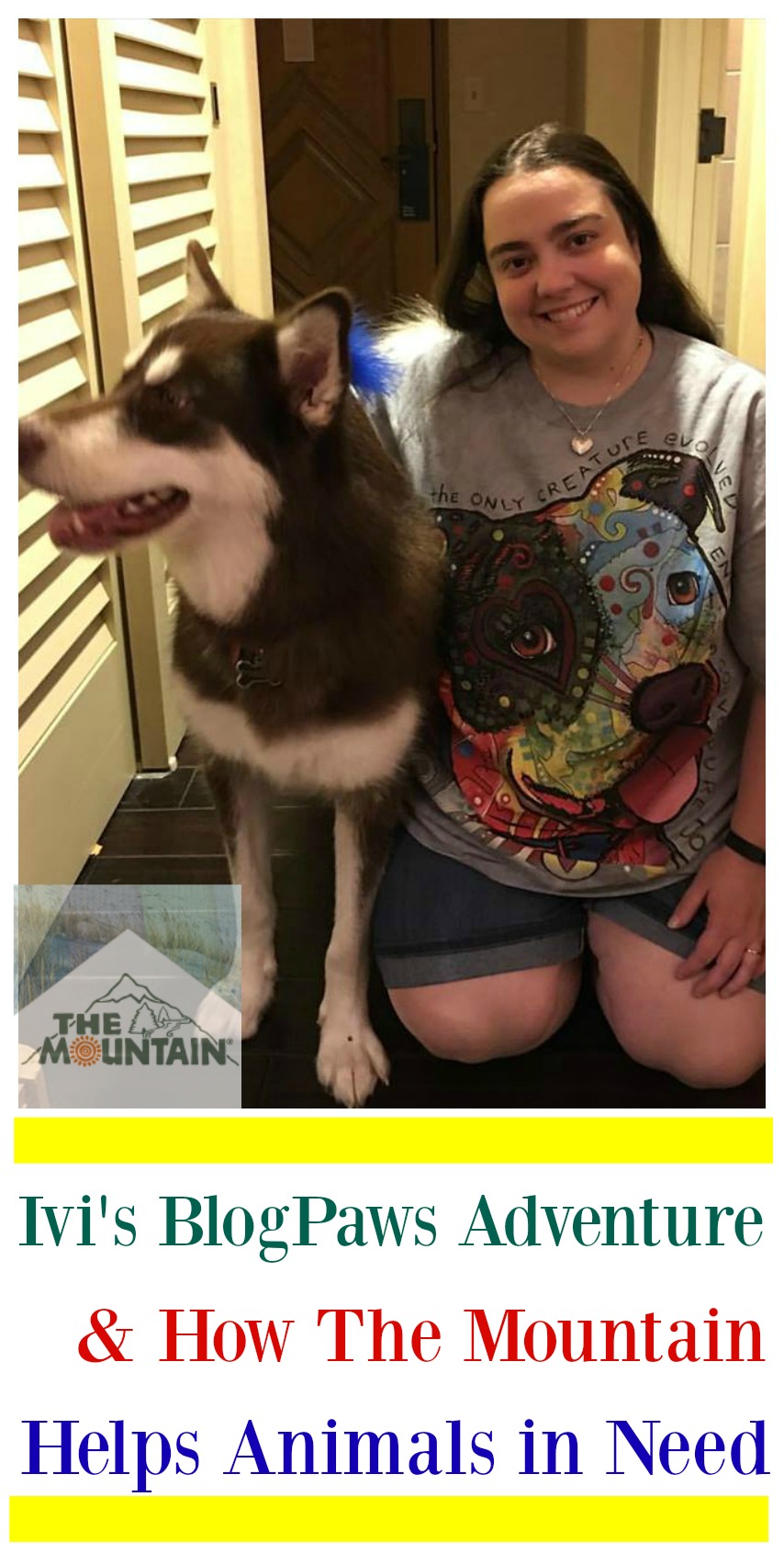 As some of you may know, Ivi went on a grand adventure last week to Phoenix, Arizona, where she met other pet writers and their furry friends at the BlogPaws conference. Before the conference even began, we traveled across the country – just a girl and her dog – to make it to Phoenix. While Ivi slept and played along the way, mom dressed in style all the way to BlogPaws in some of her favorite shirts from The Mountain®.  For those who haven't heard of this brand, they are one of the most iconic t-shirt makers today, creating licensed shirts and some of the most famous shirts out there of animals, including Three Wolf Moon®. As an avid lover of unique shirt designs, I couldn't wait to show off my own fun fashion with a variety of fantasy and animal themed shirts during the conference.
Before I go into our conference experience, I want to say that I have loved shirts from The Mountain for years! Their shirts not only made from 100% pre-shrunk cotton, but each of their shirts are made using only environmentally friendly water-based inks and dyes. While this may not sound like a big deal, their manufacturing process protects the Earth, air, and water. As well, they are a US company, with all of their shirts created, developed, dyed, and printed in Marlborough, NH, and shipped from Keene, NH. Not only does this give them a very low carbon footprint (no cargo ships or international air freight required!), it makes sure they have a quick turn around and keeps jobs here in the United States. The Mountain products are also Oekotex 100% certified (one of the highest qualifications worldwide). This means their shirts are free of chemicals that have been proven to be harmful to your body. To see their full line of shirts, make sure to head over to The Mountain website!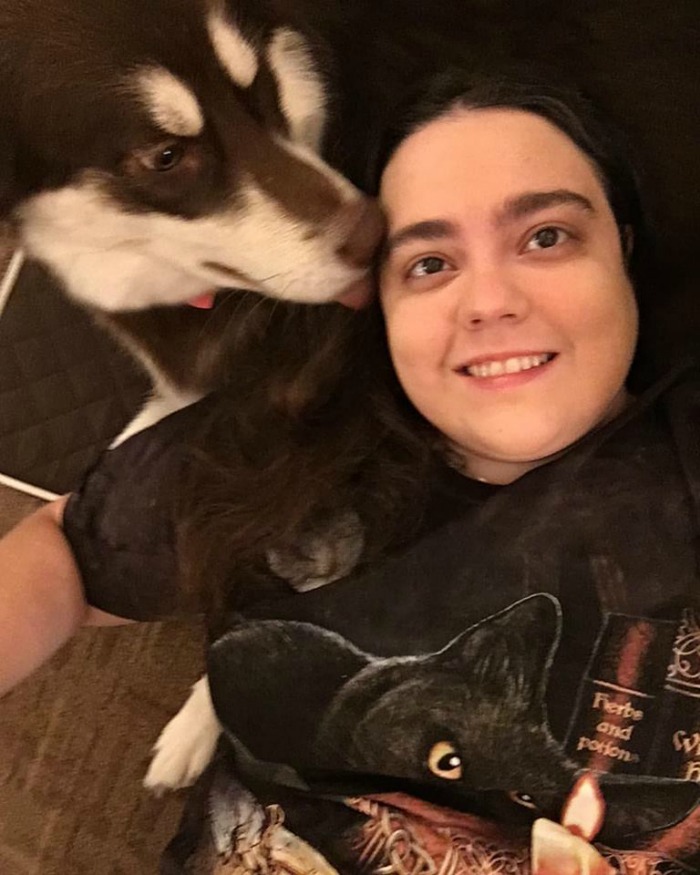 When you head over to their site, don't forget to look at the Dean Russo Collection. These colorful shirts feature adorable pets and breeds. While these shirts are truly adorable, the best part is what happens when one of these shirts is sold. With each of the shirts sold created by Dean Russo, The Mountain donates a portion of every sale from the Russo Rescue Collection to the Best Friends Animal Society in Utah. For those of you who have never heard of the organization, they are one of the largest, most amazing rescues I know of, and I am so happy that one of my favorite companies helps animals in need. Make sure to check out the infographic below from The Mountain to see how each shirt sale counts!

With The Mountain sponsoring Mom at BlogPaws, we had a grand adventure which first started with a pre-event at PetSmart HQ. While we weren't allowed to take many pictures, Ivi got to meet quite a few dogs and some of the top names at one of the largest pet retailers in the world. She even got to play with other dogs there! Afterwards, she visited a local PetSmart where she was able to pick out some cute toys. Along with playing with kids and bloggers, she had a fun time playing with employees and showing off her cool new boots to protect her paws from the Arizona heat!
Once we got back to the hotel though, the fun didn't end! Ivi and I were invited to a tea party, where she met many new friends and tried some of Mom's treats. While she may not have enjoyed listening to the lecture too much, Mom learned quite a bit about the AAHA which she can't wait to share with everyone – just as soon as she helps Mom type it up.
On Thursday, the first official day of the conference, we went to a special breakfast and then went off to learn. Since Mom was learning about boring things having to do with copyright and law, she decided to check herself into the dog park while Mom learned. There, she met a variety of friends, new and old, who were excited to play with our gentle giant puppy. After that was over, we went into the exhibit hall, where we met tons of new brands and friends. It was so exciting that Ivi could barely contain herself when she got to try so many new foods and treats!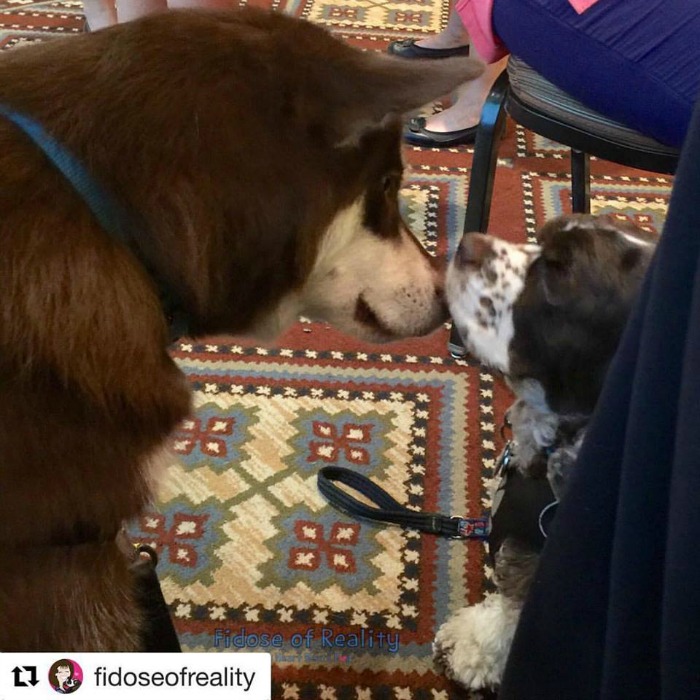 Her favorite part though was being able to meet new friends – including Dexter from Fidose of Reality! They made great friends fast and were excited to cuddle while the humans talked about human things. Don't worry though, it wasn't too boring since both were happy to get belly rubs and treats!
After dinner, we were excited to meet some of our favorite brands, including PetSafe and the Red Roof Inn. Their humans were happy to give her cuddles or show off some of their latest products. Of course, she couldn't leave the exhibit hall that night without giving everyone plenty of love and hops to show that she wasn't ready to go to bed just yet when everything closed down!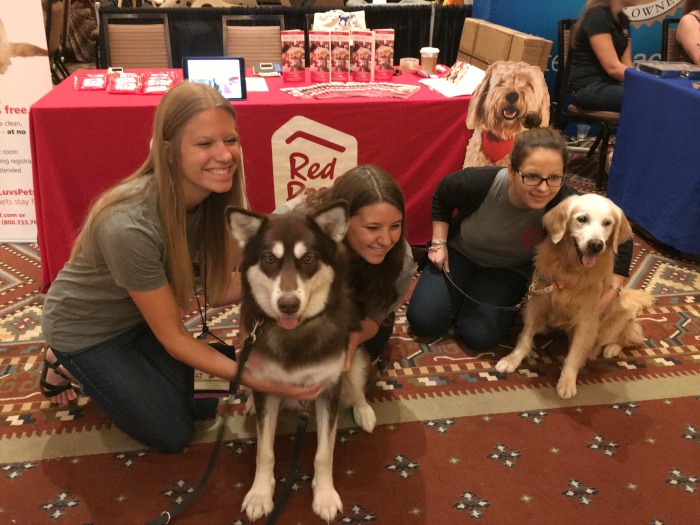 On Friday, the day started even earlier, with us going to a special breakfast for Natural Balance and Nature's Recipe. Not only did she get a special breakfast (which she shared with mom) but we got to learn about making a post go viral. To Ivi, the best part was that everyone was giving her attention and taking her picture! It went so well that they even interviewed her and mom later in the day since they heard we feed Ivi and Rylie Natural Balance. Hopefully everyone will be able to see that fun interview sometime soon!
After that, we took some classes, had lunch, and then went back to the exhibit hall, where she met some amazing brands! Some of them were brands mom already knew, others were brand new ones that were happy to have Ivi try their products. She was rather determined to try everything and delighted to drag mom around to make sure she met all the humans there. After dinner though, she was a bit "peopled out," and decided to find the coolest place in our room for a nap!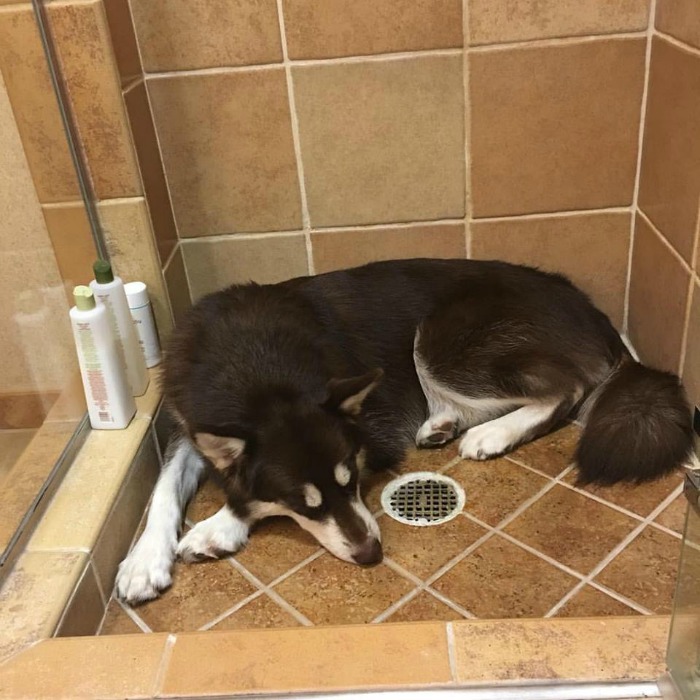 On the last day, Ivi had lots of love to give, especially with Dad having flown into Arizona! While we had a fun day playing with everyone, the real magic didn't happen until that night – the Nose to Nose Awards. Even though Mom wasn't up for any awards, we dressed all out – with Mom wearing a kitty dress and Ivi wearing a special dress made for her. PetSmart also helped by dolling her up for the event with feathers and stick-on jewels. When she came on the red carpet, all eyes were on our pretty Alaskan Malamute as she showed her stuff down the red carpet.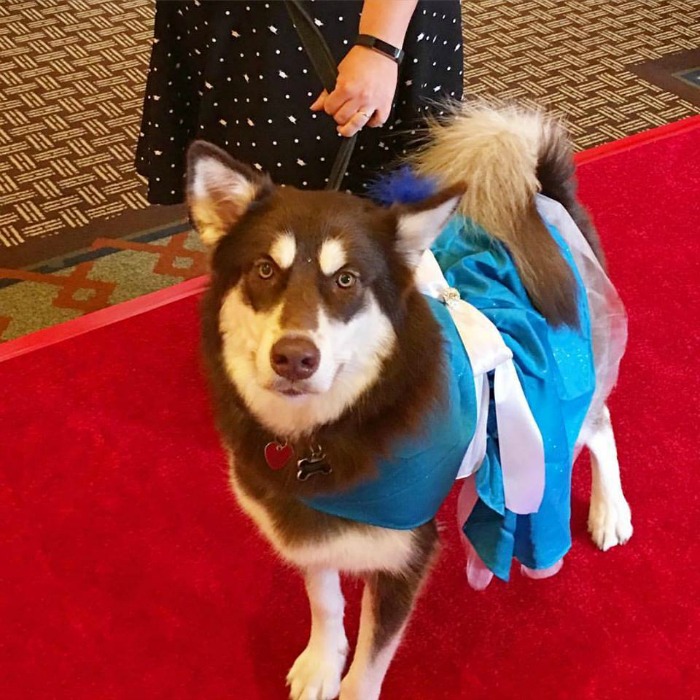 As the night was ending though, Mom got a big surprise – she won an award! Of course, Ivi came up on stage as well, smiling at the audience and comforting mom as she cried on stage. To say the least, it was a great way to end such an awesome conference, where we met so many great dogs, friends, and bloggers who felt like family.
Of course, saying goodbye was the hardest part. Leaving so many of our new friends was hard, especially Dexter and Poppy (pictured below).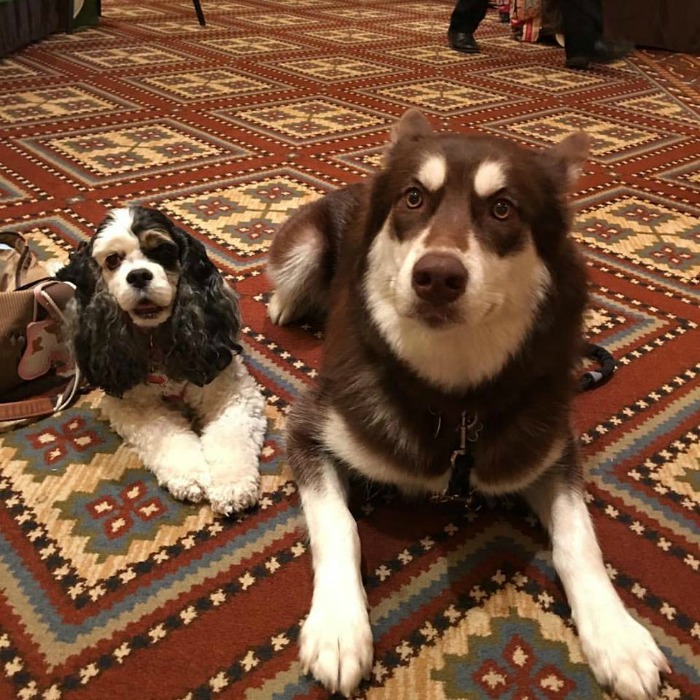 Luckily, we will see everyone next year at Myrtle Beach for BlogPaws 2017! If you would like to see Ivi's adventure and the fun she had at BlogPaws, make sure to follow the hashtag #IviTravels. You can also see some of the awesome Mountain shirts I wore during the conference!
If you are thinking about starting a pet blog, make sure to buy your tickets for BlogPaws 2017! So, will we see you there?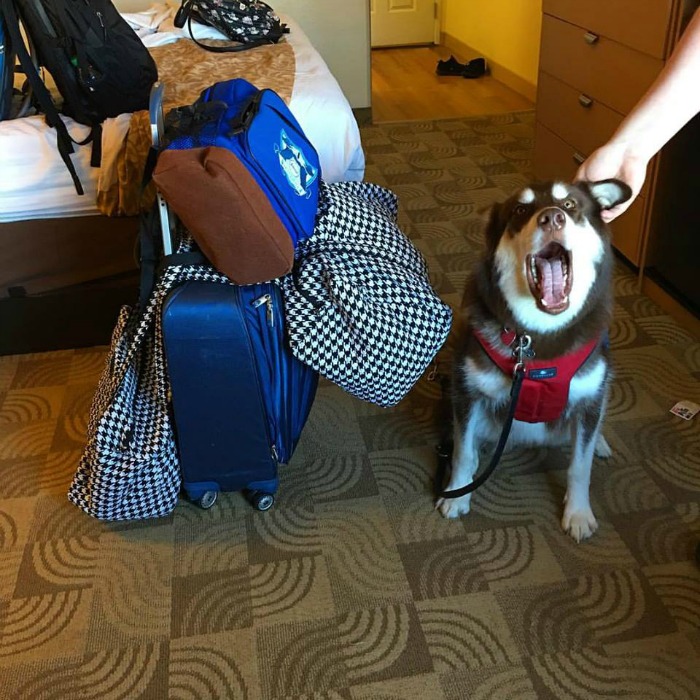 Want to learn more about The Mountain? Check them out on social media!
Facebook | Twitter | Pinterest | Instagram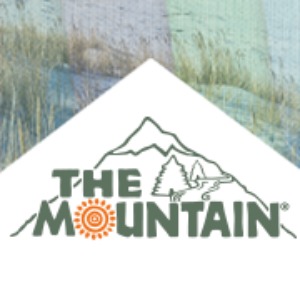 Disclosure: Budget Earth received monetary compensation for this post. All opinions on this product are my own and may differ from our readers' opinions.
Would you like to have your products featured in a giveaway event? Want to increase your social media exposure? Contact susan.l.bewley@gmail.com to see how I can help YOUR company today!