Disclosure: I received this products for free to review. The opinions in my review are honest and my own.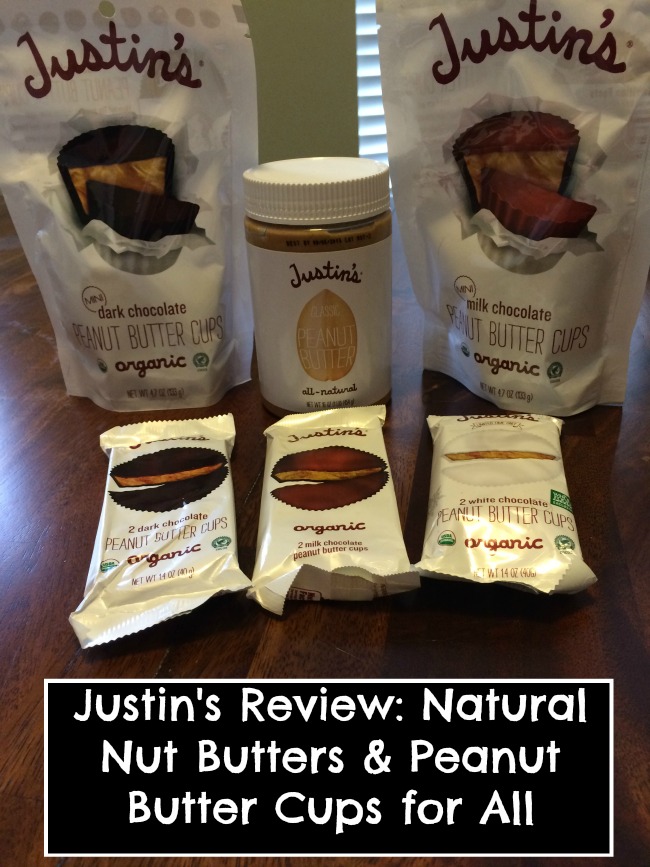 Are you someone who loves almond butter or peanut butter? In our house, we go through quite a bit of nut butter since my husband and I both love these foods. To me, nothing is better than a good almond butter sandwich, especially on homemade bread. The problem with most nut butters, however, is that they can contain fillers or sometimes are just plain bland. Luckily, I recently found the perfect solution – a nut butter that isn't just natural, but made in a variety of fun flavors – Justin's!
Justin's: What is It?
Do you love peanut butter or almond butter? If so, we think you will love Justin's! They are a brand that makes high quality, natural nut butters and peanut butter cups that are made from all natural, non GMO ingredients that you are proud to give to your family. As well, many of their products are even organic and made from only local ingredients. Many of their products are also vegan friendly, making it perfect for people of all lifestyles and diets. Once you have tried these delicious nut butters, you won't want classic peanut butter or almond butter again!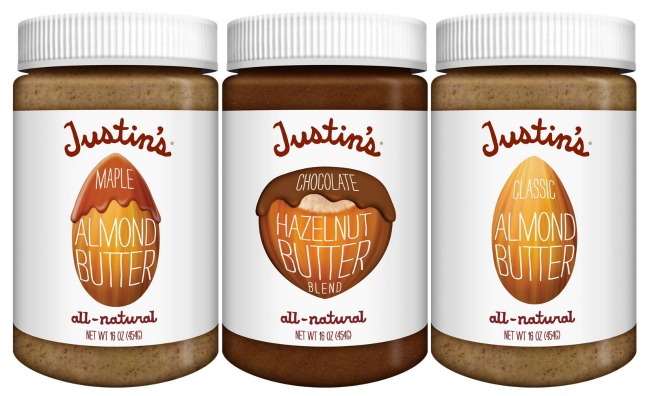 Justin's: Peanut Butter Cups
More than likely, your kids are used to getting a certain big name peanut butter cup in their Easter baskets, right? While they are good, they aren't always made with the best ingredients. What if we told you we knew of a peanut butter cup that was organic, gluten free (GFCO certified), fair-trade, organic, and contain only natural, good for you ingredients? These delicious, rich treats are a high quality, natural, and delicious treat that will very quickly become your kids new favorite candy. Oh, and they are guilt free since they are made with Rainforest Alliance Certified cocoa! Currently, you can buy a 2 pack of these yummy peanut butter candies or try new bite sized Justin's Organic Mini Peanut Butter Cups! Learn more about Justin's Peanut Butter Cups here!
While they are a bit different from traditional peanut butter cups, my husband said that these peanut butter cups are quite tasty. The peanut butter inside is quite tasty, even if he wished there was a bit more inside the larger cups. What seems to really make them is the peanut butter mixed with the natural chocolate. Based on his experience (since I can't have peanut butter), we are happy to give Justin's Peanut Butter Cups an A rating.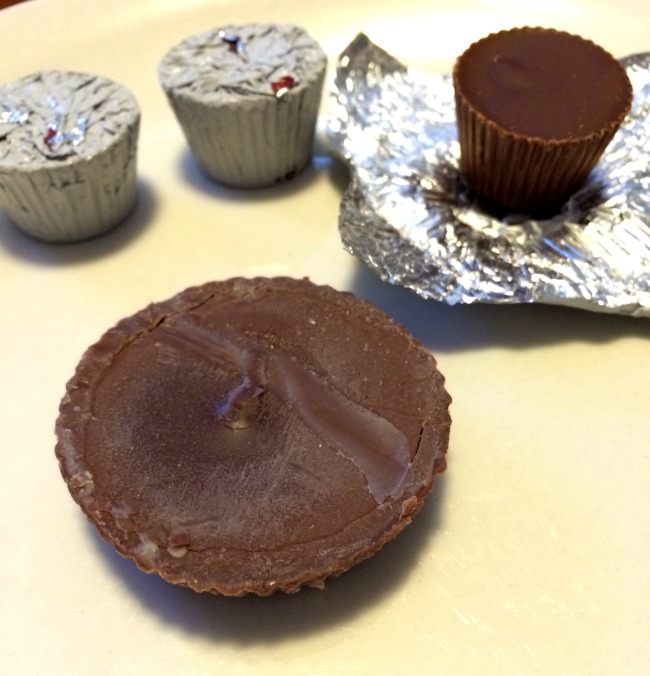 Justin's: Nut Butters
Have someone in your household that is a big fan of peanut butter or almond butter? Treat yourself to delicious, high quality nut butters made from all natural ingredients with Justin's Peanut Butter and Justin's Almond Butter. These aren't just your normal run of the mill nut butters since they come in a variety of fun flavors, such as Honey Peanut or Almond Butter, Vanilla Almond, Maple Almond, Chocolate Hazelnut, and of course, classic flavors. These gluten free treats are sold in traditional plastic containers or in squeeze packs that are perfectly sized for Easter snacking! Learn more about Justin's Nut Butters here!
I have to say, in our household Justin's Nut Butters are a major hit. My husband loves their Honey Peanut Butter and normal peanut butter, while I am a big fan of Justin's Honey Almond Butter and Maple Almond Butter. They truly make having a peanut butter sandwich a fun experience that doesn't taste like other butters out there. To me, Justin's nut butters are truly a gourmet experience. Based on our own experience, I am happy to give Justin's Nut Butters an A rating!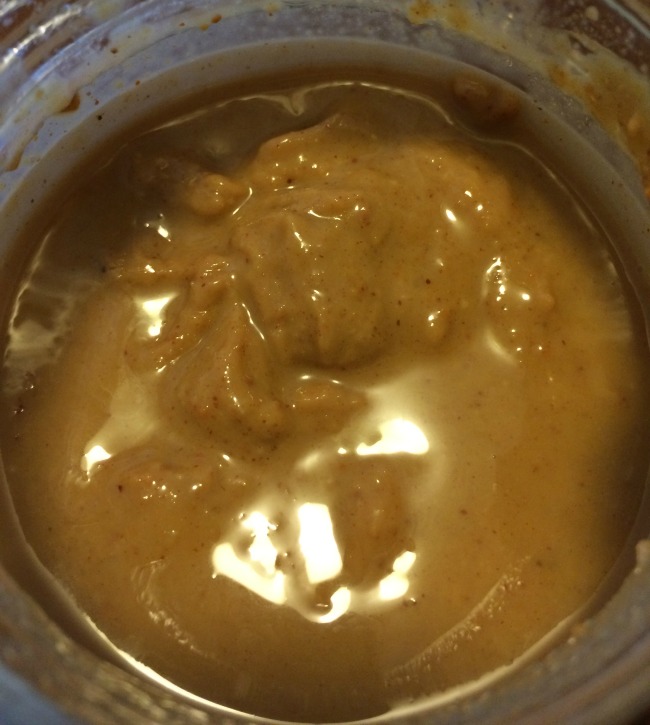 Justin's: Where to Purchase
Would you like to try some of Justin's wonderful nut butters or peanut butter cups? You can find a full list of retailers near you that sell Justin's using their store locator here!
 Want to learn more? Check out Justin's on Social Media!
Facebook | Twitter| Pinterest | Instagram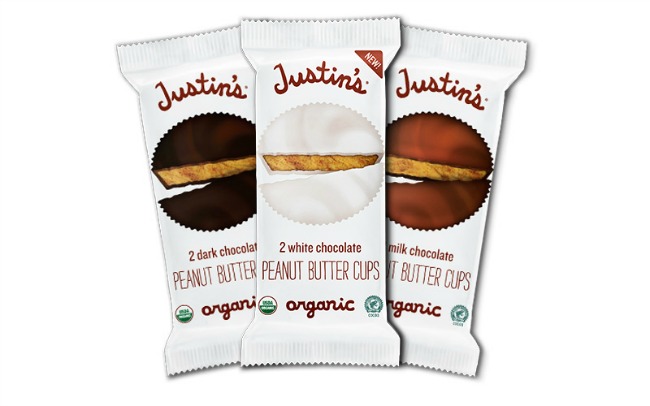 Disclosure: Budget Earth did not receive monetary compensation but did receive products for review purposes. All opinions on this product are my own and may differ from our readers' opinions.
Would you like to have your products featured in a giveaway event? Want to increase your social media exposure? Contact susan.l.bewley@gmail.com to see how I can help YOUR company today!