Do you enjoy treating yourself to a nice smelling candle? How about candles that not only smell great but can easily be cute room decorations? If so, we think you will enjoy Keep Calm Candles. These candles were designed around the concept of the 'Keep Calm' meme and feature some of the cutest sayings that just about any woman would enjoy. Not only do these luxurious soy candles have the cutest sayings, but they can also be customized, allowing you to make the perfect candle to match your room decor so you can display it just about anywhere.
While we all love the concept of having beautiful and cute decorations in our home, we also want high quality products. With Keep Calm Candles, you get just that – high quality candles made right here in the United States. Each of their candles is hand poured using quality soy wax and high end fragrances that smell absolutely amazing. What also makes them unique compared to their competition is the fact you can actually choose which fragrance you want in your candle, allowing you to have your favorite keep calm saying with the fragrances you know and love. Their current fragrances include:
Apple Spice
Banana Cream Pie
Blackberry Sage
Blueberry Muffin
Bottle of Wine
Buttery Popcorn
Caramel Apple
French Vanilla
Fresh Cut Grass
Fresh Leather
Fresh Strawberries
Gummy Bears
Jelly Beans
Lemon Drops
Mulberry
Peaches And Cream
Pina Colada
Pineapple Jasmine
Pumpkin Spice
Strawberry Shortcake
Tangerine And Lemongrass
Unscent
Vanilla Lavender
Watermelon Kiwi
White Tea And Ginger
Want to know where you can purchase one of these adorable candles? While Keep Calm Candles hasn't officially launched yet, they are offering our readers a chance to try out their candles for free with this awesome giveaway. Two of our readers will win one of their amazing candles – which retail for $28 a candle or $38 if you decide to design one of your own Keep Calm Candles! If you can't wait to try out one of these candles, Keep Calm Candles will be open for business by the end of April. To learn more about these amazing candles and all of their customization options, check out Keep Calm Candles Website.
Ready to enter this giveaway? Make sure to read all the rules below before entering the Rafflecopter. Good luck everyone!
Welcome to the Keep Calm Candles Giveaway Event
Hosted by Budget Earth & A Spectacled Owl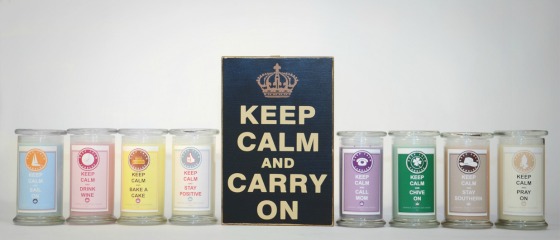 Keep Calm Candles Giveaway Event
2 Readers will receive a Keep Calm Candle.
Open to US Only
Winner will be chosen at random through Rafflecopter via Random.com.
Giveaway ends May 12th at 11:59pm.
Winner will be notified through email.
Winner will have 48 hours to respond before new winner is chosen.
Must be 18 Years or Older to Enter Rafflecopter.
Entering the Rafflecopter Means You Agree to Terms Above.
Good Luck!
Disclosure: [blog name] did not receive compensation for this giveaway. Facebook, Twitter, & Pinterest are in no way associated with this giveaway. Prize fulfillment and shipping will be handled by Keep Calm Candles.