Disclosure: I received this product for free to review. The opinions in my review are honest & my own.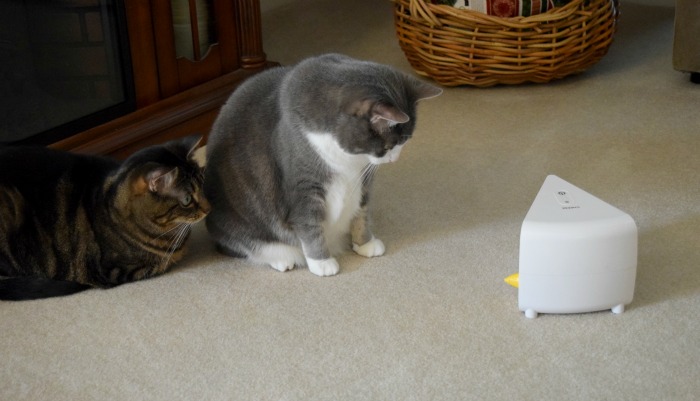 Do you have cats in your home? While we don't have cats at the moment, my mother has two cats – Precious and Squeaky. Precious was a pregnant cat I rescued from the streets when I was in college, and Squeaky was one of the kittens that my mother decided to keep. Along with my mother's Yorkie – Molly – they are a wonderful little family. The only problem is that my mother sometimes works long hours, and while Molly usually goes with her boyfriend, the cats are alone in the house until she gets home from work. Luckily, PetSafe made the perfect toy for cats like hers who need interaction throughout the day – the PetSafe Cheese Cat Toy.
PetSafe Cheese Cat Toy: What is It?
Looking for a fun toy to keep your cats active? If so, we think you will love the PetSafe Cheese Cat Toy. This interactive, exciting game has two peek a boo mice who pop in and out of the side of a cheese block. Best of all, it even has an away mode, allowing your cats to play while you are at work. Just hold down the button for three seconds until the toy beeps three times. With this setting, after the first 15 minute play session, it will turn off and then come back on again every two hours. With this away mode, your cats will get 45 minutes of play time before it shuts off after six hours. With this fun toy, you can make playtime even more fun for cats with the PetSafe Cheese Cat Toy!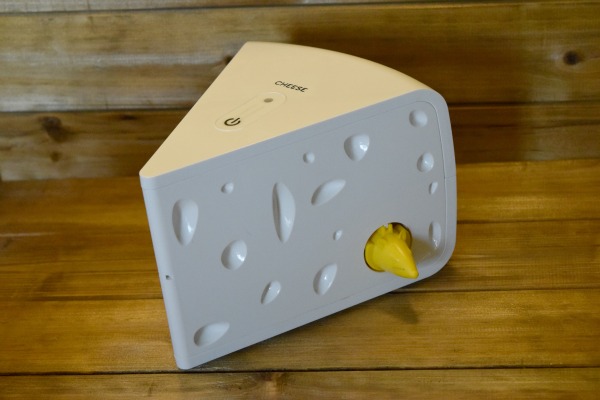 PetSafe Cheese Cat Toy: Our Thoughts
Since we don't have a cat living with us at the moment, we decided to test out the PetSafe Cheese Cat Toy with my mother's cats. Both of them spend quite a bit of time alone during the day, so they really needed a toy to get them moving and thinking while my mom is away. From the moment the girls saw this toy, they were mesmerized. It didn't take long for them to start batting at the two mice and not go anywhere else as long as the toy was active. To see the girls having fun with this toy, watch the video below!
Based on our own experience, we are delighted to give the PetSafe Cheese Cat Toy an A+ rating!
PetSafe Cheese Cat Toy: Where to Purchase
Want to purchase this awesome cat toy for your own kitty? You can buy the PetSafe Cheese Cat Toy on Amazon.com for under $25!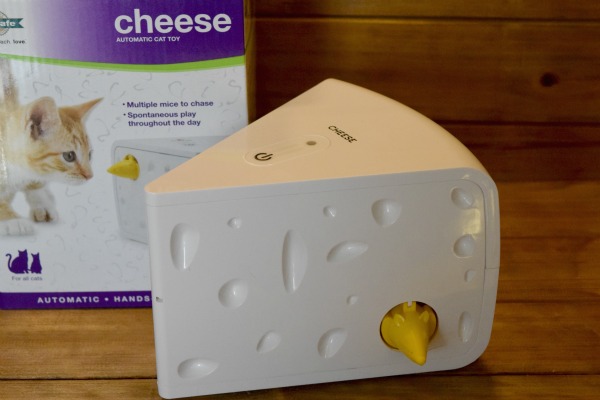 Want to learn more? Follow PetSafe on the following Social Media Channels!
Facebook | Twitter | Instagram | Pinterest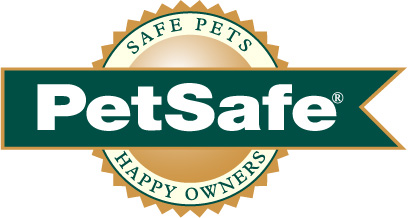 Disclosure: Budget Earth did not receive monetary compensation but did receive products for review purposes. All opinions on this product are my own and may differ from our readers' opinions.
Would you like to have your products featured in a giveaway event? Want to increase your social media exposure? Contact susan.l.bewley@gmail.com to see how I can help YOUR company today!