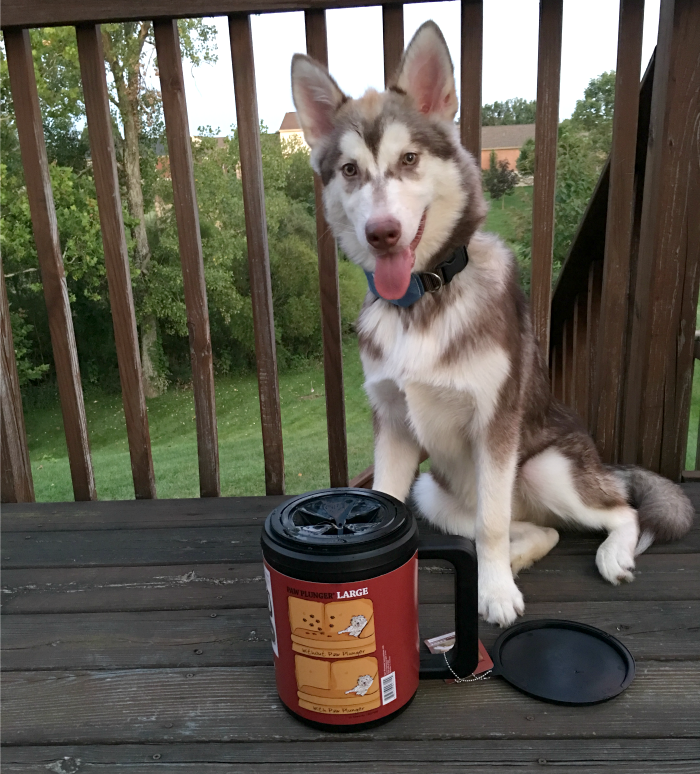 How many of you have dogs that love to get dirty outside? If your dogs are anything like mine, they would be covered in mud if they had their choice. This is especially true for Rylie, who loves to play in the little stream we have in our backyard. If she had her way, she would be head deep in muddy water, digging for moles and other little creatures that live there. Luckily for mom and dad, usually the worst offense we have is Ivi and Rylie both trying to come in the house with very muddy paws. While this may not sound like a big deal, it is usually fighting two dogs who want absolutely nothing to do with their paws being cleaned by wet wipes, washcloths, or heaven forbid, the tub faucet. Recently, however, we found the perfect solution for muddy paws – the PawPlunger Paw Cleaner. When we found out we would be reviewing a complimentary PawPlunger, we couldn't wait for it to arrive!
PawPlunger Paw Cleaner: What is It?
Looking for an innovative products to help dog's paws stay cleaner? If so, we think you will love the PawPlunger Paw Cleaner.  This cool product looks like a giant coffee mug that works like a little car wash for your dog's paws. All you do is fill it with warm water, put your dog's paw inside, and plunge away to leave your dogs paws clean and free of grime without irritating their paws. Best of all, it comes in two sizes – medium for dogs 15 – 80 pounds, and large for larger breed dogs over 80 lbs. To learn more about this cool paw cleaner, make sure to watch the video below!
PawPlunger Paw Cleaner: Our Thoughts
Having dogs that love to play in the dirt and find interesting ways to get dirty, I have to say that the PawPlunger Paw Cleaners seemed perfect for my family. What attracted me the most to the product, however, was so many people saying how it was great for dogs that were the size of mine or larger. I mean, let's face it, so many people never think of the larger breeds, leaving us hopeful that someday we can have useful products for our own dog. With this paw washer, I have to say it is a dream come true for large dog owners. While our dogs weren't thrilled about it at first (okay, they fought it), it did leave them with cleaner paws right at the doors, something that this dog mom loves when it comes keeping our carpet and wood floors cleaner. Best of all, it is very easy to use, making it perfect for not only in the home, but the car as well! Based on our own experience, we are delighted to give the PawPlunger Paw Cleaner an A rating!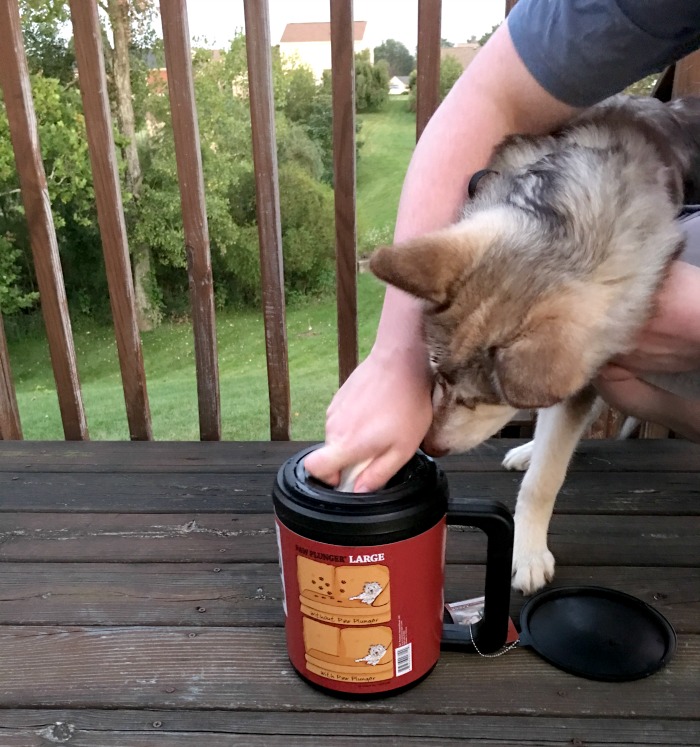 PawPlunger Paw Cleaners: Where to Purchase
Want to purchase this awesome products for your own dog? You can find the PawPlunger Paw Cleaner on Amazon.com starting at $15.99. Currently, it is available in three sizes (petite, medium, & large) and three colors! Make sure to pick one up today to keep muddy paws out of your house!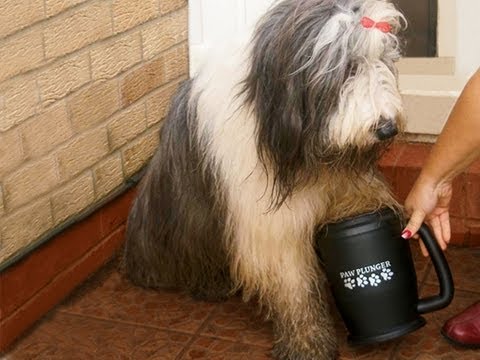 Disclosure: Budget Earth did not receive monetary compensation but did receive products for review purposes. All opinions on this product are my own and may differ from our readers' opinions.
Would you like to have your products featured in a giveaway event? Want to increase your social media exposure? Contact susan.l.bewley@gmail.com to see how I can help YOUR company today!