Do you love to watch television? How about play video games? If so, you probably view your TV as the key centerpiece of your entertainment center. While we don't watch a great deal of TV, we do play on video games and watch Netflix on our TV – making it important to us that we have a high-quality TV. Knowing that some people are hoping to get a TV for Christmas, we thought it would be great to work with other bloggers to offer one lucky reader the chance to win their own LG 42" 42LS5700 Smart HDTV!
LG 42" 42LS5700 Smart HDTV: Internet TV
So, what is the big deal with this tv? Well, for one, the LG 42" Smart HDTV is an ultra slim, HDTV that is internet ready. This means that through Wi-FI or an ethernet cable, you can browse the internet, get on Facebook, and watch your favorite shows on Netflix. Along with Netflix, you can also watch HD movies at the best quality around – a resolution of 1920 x 1080 (commonly known as 1080P). With smooth images and a variety of fun features, this TV can be everything you need for your own home entertainment system!
LG 42" 42LS5700 Smart HDTV: Features
Below, are some of the awesome technologies and features included in the LG 42" Smart HDTV. To see more detail, feel free to check out Amazon's page for this HDTV television.
Smart TV (internet ready)
Edge Lit (your whole screen is brightly lit)
Magic Remote with a scroll wheel for easy browsing
TruMotion Technology – 120 hz (high refresh rate prevents blurry pictures in fast-moving video)
Picture Wizard II & Clear Voice II Technology (automatic picture adjustment & voice clarity)
Intelligent Sensor (automatically adjust for clear & dark rooms)
Ultra light (29.7 lbs without stand)
Ultra slim (27.9"L x 1.3"W x 23.3 H)
Energy Star Qualified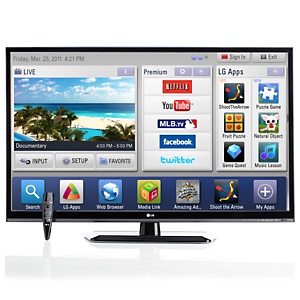 LG 42" 42LS5700 Smart HDTV: Energy Star
As someone who tries living an earth friendly lifestyle, I try saving energy in my home. One of the ways I do this is buying electronics that are Energy Star certified. While the LG 42" Smart HDTV wasn't the TV we eventually chose (we ended up going with a 3D TV that was super cheap on Amazon) it was one that we seriously considered since it had amazing energy savings on top of a great picture. For example, the LG 42" Smart HDTV only uses 81 kWh a year. In dollar value, this means that it only costs you $9 a year to power! Compared to most other television in the 40" – 44" category, this is amazing!

LG 42" 42LS5700 Smart HDTV: Reviews
If you would like to learn more about the LG 42" 42LS5700 Smart HDTV, we highly recommend checking out Amazon's page for this TV. It currently has a 4.1 out of 5 star rating, making it one of the more popular smart televisions sold on Amazon. As well, there are over 60 reviews of people who have already purchased and been using this TV for awhile, letting you know if this is really the right television for you! To learn more, feel free to click on the picture below!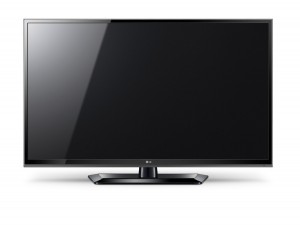 Disclosure: As a reminder, none of the writers at Budget Earth received compensation for any of the contests listed on this blog or information listed in this article. All of the opinions on this blog are the opinions of said author and these opinions may differ from your own.