Disclosure: I received these products for free to review. The opinions in my review are honest and my own.
Like any household with lot of pets, we sometimes have a hard time controlling pet hair and dander in our home. While we aren't allergic to any of our pets, they do a great job sometimes moving around dust and dirt that we didn't even know existed. After doing some reading online, we decided that we needed to have an air purifier in our home to make it a bit easier for us and our animals to breathe. While I knew there were a lot of allergens and dust particles in our home, I didn't realize just how much was there until we started reading different studies. As I was looking for the perfect air purifier, we were asked to review the Lightair Ionflow Surface 50, an air purifier which I had read some great things about online!
Lightair Ionflow Surface 50: What is It
Looking for a way to have cleaner, healthier air in your home? If so, we think you will love the Lightair Ionflow Surface 50. This filter-less air purifier removes airborne particles such as mold, dust, smoke, pollen, bacteria, virus, pet allergens, and more in up to a 540 square foot room. With its sleek design, you can have cleaner air in your home without creating any ozone (something that is a problem with most home air purifiers). To learn more, make sure to watch this awesome, informational video about the Lightair Ionflow Surface 50!
Lightair Ionflow Surface 50: Assembly
I will be honest, I was a bit intimidated when I took the Lightair Ionflow Surface 50 out of the box. The last thing I wanted to do was break my new purifier or have Reya break it. So, my husband quickly got to work putting things together. Looking through everything, I thought it was going to be very complicated to assemble. To my surprise, however, he had everything together quickly and running by the time I finished making dinner. I didn't realize it was on, other than the fact that it was projecting a pretty blue light on the base of the unit. Best of all, it was totally silent – so silent that Reya didn't even care about it, which truly shocked me! In other words, I probably could have put this unit together without any issue, a major plus in my eyes!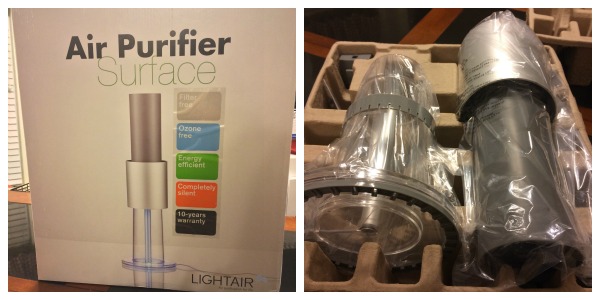 Lightair Ionflow Surface 50: Overall
After having tried out this Lightair air purifier in my home for the past two weeks, I have to say I am satisfied with the results. Not only has had it made the air much cleaner in our home, but has allowed us to breathe easier in our kitchen. If you are a home that has a lot of animals like ours, we think you are going to fall in love with the Lightair Ionflow Surface 50. Based on our own experience with this awesome Lightair air purifier, we are excited to give the Lightair Ionflow Surface 50 air purifier an A rating!
Lightair Ionflow Surface 50: Where to Purchase
Would you like to purchase this high quality air purifier for your own home? You can purchase the Lightair Surface 50 Air Purifier at many well known retailers, including Target and Amazon.com. To learn more, make sure to check out the Lightair website or on Amazon's product page for the Lightair Ionflow Surface 50!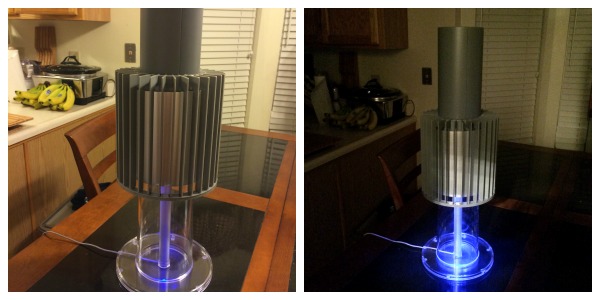 Disclosure: Budget Earth did not receive compensation but did receive products for review purposes. Budget Earth may, however, receive compensation through purchases from affiliate links in this post. All opinions on this product are my own and may differ from our readers' opinions.
Would you like to have your products featured in a giveaway event? Want to increase your social media exposure this holiday season? See how Mom Powered Media can help! Contact susan.l.bewley@gmail.com to see what we can do for your company!