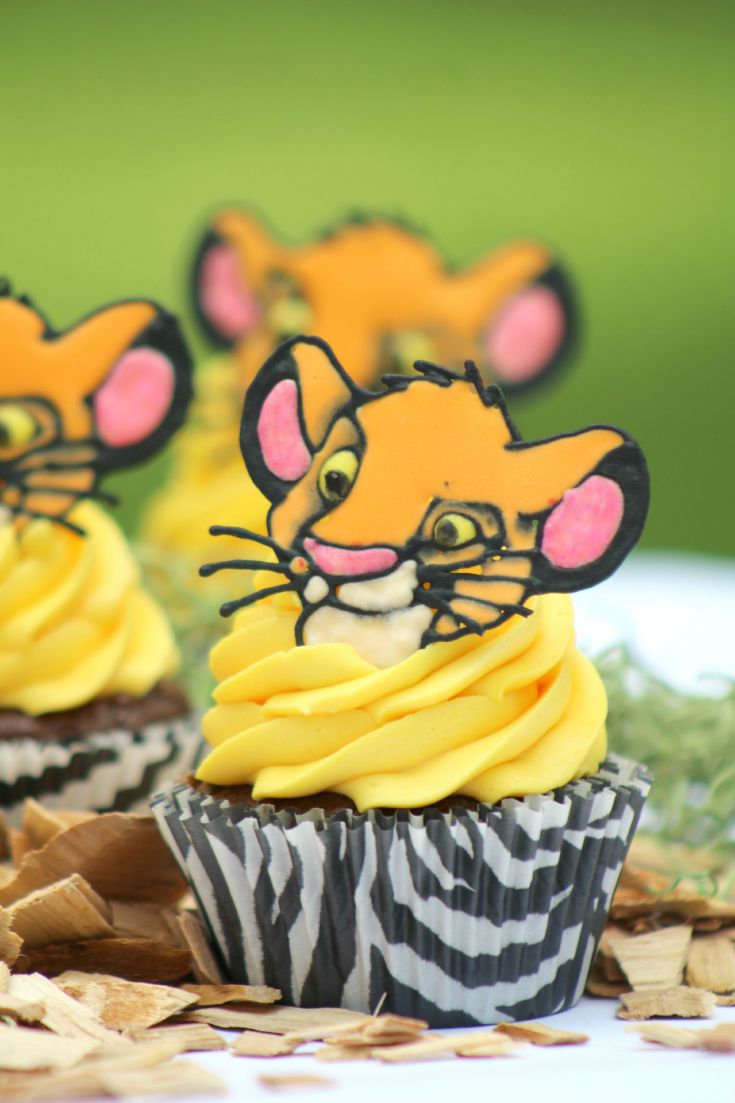 How many of you loved watching the Lion King as a kid? I will happily admit it was one of my favorite movies as a kid. Maybe not as much as my husband though. He and his little brother watched it constantly, back to back, and he happily tells stories of them sitting in the basement. They had the entire movie memorized at one point, and he can sometimes be quite entertaining with it now. As adults, we still have a love for this movie and I love when I get the opportunity to watch it (especially with children). Like many kids, my favorite characters were Simba, Timon, and Pumba (who doesn't like Pumba?).
When one of my friends Krista, who is a very talented baker, said she made Simba cupcakes, I knew I had to see them for myself. As you can see from the pictures, these cupcakes are absolutely adorable and look a lot like a certain little lion cub. Best of all, she makes the entire process look extremely easy, allowing anyone to make these adorable cupcakes for kids or just as a fun way to remember one of your favorite childhood movies. To make these cupcakes, just check out the recipe below. If you make them, make sure to tell us what you think of the recipe and if you can think of any improvements!
Note: Special thanks to my friends Krista from Adventures of Country Divas for helping me with this recipe and pictures!
Print
Lion King Simba Cupcakes
Looking for adorable cupcakes for a Lion King birthday party? Check out our easy to make Lion King Simba Cupcakes here!
Author:
Category:

Cupcake

Cuisine:

Dessert
Cupcake Ingredients:
2/3

cups

unsalted butter, soft

1 2/3

cups

sugar

3

eggs, room temp

2

cups

flour

2/3

cups

cocoa powder

1 1/4 tsp

baking soda

1 tsp

salt

1 1/3

cups

whole milk
Frosting Ingredients:
1

C unsalted butter, softened

3

C powder sugar

1 tsp

vanilla

3/4

C heavy cream

2 tsp

Banana Flavoring
Royal Icing Ingredients:
2

egg whites

1

C powder sugar

1/2 tsp

cream of tartar
Add

1/4

C powder sugar until stiff peaks form
Orange, yellow, black and pink gel food coloring
Instructions
Cupcake Directions:
Preheat oven to 350 degrees.
Line cupcake pan with paper liners.
Combine flour, baking soda, salt, and cocoa.
Cream butter with sugar until light and creamy.
Add one egg at a time, beating well after each addition.
Alternate the addition of the dry ingredients and milk with the creamed mixture.
Beat until smooth after each addition.
Scoop batter into lined cupcake tins.
Bake at 350 degrees for 20-25 minutes or until an inserted toothpick comes out clean.
Cool in cupcake tin for 10 minutes.
Remove from cupcake pan and cool on wire rack.
Frosting Directions:
Beat the softened butter on its own until smooth.
Add vanilla and banana extract.
Add powdered sugar with heavy cream into the creamed butter until it becomes a smooth and thick texture.
If the frosting is too thick, add more heavy cream, if the frosting is too thin, add more powdered sugar.
Take a spoonful of the frosting and hold the spoon upside down
if the frosting drops off the spoon add more powdered sugar …. if the frosting doesn't fall off the spoon then it is ready.
In a pastry bag with a large frosting tip ….Scoop the frosting into the bag.
Twist the open end of the pastry bag to push the frosting to the tip… Test it out to make sure that the blue, red and white frostings all come out together.
Frost the cupcakes.
Royal Icing Directions:
Mix eggs, cream of tartar, and powder sugar on medium speed for 4 minutes. If the icing can't form peaks Add 1/4 C powder sugar.
Divide royal icing into 4 bowls and mix in gel food coloring.
Simba Directions
Locate the picture of Simba that you want on Google. Copy and paste several of the same pictures of Simba onto one page.
Print this sheet out in color.
Tape this sheet to a large cookie sheet.
Tear a large sheet of wax paper and tape it over (to cover) the numerous pictures of Simba.
Divide the icing into 3 bowls. Then divide the third bowl into 2 smaller bowls of icing.
In the first(1/3) large bowl add several drops of orange gel food coloring. Stir to blend the color well.
In the second (1/3) large bowl add several drop of yellow gel food coloring. Stir to blend the color well.
In the last two smaller bowls…. in the first smaller bowl add several drops of black gel food coloring. Mix well.
In the last smaller bowl add several drops of pink gel food coloring. Mix well.
Spoon the orange icing into a pastry bag with a #2 tip….outline Simba and then fill in the face. Don't color in the parts of Simbas face that have another color.
Spoon in the yellow icing and outline and color in the inside of his eyes and mouth and chin area.
Using the pink icing outline his nose and inner ear then color them in.
Lastly with the black icing add his whiskers, color in his eyes and around the outside of his ear. Highlight with the black any other place the picture shows.
Allow to dry for 5-10 hours.
Ensure the faces are dry, gently touch one of the images.
If they are dry then cut the wax paper holding the completed faces into squares surrounding the image.
If the images are dry peel them off the wax paper and place on the frosted cupcake.
(If your picture from Google doesn't have the same colors just substitute the other colors and follow the directions. )