Some days the sun just doesn't want to come out for you. I don't know why. I guess it feels disagreeable on occasion, like the rest of us. Or maybe it was just feeling camera shy today. The point is, on those days you've just got to make the best of things. Or make banana bread. Hey, the sun will come out tomorrow, right? This recipe is adapted from Hungry Girl's version.
This banana bread isn't completely fat-free, so it's not gummy like versions that use only applesauce instead of oil. I made my bread into muffins, but if you like loaves better you can simply pour the batter into a bread pan and bake it about the same amount of time. Both HG's and my recipe have about 160 calories per serving (one muffin or one slice of bread), plus more fiber and less fat than is traditionally found in banana bread. I bet the bread would be even better with a little cinnamon dashed in.

Ingredients
1/2 cup + 2 T white whole wheat flour
1/2 cup + 2 T self-rising flour
1/3 cup zero-calorie sweetener (like Splenda), or 2 T + 2 t Truvia
3 tbsp. brown sugar, unpacked
2 egg whites
2 tbsp. light whipped butter or light buttery spread
1/2 tsp. pure vanilla extract
3/4 cup very ripe bananas, mashed (about 2 bananas)
1/4 cup semi-sweet chocolate chips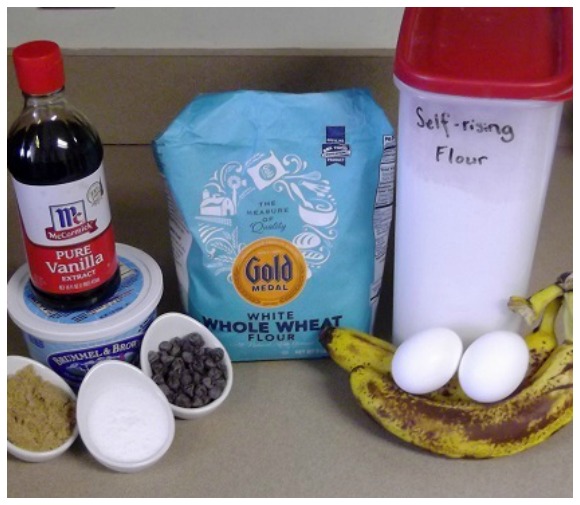 The bananas were happy. Their smile says "lighten up."
Directions
1. Preheat oven to 350 degrees. Spray 8 muffin cups with nonstick spray, or use liners.
2. Combine dry ingredients (both types of flour, sweetener, brown sugar) except for chocolate chips in a large bowl. Mix well.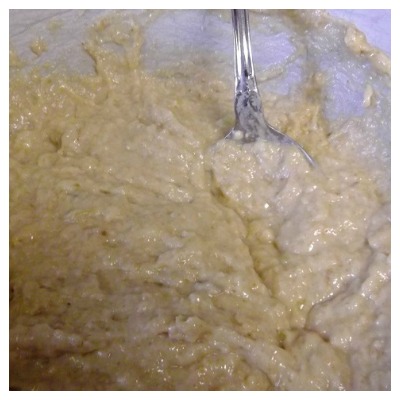 3. In a medium bowl, combine egg whites, butter, and vanilla extract. Whisk until uniform, then stir in mashed banana. Add liquid mixture to the large bowl, stirring until uniform. The batter will be thick.

4. Stir chocolate chips into the batter and pour into muffin cups.
5. Bake until a toothpick inserted into the center comes out clean, 20 – 22 minutes.
6. Let cool completely, then eat. Makes 8 servings.