Disclosure: I received these products for free as part of a review . The opinions in my review are honest and my own.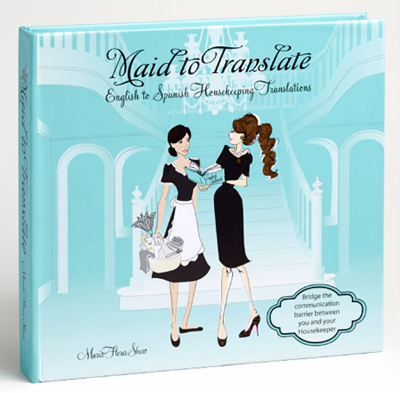 When my husband and I are traveling for his work, I commonly find myself working out of hotel rooms for three days to a week. I like having somewhere that feels more like home, so we often stay at the Homewood Suites since they have their own mini kitchen. Since we have stayed at this one location many times, I have started to get to know some of the maids who normally clean the rooms. Many of them have a difficult time speaking English and are excited when someone even attempts to communicate with them. As much as I hate to say it, I have always felt guilty when they tried talking to me and I couldn't really understand what they were trying to tell me back. I am one of those people who always tries to show respect to others, so it's hard for me not being able to communicate with these great ladies. This is why when I was asked to review Maid to Translate, I was pretty excited, thinking this could very well be something to help me better understand some of the Spanish speaking people not only in this hotel, but in my local community.
Maid to Translate: What is It
Have you ever found yourself feeling frustrated talking to housekeeping staff when you stay at a hotel, or possibly in your own home? Maid to Translate is a new, innovative book intended to enable housekeepers and their clients to communicate with one another. While the concept may seem odd to many of us, we all understand how frustrating it can be for everyone involved when there is a language and culture barrier. Through colorful pictures and a great design, nearly everyone can learn how to speak some Spanish when it comes to common words in your own home!
Maid to Translate: Style
I will admit, this is a fairly large book and is not just a communication book, but a comprehensive guide on cleaning. I have to admit, I learned some things (and words) related to cleaning that I didn't even know existed! With the detailed pictures and words in both languages, it reminds me more of an elementary level language textbook. Obviously there is nothing wrong with this, since this is what many schools have been using for years to teach languages. I think the familiar, friendly layout Maid to Translate is what make it an educational, and sometimes amusing read.
Maid to Translate: My Thoughts
I will admit, I was a bit unsure what to think of this book. While I do not have a Spanish speaking maid (or any maid for that matter, much to my house's dismay), I did find many of the cleaning tips interesting, as well as how to say some common words in Spanish. This book can really help any communication gap between a Spanish and English speaking person, allowing them to better communicate. While many of the words are in a cleaning context, they can easily be used outside the home, allowing you to brush up on your Spanish. Based on my own use of Maid to Translate, I am happy to give it an A- rating!
Maid to Translate: Where to Purchase
Looking for a gift for someone who might need some help trying to communicate in Spanish? If so, we think you will love Maid to Translate! This book is currently available on the Maid to Translate website for $35.
Disclosure: Budget Earth did not receive compensation for this review but did receive a copy of the book for review purposes. All opinions on this product are my own and may differ from our readers' opinions.
Would you like to have your products featured in a similar review or giveaway? Want to increase your social media exposure before the holiday season? See how we can help! Contact susan.l.bewley@gmail.com to see what we can do for your company!